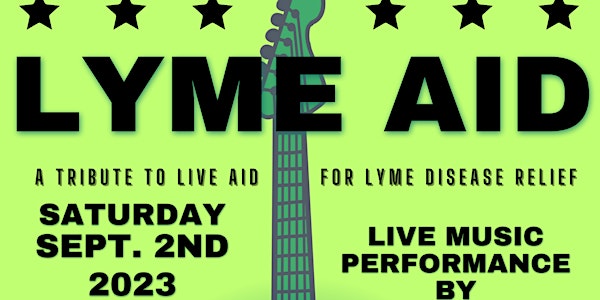 LYME AID- A LIVE AID INSPIRED BENEFIT CONCERT FOR LYME DISEASE RELIEF
Let's relive the magic of LIVE AID with the newly reimagined "LYME AID", a benefit concert for Lyme Disease Relief for Whitney Tilley!
By Kay Azna & The Weapons Of Mass Elation
Date and time
Saturday, September 2 · 5 - 9pm EDT
Location
SML Pavilion at Downtown Moneta 1123 Celebration Avenue Moneta, VA 24121
About this event
4 hours

Mobile eTicket

Paid parking
It's 1985 in London & Philadelphia. Some of the greatest acts are taking the stage for an incredible cause. But what if...
...we brought a taste of that magic to 2023? What if we brought you a little taste of everything from Queen, to Journey, to Fall Out Boy, to Lady Gaga, all together in one incredible concert for one very deserving recipient in the Smith Mountain Lake Community?
Bedford County native and "Hair Heroine" Whitney Tilley has been fighting an ongoing battle with Lyme Disease unlike anything you could possibly imagine. For her story in her own words, please check out the link below, shared by Project Lyme:
https://twitter.com/ProjectLyme/status/1641502148599902209?t=h4VWVYPQwduF8eG30yoJyA&s=19
Being a cosmetologist is very much a physically demanding career, making it incredibly difficult to keep up a business when battling the debilitating effects of Lyme Disease. Let's take a Saturday afternoon and evening to come together for someone with a huge heart for everyone she meets, and help her the way she's helped many of us for years, whether it was rescuing us from a bad hair day, or simply being that trusted listening ear when we needed one.
Tickets are $10 in advance, and $15 day of show. Kids under 5 are free. This is an outdoor event, however we politely request guests abstain from smoking under the tent or anywhere near other guests.
ABOUT THE BAND:
Self-proclaimed "Savage Provocateur of Rock N' Roll" Kay Azna hails from Bedford, Virginia, and delivers powerful, thought-provoking messages in her lyrics through her own brand of shock rock. While newer to the Nashville rock scene, Azna has been in the music business working her way up the chain since the tender age of 14. In 2016 she competed as a singer and ranked #7 in the international talent competition, "Megastar Millionaire", and has since gone on to train with and be developed as an artist by everyone from Cari Cole to Ken Caillat. Azna's "test single", as she calls it, "Set Me Free" (released as Kaylyn Aznavorian), premiered on iHeartRadio in Philadelphia in October 2017, and gained traction on US, Canadian, and European independent radio waves, charting for 21 weeks at #2 on the Hot 1000 N1M Rock Charts in 2018. After a small set at Bonnaroo Music Festival in 2018, Azna made the decision to relocate to Nashville three months later and has been working on writing and recording new music ever since. With pipes like Amy Lee, style like Lady Gaga, and jaw-dropping lyrics, Azna is an artistic force to be reckoned with. As of September 2021, Kay Azna is joined onstage by The Weapons of Mass Elation, an award-winning band consisting of guitarists Steven Martin & Alex Ducros, Chaucer Marberry, and drummer Tin Vo, and as of February 2022, is signed with New Age/ Sony Orchard, with the premiere single, "Chapter One", released May 13, 2022. The band is presently endorsed by Black Harbor Sound, Asterope, Lakland, Grundorf, and DNA Amplification.
WEBSITE: www.kayazna.com
MUSIC VIDEO for Chapter One: https://youtu.be/Dj7i1wvvN18
Listen on SPOTIFY (Available on all music platforms):
https://open.spotify.com/album/5B4FhR62kHhWYMeyuj0iX4
Cover of Two Weeks by All That Remains at Exit/In, March 2020:
https://youtu.be/y4wKHC4vWw0
TikTok, Twitter, Instagram, Facebook, BIGO Live: @realkayazna