Description

The role of sustainability continues to evolve in the 21st century. Learn about the changing role of the Lyle Center for Regenerative Studies as it celebrates its 25th anniversary.

LYLE CENTER 25th ANNIVERSARY PROGRAM

OCTOBER 11
Experts Dialogue: "The Future of Regenerative Design"
Date/Time: Friday, October 11, 3-5pm
Location: Lyle Center Commons (Building 209)
Panelists:
Edward Mazria, FAIA, Hon. FRAIC - Founder/CEO, Architecture 2030
David Hertz, FAIA - Founder, David Hertz Architects Studio of Environmental Architecture
Debra Guenther, FASLA - Partner, Mithun
Andrew Wilcox (Moderator), Chair, Department of Landscape Architecture, Cal Poly Pomona

25th Anniversary Reception
Date/Time: Friday, October 11, 5-7pm
Location: Lyle Center Commons & Amphitheatre (Building 209)

OCTOBER 15
Lecture and Book Signing by Douglas Kent
"Foraging Southern California: 118 Nutritious, Tasty, and Abundant Foods" (Adventure Publications, 2019)
Date/Time: Tuesday, October 15, 6-8pm
Location: Lyle Center Commons (Building 209)

OCTOBER 17
John T. Lyle and the Future of Regenerative Design Exhibition (Curated by Cybele Lyle)
Reception: Thursday, Oct. 17, 5-8pm
Exhibition Dates: Oct. 17-Dec. 8
Location: Don B. Huntley Gallery, 4th Floor University Library at Cal Poly Pomona (Building 15, Room 4435)
Arriving early? Check out the yearlong exhibition celebrating John T. Lyle next door (Room 4434) organized by the University Special Collections Archives. The exhibit also opens on Oct. 17, and is open to the public Monday-Friday, 10am-4pm.

ABOUT THE LYLE CENTER FOR REGENERATIVE STUDIES
Located on 16 acres (6.5 ha) adjacent to the main Cal Poly Pomona University campus, the Center's academic and community initiatives are designed to bring together diverse groups of students, scholar-experts, policymakers and community members committed to a sustainable future.We believe this future is best achieved through the development of ecological, social and economic systems that regenerate, enabling communities to provide for the future as well as the present. Visit the Lyle Center online at https://env.cpp.edu/rs.
PARKING
Parking is free for Lyle Center guests attending the experts panel and reception and the Panel on Oct. 11. Guest parking is available in Lot U. A dedicated Bronco Shuttle will transport guests to and from the Lyle Center.
For more parking information, contact (909) 869-5155 or crs@cpp.edu.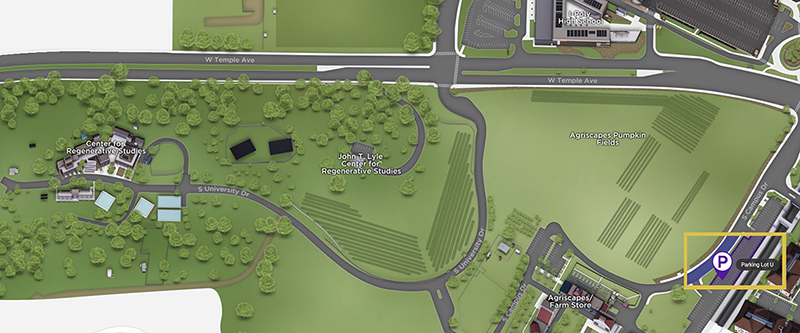 DIRECTIONS
From the 10 freeway (east or west)
Exit at Kellogg Drive. Stay in the left lane, and when you come to the stop sign, the large electronic marquee that welcomes visitors to campus will be on your right. Follow Kellogg Drive as it winds around the campus. At the second stop light, turn right on Campus Drive. At the next stop light, turn right on Temple Avenue and move to the left lane. Take a left at the next light (University Drive). Follow University Drive as it winds around past the Farm Store.
From Orange County or the 60 freeway (east or west)
Take the 57 freeway north, exit at Temple Avenue and turn left (down the hill). Turn left on University Drive. Follow University Drive as it winds around past the Farm Store.
Organizer of Lyle Center 25th Anniversary Celebration
The College of Environmental Design is one of the few university-level programs bringing together architecture, art, landscape architecture, and urban and regional planning. Emphasizing hands-on experience solving real-world problems, the college applies Cal Poly Pomona's learn-by-doing philosophy to the shaping of the constructed and natural environments. The college includes the interdisciplinary John T. Lyle Center for Regenerative Studies, the university's flagship program that addresses sustainability issues.