Description

QueenLyfe Inc. Presents: L.Y.F.E. Class "Walking the Path of Financial Success"
QueenLyfe Inc. is committed to providing our members and community with resourceful information to make informed financial decisions. Join us for this LYFE changing experience as guests will be encouraged to set intentions to apply the knowledge gained during the workshops to enhance their overall quality of life.
L.Y.F.E. Class Installments:
July 29th, 2017: Investing (Proactively Preparing for Our Future) Presented by

Barbara

Paige Private Wealth Advisor,McGill, DeGrange, Lillie, Chu & Associates (A private wealth advisory practice of Ameriprise Financial Services, Inc.)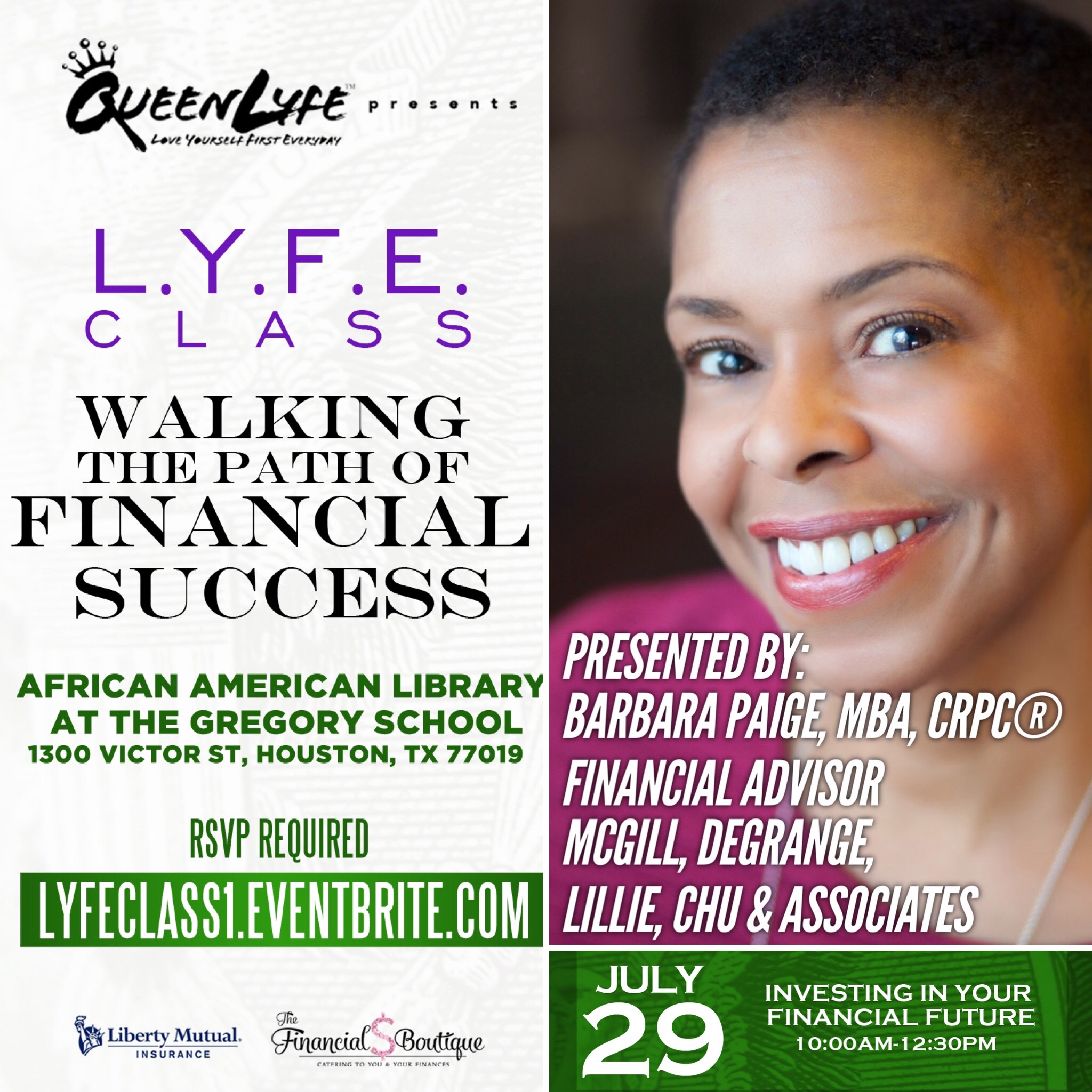 Barbara J. Paige (www.ameripriseadvisors.com/barbara.paige) is a Financial Advisor with McGill, DeGrange, Lillie, Chu & Associates, a financial services practice of Ameriprise Financial Services, Inc. She provides asset accumulation, retirement planning, wealth management and preservation, and legacy planning strategies for her clients. Ms. Paige has 19 years of financial services experience that includes institutional investment analysis prior to joining Ameriprise. She has also served a White House Fellow and as a nonprofit executive. Ms. Paige holds an MBA and a CRPC (Chartered Retirement Planning Counselor) designation, as well as Series 7 and Series 66 Securities registrations and Insurance licenses. She is also a graduate of the University of Pennsylvania's Wharton School and the Center for Houston's Future Leadership Forum.
September 16th, 2017: Should You Rent, Buy, or Save? (Preparing Our Community for Sustainable Homeownership)
Dec 16th, 2017 : Money, Power, and Planning: Panel Discussion Encompassing Credit, Savings, Investing, Lending, and Retirement Planning
Schedule:
10:00am-10:45am (Networking and Light Continental Brunch)
10:50am-11:50am (Presentation with Q&A)
12:00pm-12:30pm (Participants Activitiy)
Importance and Impact: The African American Library at the Gregory School is the selected location for this experience due to the rich history of Freedman's Town, and history of African-American homeownership and the establishment of African American businesses in the Forth Ward area. Exposure to the history available within the African American Library will give our participants a renewed sense of pride, and understand the importance of sustaining a legacy of applied financial knowledge.