About this Event
This is a standing show with an open floor. The Cedar always reserves a section of seats for patrons who require special seating accommodations. To request seating or other access accommodations, please go to our Access page.
General Admission tickets are available online, by phone, Electric Fetus, and at The Cedar during shows.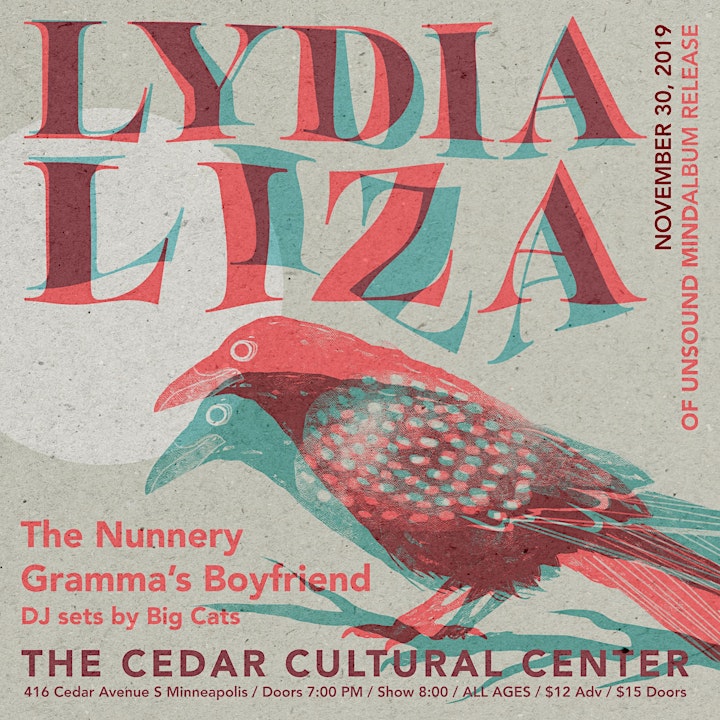 About Lydia Liza
A couple years after going viral for re-writing "Baby It's Cold Outside" in 2017, Lydia Liza got sober. And then she got writing. Not a lot of artists can wear the "teenage musical prodigy" hat and go on to find success as an adult, and not a lot of artists can write a smash novelty holiday song and go on to transcend the "viral sensation" label -- but with her first solo effort, Lydia Liza echoes Nick Drake, Jeff Buckley and Laura Marling with ease. Add a sprinkle of nostalgic pop-punk, and Liza creates a tasteful, familiar and expansive soundscape that keeps the listener hooked.
Lydia Liza has been featured on Vanity Fair, New York Times, People Magazine, 89.3 The Current, CNN, Bustle, Pitchfork, Billboard, CBC, NPR, BBC, Daily Mail, the NY Post; she has topped Spotify charts, she has been covered by Broadway stars, amateur YouTubers and everything in-between, and boasts over 6 million plays on Spotify. She has shared the stage with the likes of The Goo-Goo Dolls, Jake Bugg and Kimya Dawson. This debut record was a project on Kickstarter that raised $13,000. And though her viral re-write of a Christmas song caught the attention of an international audience, her real, authentic songwriting is bound to do the same thing.
Lydia Liza performing "Josephine" courtesy of Drifter Music Group's YouTube channel.
About The Nunnery
The Nunnery begins with one voice, layered upon itself becoming a lush soundscape.
I began writing on the loop pedal about four years ago while my folk rock group at the time was going our separate ways. Singing with the pedal was therapeutic for my roommate and I while we would make art. At first I was just creating the music for myself, which was a healing process I didn't know I needed. I began to listen to my voice and understand it. Making a relationship with my melodies and following them to wherever they led. This has become what The Nunnery is now, a continual voice of understanding and growth.
Many of my shows are accompanied with visual projections. The projections are my way of communicating a thought without words, a feeling without description. My hope is that these songs and performances give you a sense of peace, a space to understand your own heart. Thank you for listening, and all of your endless encouragement and support. I couldn't be doing this without you and I am forever grateful.
The Nunnery performing "Proud" courtesy of The Nunnery's YouTube channel.
About Gramma's Boyfriend
Gramma's Boyfriend is the side project of the members of many Minneapolis bands including Jeremy Ylvisaker (Andrew Bird, Alpha Consumer, Guitar Party), Jacob Hanson (Halloween, Alaska, Guitar Party, Minneapolis Dub Ensemble), Haley Bonar, Luke Anderson (Rogue Valley, Alpha Centauri), and Mike Lewis (Happy Apple, Fat Kid Wednesdays, Andrew Bird, Gayngs). Sometimes they all play together, sometimes its whoever shows up. The main group consists of singer/keyboardist Haley Bonar, keyboard/guitar player Jeremy Ylvisaker, and drummer Luke Anderson.
Either way, it's a new kind of 80's throw back pop with an experimental vibe, mostly due to the fact that they don't really know the songs but just kind of make em' up on the spot and have a damn good time doing it. One guy said they were 'no wave', which kind of makes sense.
Gramma's Boyfriend performing "Forget the Stones" courtesy of Graveface Records' YouTube channel.
About Big Cats
Spencer Wirth-Davis (Big Cats) is a producer, composer, and podcaster from Minneapolis.
Producer. Big Cats has worked with Lizzo, Mac Miller, BJ The Chicago Kid, Toki Wright, Alex Brettin (Mild High Club), Kyle "Guante" Tran Myhre, Sage Francis, P.O.S, Chastity Brown, Eric Mayson, Chance York, Dwynell Roland, Lady Midnight, and others. He has also released three solo albums and performed throughout the country.
Composer. He has written music for Nike, CNN, Johnson & Johnson, Call of Duty, the Golden State Warriors, PBS, and the Bush Foundation, among others.
Podcaster. Wirth-Davis is the co-creator and co-host of The What If? Podcast, which humorously explores unexplained and mysterious topics. What If? has released more than 130 episodes and has been downloaded more than 800,000 times.
Big Cats performing "Projecting" courtesy of BigCatsBeats' YouTube channel.
Performers
Date and Time
Location
Refund Policy