Description
Linda
Franzo
,
The
Passionate
Platter
Celebrate a painters' palate of brilliant colors on your plate to give you a "Rosy" healthy glow. Sample Hibiscus Roselle, Berries, Cherries & Pomegranate recipes~Hibiscus Pomi Fire Cider Splash, Hibiscus Apple Chutney, Strawberry Salsa, and Toast with Mac Berry Biscotti & Berry Herb infused Vodka! Brighten up this Spring. Put Purple Passion on your plates & in your gardens!
About the Instructor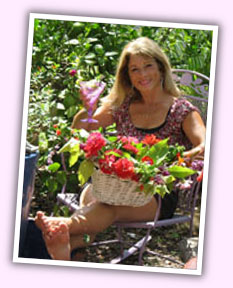 Linda Franzo is the owner and cooking/garden instructor of Passionate Platter, located in Slidell, La. Linda is married to her husband, Rick, and has 3 sons – 2 married and one attending LSU. Linda and Rick have 4 grandchildren. Linda is a retired Speech Communication Specialist from St. Tammany Parish. She has attended several cooking schools around the country including CIA, St Helena, NECI, Vermont, & Cooking School of the Rockies, with emphasis on bread making and brick oven baking. At Passionate Platter, Linda provides garden tours of culinary themed herb and vegetable gardens & cooking classes for kids and adults. Herbs and vegetables are harvested from the gardens and served "Garden to Table" style. Linda is a member of the Herb Society of America, New Orleans and Baton Rouge units. She is also a n Advanced Master Gardener for St. Tammany Parish. Her specialty, developing community herb gardens and edible school yard gardens. Linda wants everyone to put Herbal Pizzaz in their food and their gardens.