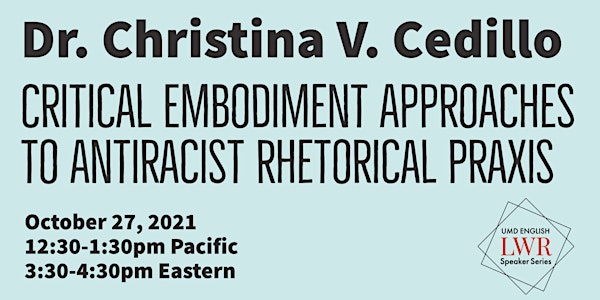 LWR Speaker Series - Dr. Christina V. Cedillo
Dr. Christina V. Cedillo will present a talk on "Critical Embodiment Approaches to Antiracist Rhetorical Praxis" followed by conversation.
Date and time
Wednesday, October 27, 2021 · 12:30 - 1:30pm PDT
About this event
The Language, Writing, and Rhetoric Speaker Series is pleased to host an online presentation and discussion with Dr. Christina V. Cedillo!
CART services will be provided.
Critical Embodiment Approaches to Antiracist Rhetorical Praxis
Eurowestern tradition has long habituated a division between the body and the mind, at best confining the body to the phenomenological background, at worst dismissing the body as a hindrance to truth. Speech is privileged while the body that speaks is erased. Yet racism and other isms obtain through bodily habit, manifesting as rhetorical, spatial, temporal, affective, and embodied phenomena. As a result of this deliberate contradiction, racism becomes largely known as prejudicial language over the structural conditions that confer its rhetorical power. In response, this presentation stresses the need for critical embodiment approaches to rhetorical analysis and practice. Drawing from critical race theory, disability studies, and decolonial theory/activism, critical embodiment approaches counter impressions of knowledge as universal, objective, and disembodied, to underscore respect for our own corporeality and that of others, particularly that of multiply marginalized peoples.
Dr. Christina V. Cedillo is an Associate Professor of Writing and Rhetoric at the University of Houston-Clear Lake and the Lead Editor of the Journal of Multimodal Rhetorics. Her research examines embodied rhetorics and rhetorics of embodiment at the intersections of race, gender, and disability, and highlights these identities in the creation of critical inclusive pedagogies. Drawing on critical race theory, disability rhetorics, and decolonial theories, her work highlights rhetorical tropes and topics across time periods that expose how colonization and coloniality affect our lives.
This event is part of the University of Maryland's Disability Awareness Month organized by the President's Commision on Disability Issues. The talk is sponsored by the UMD English Department's Center for Literary and Comparative Studies as part of the Language, Writing, & Rhetoric Speaker Series.