Luxury Black Tie Gala, Dinner & Awards, After party on Sunday Feb 24th 2019

Sunday, February 24, 2019 from 3:30 PM to 11:45 PM (PST)
Event Details
Dinning in luxury atmosphere with amazing and delicious "full course dinner" provided by the Hilton Hotel
Samira's Network has also announced that tat this event a portion of the proceeds will support the Cancer Hope Village, an inspiring non-profit organization dedicated to treating individuals battling their final stages of cancer.
For more information please contact by email at: SamiraShowTV@gmail.com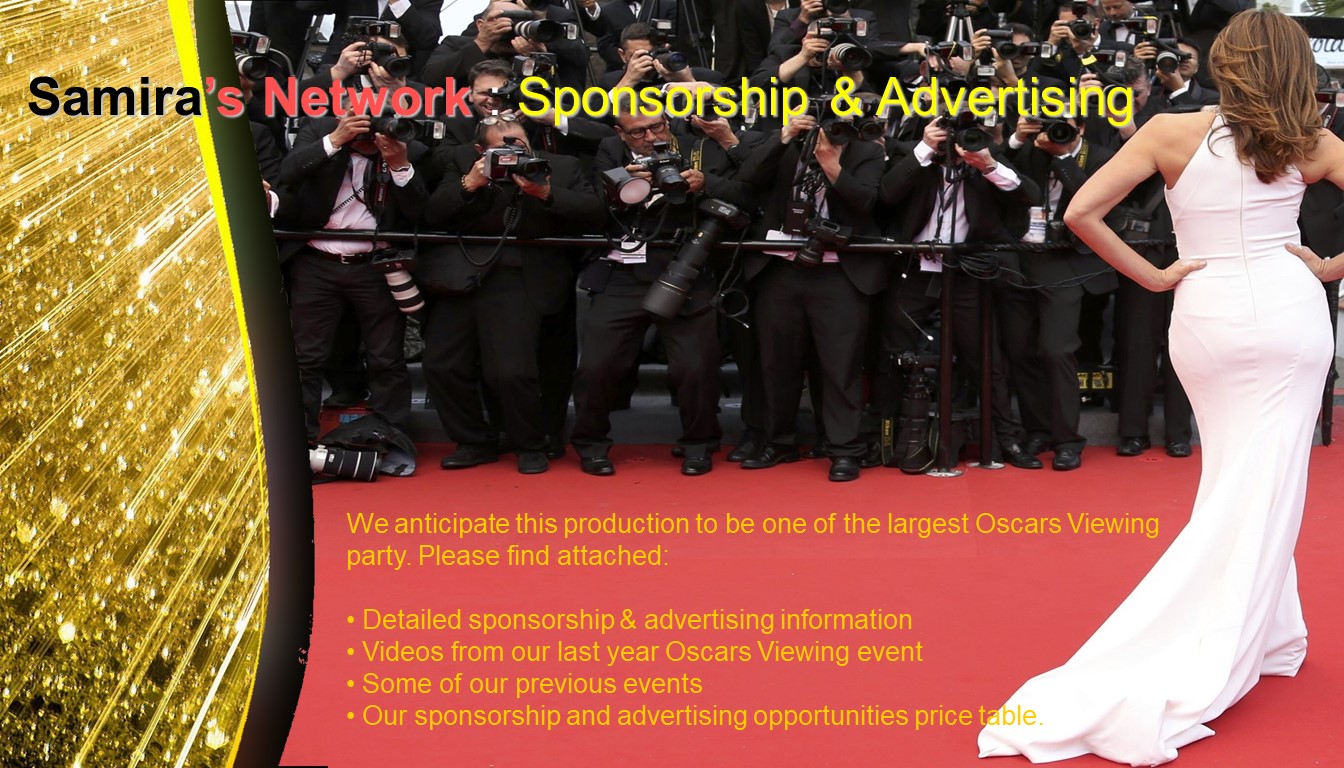 This Charity is the official auctioneer for this event They started in 1999 and are a complete one stop consignment based vendor for every auction need.  They have a creative edge to offer organizations "superior items and unique experiences that are guaranteed to raise" money in silent and live auctions.  On their website they state, "If you are looking for a trusted partner, we are a hands-on company, eager and excited to work with you every step of the way."  In their continued relationship with us, Samira's Network is proud to partner with them for this event.
The Premiere " Viewing Gala" Dinner & Awards Show presented
by Samira's Network
Sunday, February 24th 2019
SAMIRA'S NETWORK
  Presents
               A Star-filled night with several famous celebrities, producers, singers & artists at the luxurious Hilton Hotel in Universal City, CA.
Celebrating the magic of film wile screening The Oscars in Big LED Screens.
   Location: 555 Universal Hollywood Dr, Universal City, CA  91608
.
This fabulous Extravaganza gala will feature a Sushi Bar, 
Hors d'oeuvres
, Drinks & More followed by a full- 3 course dinner, shows, gifts, & After-party.
A sensational entertainment experience with live performances, music, dancing, two fashion shows, Silent and Live Auction by Go Charity, & award ceremony.
Los Angeles, CA - Fans will get a chance to celebrate the magic of Tinseltown in style next month with this Black Tie event.  Samira's Network proudly announces its "Oscar Viewing Gala", Dinner & Awards show at the luxurious Hilton Hotel in Universal City, California.  This glamorous event will be held on Sunday, February 24, 2019 and will screen live entertainment in extravagance with a celebrity filled Red Carpet, screenings, two fashion shows, a full-course dinner, gifting suites and after-party.
In addition to the themed event, this Gala has several amazing segments to offer.  Guests will enjoy a Red Carpet with media coverage, a full-course dinner, entertainment, awards ceremony, fashion shows, music, gifting bag, dancing, and much more.
TICKETS AVAILABLE NOW AT
http://Oscargala.eventbrite.com

The Time Line for the event is as follows:
1) 03:00 PM- Red Carpet , Sushi Bar and Hors d'oeuvres
2) 05:30 PM- Live Oscars screening in Big LED Displays
3) 06:00 PM- full-course dinner provided by Hilton Hotel + Award Ceremony 
4) 09:00 PM- PM Live Entertainment and two Fashion shows by Designers Kiki Wang & GK LE Fashion by GITI Kooshkani 
5) 11:00 PM- DJ Music and Dance
For Media Inquires Contact:
1:00 PM Media Check-in
Name: Samira's Network
URL: www.samirasnetwork.com
www.oscargala.org
Email: samirashowtv@gmail.com
Phone: (818) 858-6497
Fax: (323) 573-2730
Hosts: Kaya Redford, Veronica Larrea and  Anna Easteden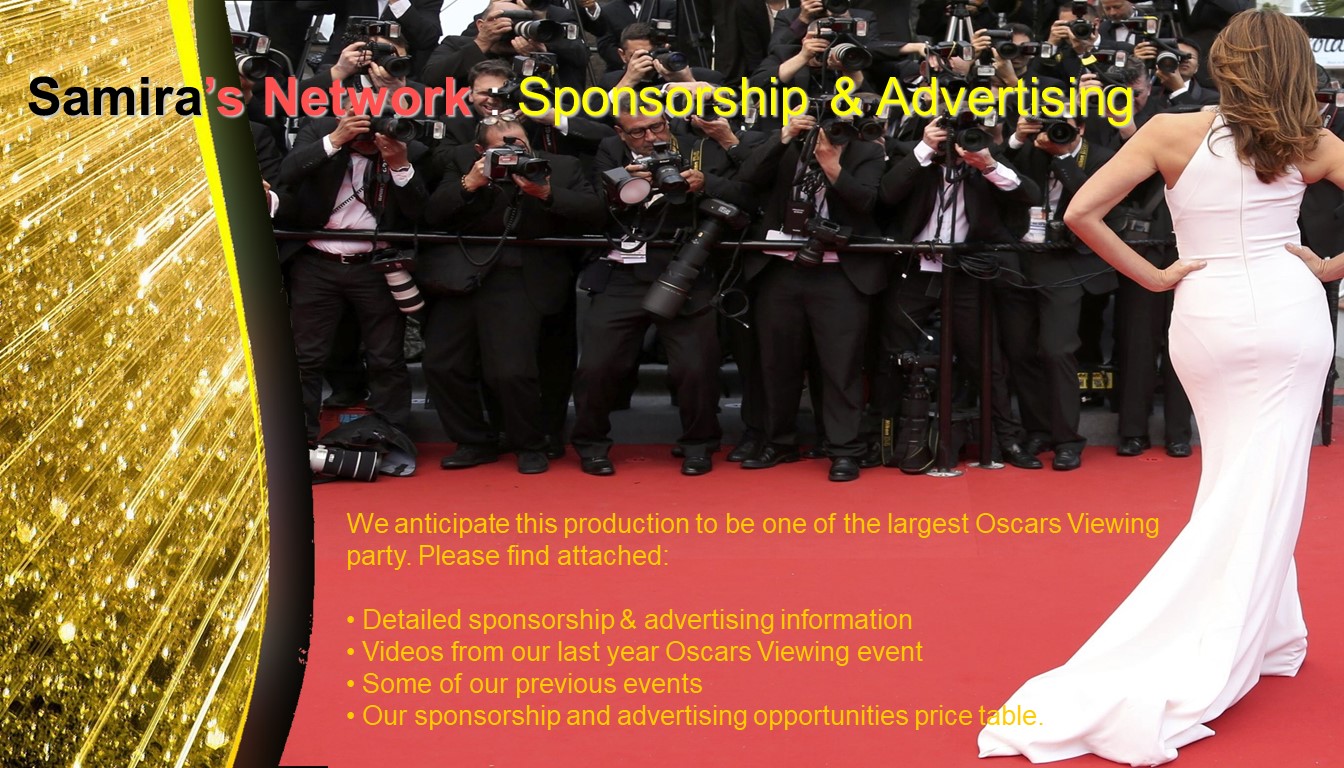 Samira's Network has also announced that at this event a portion of the proceeds will support the Cancer Hope Village, an inspiring non-profit organization dedicated to treating individuals battling their final stages of cancer.
For more information please contact by email at: SamiraShowTV@gmail.com or visit www.oscargala.org.
TOGETHER OUR VOICES CAN BE HEARD LOUDER THAN EVER AND TOGETHER WE CAN MAKE THIS A BETTER WORLD. NONE OF THIS IS POSSIBLE WITHOUT YOU
.
Celebrities Coming include...
Stars have confirmed and they're coming.  The growing list includes; Tom Sizemore (Saving Private Ryan, Black Hawk Down),  Camila Banus (Days of Our Lives, Dexter), Luenell (That's My Boy, A Star is Born), Andy Madadian (Hit Singer-songwriter), Shani Rigsbee (Recording Artist & Composer), Bonnie Pointer (Grammy Award Singer), Caroline Williams (Chainsaw Massacre Series), Chad Lindberg (The Fast and the Furious), Stephanie Szostak (The Devil Wears Prada), Christian Kane (Angel), Jake T. Austin (Wizards of Waverly Place), Chalet Brannan (Peter Pan), Sky Katz (Raven's Home), Ray Wise (RoboCop), Robert Craighead (Too Close to Home), Michael Copon (The Bay), Cynthia Rothrock (Lady Drago), Don Wilson (Kick-Boxing Champion), Mary Apick (Dead End), Tracee Lee Cocco (Star Trek: TNG), Cao Yong (International Artist), Celeste Thorson (How I Met Your Mother), Massi Furlan (The Dark Knight Rises), James Lew (Young Dragon), Peggy Tanous (Real Housewives of Orange County), Ralph Rieckermann (Musician & Composer), Eric Lee (GM of Martial Arts), Deborah Dutch (The Man Who Wasn't There), Jaylen Barron (Good Luck Charley), Philip Cable (Comic Book Kid), Sharyn Wynters (Batman), Mike O'Hearn (American Gladiators), Vikki Lizzi (Enemy Within), Ray Quiroga (Producer), Isaac Singleton (Anger Management), Ken Davitian (Borat), Rupak Chatterjee (Fairy Tale), Chris Levine (Anabolic Life), Said Faraj (Green Zone), T.J. Storm (Deadpool), Gerald Okamura (Mortal Kombat), Kelly Perine (Knight Squad), Judi Evans (Days of Our Lives), Nana Gbewonyo (Coach Carter), Rene Michelle Aranda (Papa), Marisela Hernandez (Singer), Hataitip Sesung (Singer), Crystal Santos (Man at Arms), Lester Speight (Titans), Patrick Simpson and Poll Atteau, Talon Reid, (Birds of Prey), Sirgen ( Singer & song writer), Carmen Jara (Singer & Song writer), Gretchen Bonaduce (Actress/Producer), Rob Welsh (Musician & Composer), Violeta Martin (Singer & Song writer), Jimmy Star ( Host of Emmy Nominated Jimmy Star Show), Ron Russel ( Co-host of Jimmy Star Show), Karen Patmas (CEO of National Talent LA), Miranda Spigener-Sapon (Award Winning Writer), Pete Freeland (TV Actor,Producer,Writer), David Shelton ( Comedian ScreenWriter), Alice Amter (Big Bang Theory), Patrika Darbo( Emmy Award Winner, Bold and the Beautiful), Richard Graieco (Actor ,Jump Street), Kendal Brenneman (Actress), Micah Fitzgerald( Actor, West World)  and many more...
Have questions about Luxury Black Tie Gala, Dinner & Awards, After party on Sunday Feb 24th 2019?
Contact Samira's Network
When & Where

Universal City Hilton Los Angeles
555 Universal Hollywood Drive
Universal City, CA 91608


Sunday, February 24, 2019 from 3:30 PM to 11:45 PM (PST)
Add to my calendar
Organizer
Samiras Network, inc has produced , managed and organized  over 300 events in the past from:
Award Ceremonies,
Movie Premier,
Corporate Events,
Conventions & Expo,
Fashion Shows,
Fundraisers,
Charities,
Publicity for the city officials
To political campaigns and more.
Because of that, we are one of the best event organizers in the Greater Los Angeles Area. Our A to Z solution approach covers planning, implementation, and management using promotional and marketing efforts in different Media. 
Samiras Network is a Total Event & PR Management Solution Provider.  We offer Press Release Distribution, Marketing, and Social Media Management. We have Television Show that airs through satellite and local channels. Samiras Network works closely with the media to give you the opportunity to have your product(s) or service(s) featured in local, national and international coverage, creating a well-rounded promotional opportunity with celebrities and the business individuals.
Samira's Network TV SHOW is hosted by Jewelry Designer and Beauty Queen Samira Kazemeni.
An International Variety Talk Show that aired on KSCI channel 18, which attracts Entrepreneurs,  CEOs,  A-list  celebrities, Media outlets, and Hollywood stars, is hosted by Samira has become a multi-faceted, star magnetizing, award winning, international variety Talk show phenomenon.
As her show maintains a Hollywood glitz, appealing to doctors, lawyers, athletes, and a large diversified audience, as her audience has been tracked from California , Mexico, and Canada to The Middle East. she provides informative  programming that both entertains as well as educates.
Her mission, she states is: " We have a few TV shows. Our Local Show on LA 18 covers all of Los Angeles County, Orange County and part of San Diego and our International TV show covers United States, Mexico, Canada, Middle East and More."
Kazemeni has metamorphosized into so much more than a tv host and beauty queen as she has not only produced over 300 shows and counting but also provides coverage for Oscar Viewing Parties, and other holiday, seasonal, and topical events, as well. Her ever reaching entertainment appeal continues to widen and cross cultural, racial, and gender parameters.