LUXi: The Lean User Experience Intensive (NYC)

Saturday, July 9, 2011 at 10:00 AM (PDT)
Event Details
You know that great design is critical to the success of your business. It differentiates your product, defines the experience, and creates passionate users and loyal customers. Yet, many teams today struggle with design. Designers are hard to hire, working with an agency is expensive and doesn't transfer knowledge to the team. If you do have designers and developers working together, It's challenging to bring UX methods into an agile process without creating a bottleneck and tensions in the team.

Lean UX is a way to solve these problems. It's a deeply practical and collaborative way of working. Lean UX uses rapid iterative cycles to create and improve products, simplify decision-making, and ensure you are building things that people want.

The Intensive is a two-day workshop for startups who want to improve the user experience of their product or individuals who want to work more effectively by using lean user experience methods. Over the weekend, you'll be introduced to key principles and methods, and you'll learn by doing. You'll work collaboratively with your team-mates and experienced coaches to gain skills you can put to work immediately after the workshop.
If you come with a team...
...you'll work on real problems from your own product and company. You'll learn new ways to approach these problems, practice a new kind of teamwork, and generate breakthrough solutions based on customer insight.

For best results, we recommend bringing a cross-functional team composed of a developer, designer or product lead, and CEO or founder. Tickets are per individual team member.
If you come as an individual...
...you'll form teams and work on examples provided by the instructors. You'll have an opportunity to practice new collaborative methods with a cross-functional team and flex your creative muscles. You may even find a new friend or colleague!

Dates: July 9-10
Hours: 10am-4pm
Location: Pivotal Labs, 841 broadway, NY NY
Price: $485

Space is limited! Apply now!
With Generous Sponsorship from:
and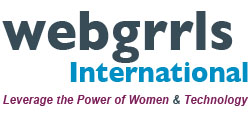 Webgrrls International is an online and offline, technology focused, networking organization of professional business women and has been at the forefront of the women's movement online for over 16 years. Our members are focused on propelling their careers and businesses forward through networking and connecting with others, leveraging and learning about technology, learning new skills and finding jobs, finding mentors and interns, and gaining access to support and information. Join Webgrrls to leverage the power of women, technology and the tools that help us all succeed. For more information go to http://www.webgrrls.com/
When & Where

Pivotal Labs NYC
841 Broadway
New York, NY 10003


Saturday, July 9, 2011 at 10:00 AM (PDT)
Add to my calendar
Organizer
Luxr is assembling a radically helpful collection of hands-on workshops from startup coaches worldwide. Unlimited access, one monthly fee, free trial!