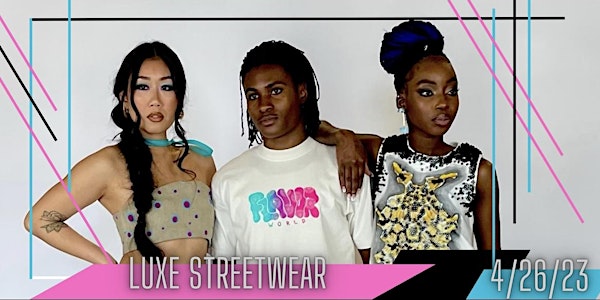 "Luxe Streetwear," A Hip Hop Experience by Qe'Bella Couture/ Fashion WeekMN
Come Celebrate the "Futuristic Perspective of Candyland" with Qe'Bella Couture and FWMN as we present Luxe Streetwear Spring 23"
By Lovely's Sewing & Arts Collective
Date and time
Wednesday, April 26 · 6 - 9:30pm CDT
Location
Machine Shop 300 2nd Street Southeast Minneapolis, MN 55414
About this event
3 hours 30 minutes

Mobile eTicket
"Futuristic Perspective of Candyland"
"Join us for another Heart Happy Moment in Time as we bring you the latest in luxe streetwear and hip hop culture. This event is a celebration of music, fashion, makeup artists, models, hairstylists, and community engagement."
***** Producers*****
Keiona Cook (Qe'Bella Couture) and the FWMN Team
Keiona is the founder of Lovely's Sewing & Arts Collective where she teaches young boys and girls ages 6-16 the art of sewing. They create, sell and are taught about financial literacy and money management and how to open saving accounts. This show is a fundraiser for LSAC.
One thing about kids is we inspire them and they aspire to be just like us. We are providing a platform for them to soar and Dream BIG!!!!
One of the 13 Fashion Designers is a high schooler. The youth from Lovely's Sewing are ages 6-15 and will model outfits they made in the classes for the show as well.
** We will have another special performance by our very own Iyanna Pernell from LSAC.
www.lovelyssewing.org
_________________________________________________________________________________________________________________________
Keiona is Qe'Bella Couture a couture brand focused on making your thoughts a reality one couture garment at a time. Get ready for her futuristic perspective of the childhood board game "Candyland."
__________________________________________________________________________________________________________________________
***** VENUE *****
The Pillsbury A-Mill was once the largest working mill in the world, and our building was an integral part of its success. State of the art, modern equipment was produced and repaired within these walls. Reopened in 2016, this historic machinery shop has been carefully restored with the specific needs of a high-end private event space in mind, keeping the original 1916 architectural details intact, while introducing modern luxury in this industrial space for all types of events. Just as the Pillsbury machine shop was an important player in establishing Minneapolis, Historic Machine Shop is a cornerstone for the city of Minneapolis, as a host of extraordinary and glamorous events.
***** VIP TICKETS*****
$80 include a SWAG bag by Fashion WeekMN, 5 min. massages, plus named VIP seating and early entrance into the event at 5:30pm for vendor shopping
***** GENERAL ADMISSION TICKETS ****
$35 open seating or standing and admission to the event at 6pm
**** TIME *****
VIP DOORS 5:30pm
GENERAL ADMISSION 6pm
RUNWAY SHOW STARTS 7PM
Come enjoy an enchanting super kid friendly evening of magic with us as we celebrate community and Fashion Designers. This is the hip hop culture themed fashion show and we will be playing a range of hip hop and alternative music. Get ready to dance or tap your feet to the beats.
"Luxe Streetwear" Fashion Designers, youth from Lovely's Sewing & Arts Collective and two amazing Jewelry Designers.
***** FASHION DESIGNERS *****
In our upcoming Spring production, we are thrilled to present thirteen designers, including some who will be showcasing their work with FWMN for the very first time!
1. Qe'Bella Couture
2. Wet by Bre
3. Flavor World
4. The Crochet Gay
5. Chemistry Fashions
6. House of Nor
7. Fia Morin
8. Sew Printed
9. Corazon Clothing
10. DesignsByEllis
11. Michelle Dolan
12. Catrielle Creates
13. HAWWAA
***** JEWELRY DESIGNERS *****
1. Chosen & Free Co.
2. Nashipai
***** LIVE DJ *****
DJ K-Nine - specializing in Hip Hop & R&B mixing it with all genres
***** VENDOR TABLES *****
Shop our local vendor tables before and after the fashion show.
Break out your favorite over the top clothes or your simple sleek clothes either way you're sure to fit in just fine
Get ready to do a little dancing, a bit of arm waving and tapping those feet to the beat as we raise funds for the youth at Lovely's Sewing & Arts Collective (LSAC).
LSAC is located in the Northloop in the Rise Bagel building. We are raising funds to cover the teaching space, partial youth scholarships and also to pay our sewing instructors.
***** PARKING *****
There is free parking available in the parking lot across the street, while the building's parking lot is only designated for vendors and staff members. Additionally, there is a parking ramp located across the street which charges $7 for parking.
***** ACCESSIBILITY *****
The building is designed to be accessible for all individuals. There are elevators available for easy access to the entryway, bathrooms, and upper level. Furthermore, every area within the building provides excellent views of the show, and particular attention will be given to accommodating the needs of elderly and disabled individuals to ensure comfort and accessibility.
If you're unable to attend consider sending us a donation
Lovely's Sewing & Arts Collective
530 N. 3rd St. Suite 10 (Garden Level)
Minneapolis, MN 55401
About the organizer
OUR GOAL
To connect all communities through unity, using sewing as the foundation to control future narratives about how youth and people connect and view the Minneapolis Northside. We offer monthly youth group classes, one-on-one kids and adult classes, custom group offerings and a mobile sewing shuttle . LSAC classes teach patience, focus, leadership, and accountability and empowerment among all communities.