Event Information
Location
The B Loft
1465 Chattahoochee Ave NW #450
Atlanta, GA 30318
Description
---
---
Creating a Brand that's TIMELESS
LUXE LAB WORKSHOP
We are beyond thrilled to announce our first workshop will be October 22nd at The B Loft with four incredible lady bosses & a whole lot of know-how on building your brand with more than just social media. We are ending 2016 with this workshop and we're going to make it jam packed with goodness for you!
Whether you have a business, an idea, or just need great community... this is the place for you.
We support, challenge and encourage one another to become the lady bosses we were destined to be!
All four of these ladies have built their businesses and have helped other girl bosses do the same when it comes to dynamic branding.
---
WORKSHOP:
10:00AM – 10:20AM: Check In & Refreshments
10:30AM – 12:00PM: Panel Discussions
12:00PM – 12:30PM: Q & A
12:30PM – 1:15PM: NETWORKING MIXER
1:15PM – 2:00PM: BREAKOUT SESSIONS
2:00PM CLOSE

Luxe Labs is Luxe X Life's quarterly fashion & beauty workshop which brings together a small intimate group ( no more than 75) of stylish, entrepreneurial women from all across the country for a day packed with inspirational speakers, DJ, mini brand fair, creative activities and networking opportunities.
Luxe Life supports and celebrates women from all walks of life as they connect and empower each other on their journey to build successful fashion and beauty businesses
---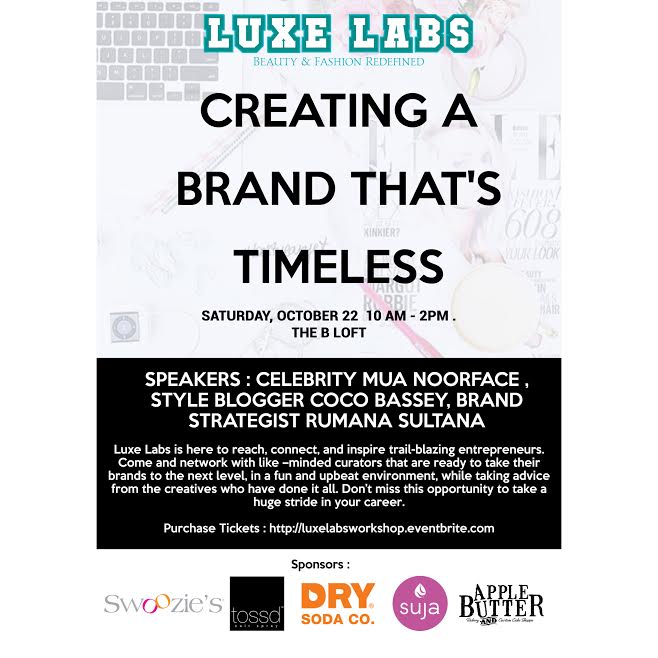 Date and Time
Location
The B Loft
1465 Chattahoochee Ave NW #450
Atlanta, GA 30318