LUX White Party~DJ Kruse/Live Sax&Pan/Vilebrequin Fashionshow by Taittinger
Description
Annual White Party with DJ Dana Kruse featuring VILEBREQUIN Saint-Tropez Fine Swimwear Fashion Show LUX at The TRUMP! 21+ in White Attire
with VILEBREQUIN Saint-Tropez swimwear fashion show.
(21+ | White Dress Code to Enter~discression on shoes and belts/accessories are made on a case by case basis by Trump Security. Host has no influence over Trump Security.)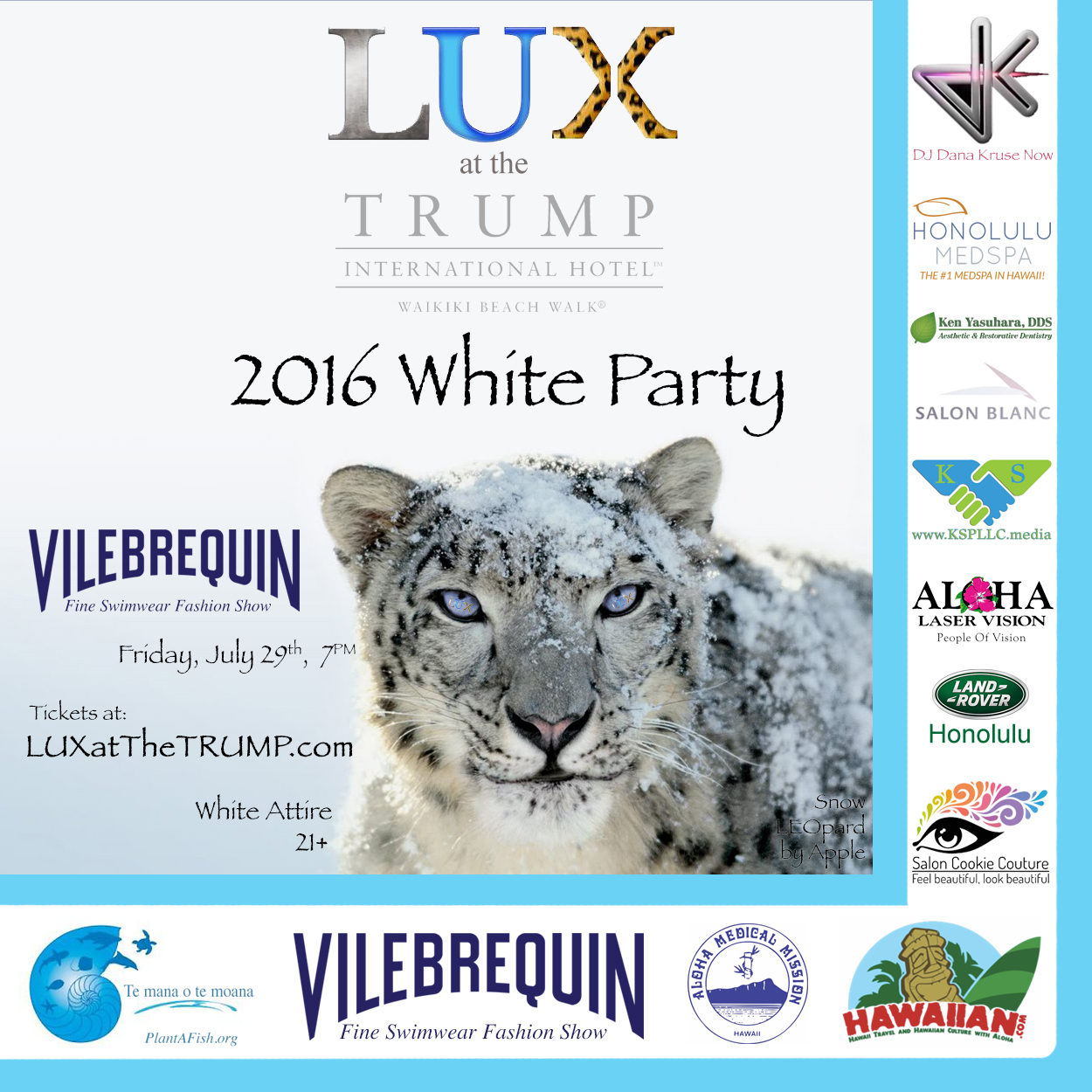 JULY 29TH FRIDAY NIGHT! (More information coming soon, please check back for updates.)
30th Annual WHITE and High-Fashion Show by VILEBREQUIN ~ LUX at The TRUMP

Vilebrequin's beneficiary is www.PlantAFish.org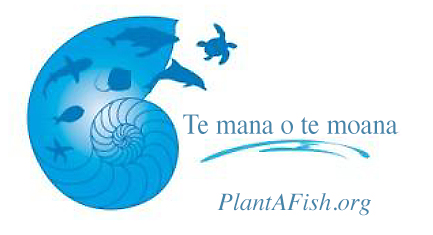 Music Curated and Featuring DJ Dana Kruse!
Annual White Party!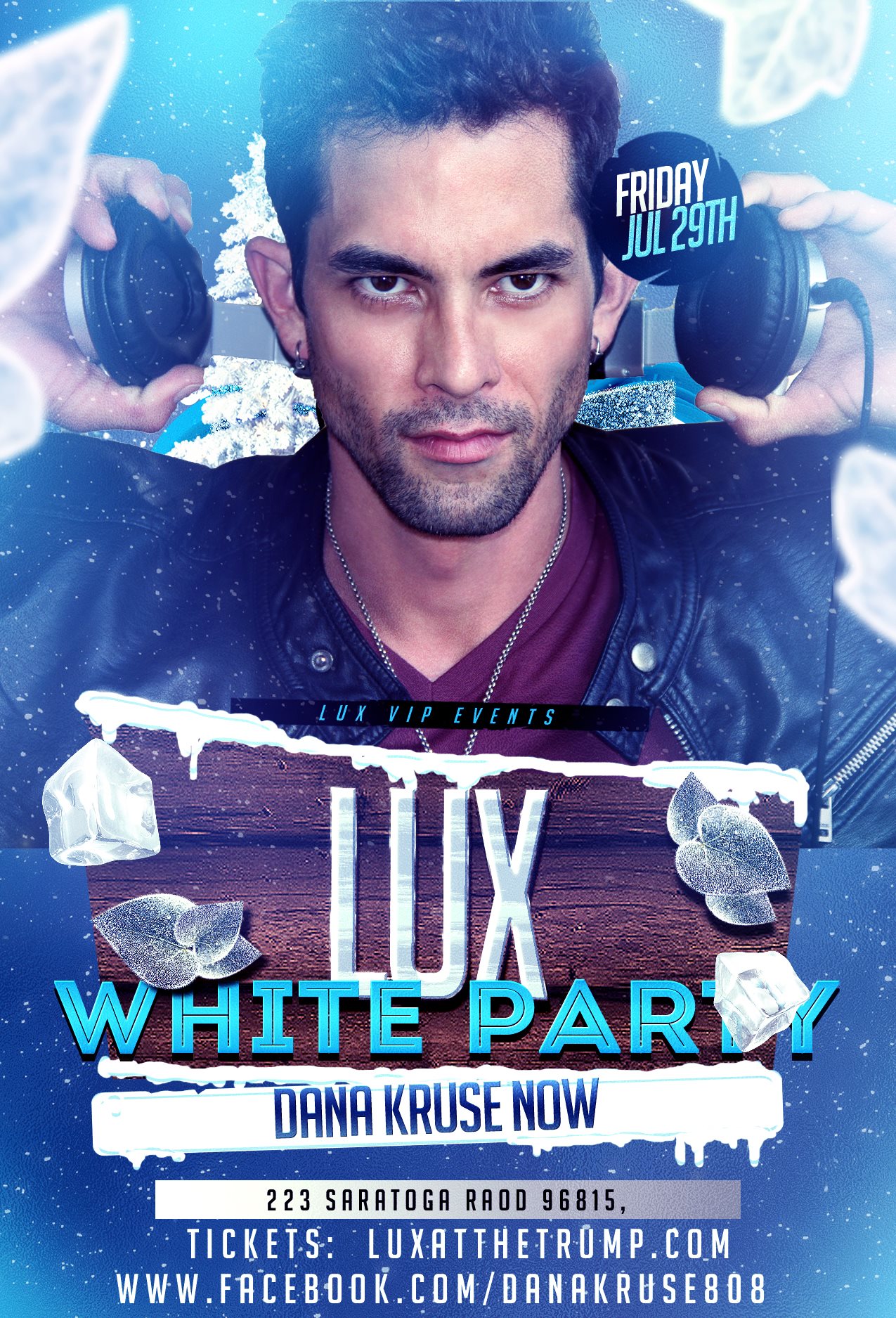 DJ Dana Kruse will mix the most popular and recent dance hits, and a portion of proceeds are going to St. Jude Children's Research Hospital as always at the LUX at The TRUMP.
Party starts at 7pm Fireworks at 7:45pm.
(21+ | White Dress Code to Enter~discression on shoes and belts/accessories are made on a case by case basis by Trump Security. Host has no influence over Trump Security.)
Limited VIP Bottle Service available, please see ticketing page for purchase.
www.facebook.com/AlohaMedicalMission
Aloha Medical Mission has been selected as our beneficiary of my personal donation a week after the event and the full publicity that comes with all our over LUX 20,000 VIPs All Over The World. It is an honor to associate with the Aloha Medical Mission and Aloha Dental Mission who give free medical and dental services to our fellow community members who in no other way could afford it! Learn more on their facebook page that's being updated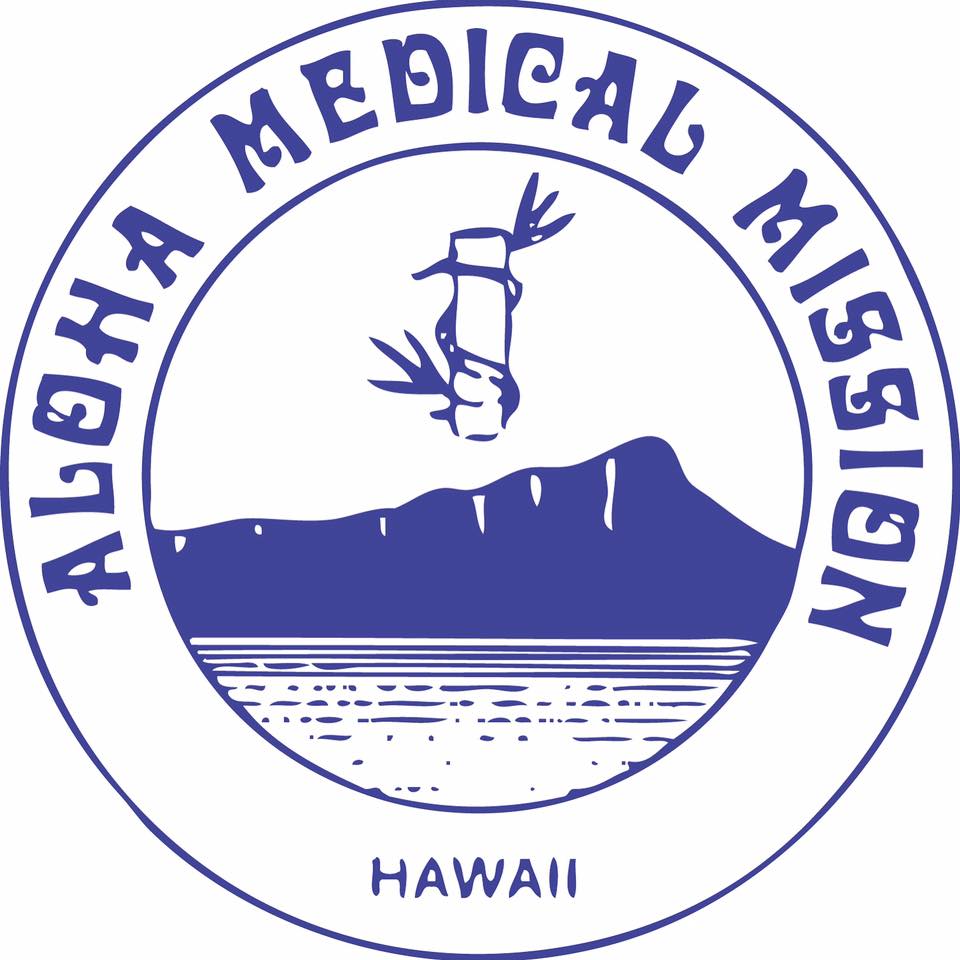 and as always at the Trump a portion of proceeds will also be donated to St. Jude's Research Hospital for Children.
Additional information and limitation of liabilities:
Disclaimer and Limitation of Liability
Purchase and or use of this ticket signifies agreement to the following:

ALL SALES ARE FINAL + NO REFUNDS OR EXCHANGES + RAIN OR SHINE + AS IS + WHERE IS
TO ENTER THE VENUE YOU MUST BE WEARING AT LEAST 80% WHITE (BRIGHT, PURE WHITE, NOT IVORY, TAN OR LIGHT GREY... WHITE IS WHITE AND THE HOST'S DETERMINATION IS FINAL.) (GOOGLE: " PANTONE 11-0601 TCX Bright White " for a reference. We make small exceptions for belts, shoes and possibly for other accessories. THIS IS A WHITE PARTY AND GUESTS GO TO GREAT LENGTHS TO ACCOMMODATE THE COLOR DRESS CODE. WE WILL NOT ALLOW OTHERS TO COME IN ANY OTHER COLORS TO HONOR THOSE WHO COME IN WHITE AS DICTATED. Thank you for understanding.)

1) This ticket cannot be replaced if it is lost, stolen or destroyed, and is valid only this event for which it is issued.

2) This ticket is not transferrable or redeemable for cash.

3) Reproduction of this ticket is not permitted.

4) Unless indicated otherwise, price includes all applicable sale and use taxes and/or cash discounts (if available).

5) This ticket is a revocable license and admission may be refused upon refunding the face amount of the ticket at the time of the event.

6) Unauthorized or unlawful resale or attempted resale is grounds for seizure and cancellation without compensation.

7) Management reserves the right, without the refund of any portion of the ticket purchase price, to refuse admission or to eject any person who fails to comply with the rules of the venue and applicable laws.

8) No refunds/exchanges. Individuals who are unreasonably disruptive, boisterous or inebriated may be asked to leave without consideration for table/ticket acquired.

9) Ticket user assumes all risks of personal injury incidental to the event, whether occurring prior to, during, or subsequent to the event regardless of fault. Ticket purchaser bears all risks of inclement weather.

10) This ticket may not be used for advertising, promotion (including contests and sweepstakes) or other trade purposes without the express written consent of the venue.

11) Ticket user consents to use of this/her image or likeness incidental to any video display, transmission or recording of the event by venue, artist or promoter.

12) Schedule of entertainment is as planned and not guaranteed. No guarantee of any entertainment is made; only planned and hoped. Your fee is only for entry to the venue to socialize and enjoy the event as it happens in any form.

13) The use of cameras, video or audio recording equipment is prohibited unless otherwise indicated by the venue, artist or promoter of the event. PLEASE EMAIL Paul@PaulKlink.com FOR MEDIA CREDENTIALS, PASS AND AGREEMENT FOR USE AND ASSURANCE THAT ALL THE HIGH-RESOLUTION IMAGES WILL SENT TO HOST WITHOUT LIMITATION OF USE, WITHIN ONE WEEK FOR MARKETING USE WITH FULL RELEASE. WATERMARK RECOMMENDED.

14) WARNING-EXCESSIVE EXPOSURE TO LOUD MUSIC MAY BE DAMAGING TO YOUR HEARING.
15) TOO MUCH FUN MAY CAUSE FACIAL MUSCLES TO CONSTRICT INTO A SMILE THAT MAY CONTINUE PAST THE TIME OF THE EVENT. ;)
FAQs for attendees
Common questions about the event
Q: Are there ID requirements or an age limit to enter the event?
A: Yes, Government issues photo ID required for entry and must show guest is at least 21 years of age as of the moment of entry.
Q: What are my transport/parking options getting to the event?
A: Limited Valet tickets are available. Otherwise, no guarantee of avilable Valet parking is made or inferred. Please consider the no-host parking at Fort DeRussey, Hale Koa, or other pubic parking venues near the event. (Drivers: Please drop high-heal wearing guests at the Trump before going to park away from the venue.)
Q. What can/can't I bring to the event?
A: A fun Aloha-Attitude. No outside food or drinks, zero tolerance drug policy. Police officers are invited to secure and make safe the venue throughout the evening.
Q: Where can I contact the organizer with any questions?
A: Just Call Paul (808) 721-7777
Remember, everyone's safety is our primary focus.
Date and Time
Location
LUX at The Trump at Trump International Hotel Waikiki Beach Walk
223 Saratoga Rd
Honolulu, HI 96815