LUX Exotic Rides + Exotic Vehicle Show and High-Style Fashion Runway Show

Saturday, March 31, 2012 at 8:30 PM (HST)
Event Details
Saturday, March 31st, 2012 from 8:30pm to 12:00am
LUX Exotic Rides
Added informaito:
Catering is Exclusively by Chef Chai of Chai's Island Bistro!

Albatros Transportation is giving away a $2400.00 tour in a 2012 Rolls Royce

One of the LUCKY "LUX Exotic Rides" Guests in attendance will be chosen at random to choose two envelopes from 25 envelopes and if they choose the correct two they're winning a two day rental of a 2012 $195,000.00 Ferrari "California"!!! Feelin lucky!? See you there!
Featuring a private showing of Lamborghi, Ferrari, Maserati, Lotus,  Bentley, Harley Davidson and Kawasaki Superbikes
and Presenting
"High-Style Runway Fashion Show!" by Royal Hawaiian Golf Shop featuring Ed Hardy, Ralph Lauren and other high-style golf fashions.
(Dress Code: Black-Tie and Gown Optional. Dress to Impress.)
DeeJay Scott Stiles, No-Host Cocktails, Champagne, Pupus and
Special Entertainment to be Annouced
with still more...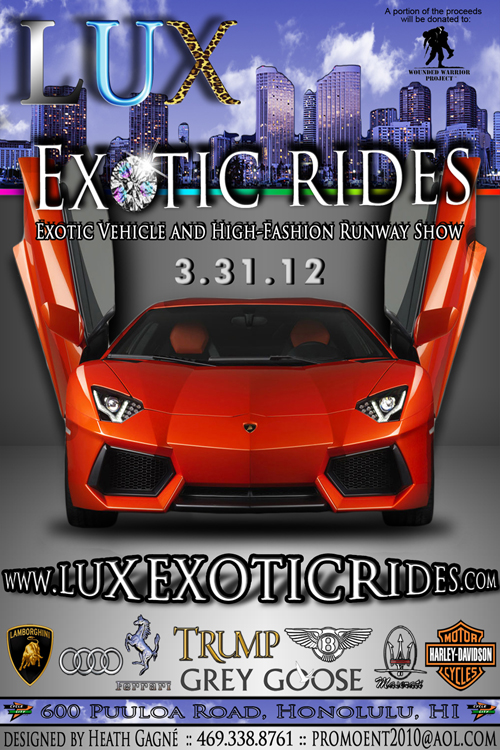 Affordable LUX Heavy Pupu Menu
Catored Menu to be announced. Food Stations are Fast and Convenient!
Aloha LUX VIPs,
LUX Exotic Rides at Cycle City Pacific Harley Davidson is on Saturday, March 31, 2012 from 8:30pm to 12:00am
A LUX Experience like none-ever before. 
EVOLVING LUX EVENT: New Lighting Effects, More Staff, More Room, More Entertainment, More Food Selections, More gifts, More Sponsors, TONS OF ON SITE PARKING! 
DRESS TO IMPRESS: Ladies better start shopping for that stellar outfit now! Gentlemen Celebrity Tuxedo will have a special discount for LUX Gentlemen.
DRESS CODE: Tux/Gown Optional. Thank you for understanding. May we recommend renting or purchasing a tuxedo as well as for the ladies may we suggest shopping for your Gown at Party Dress by Claudette at 615 Piikoi with validated parking in the building (592-1811 and mention that you are a LUX Guest for a 10% discount)
Black Tie Optional + Dress to Impress + Dress code strictly enforced
Tentative Itinerary:
8:30pm COMPLIMENTARY Parking Opens at Cycle City Pacific Harley Davidson at the corner of Nimitz and Puuloa
8:30pm Entrance to the party opens for all ticketed VIP Guests
8:30pm DeeJay Scott Stiles and his accompanying Live Musicians will begin their unique form of collaborative Entertainment
9:00pm To Be Announced Special Entertainment will be available for all Guests
10:00pm High-Fashion Lifestyle Runway Fashion Show Begins
13:30am  dance floor explodes with excitement and we continue to party until 12am
12:00am Surprise VIP AFTER PARTY, no cover to enter with LUX hand stamp or LUX VIP Bracelet. 
+
Tickets are available exclusively at http://LUXExoticRides.EventBrite.com
Limited space avialable to assure quality of service, comfort and safety.
VIP Services Available through Tickets above questions to Paul Klink: (808) 721-7777
(All entertainment is proposed, not promised. Only a venue to socialize is assured.)
Only TWO Private VIP Bottle Service at Tower Couches that will include seating for up to Ten people and secured area with stantions. Please email or call Paul Klink, Host at Paul@LUXVIPEvents.com (808) 721-7777 to coordinate any special needs or answer questions. There are also floor level couch services that may become available?
Only Ten Fashion Runway Show Front Tables are available for bottle service VIP Tables are available. Please email or call Paul Klink, Host at Paul@LUXVIPEvents.com  (808) 721-7777 to coordinate any special needs or answer questions.
We have limited areas for special celebrations within the LUX Event for Birthday Parties, Corporate Parties, etc.) Please email or call Paul Klink, Host at Paul@LUXVIPEvents.com (808) 721-7777 to coordinate any special needs or answer questions.
To confirm and reserve your VIP areas there are fees, minimum purchases and deposits required to reserve these areas. Your VIP Comfort is our utmost priority.
All VIP Services are subject to prior sales. 
+
Please patronize our sponsors:
JN Exotics + http://www.JNAutomotive.com
Cycle City + http://www.CycleCity.com
Pacific Harley Davidson + http://www.PacificHD.com
Albatross Transporation + http://www.albatrosstransport.com
Fun in the 808 + http://www.FunInThe808.com
Angels by the Sea Hawaii + http://www.angelsbytheseahawaii.com/
Vacations Hawaii + http://www.BoydVacationsHawaii.com/
Party Dress By Claudette + http://www.PartyDressHawaii.com/
Beauty Elements + http://www.beautyelements-hawaii.com/
Celebrity Tuxedo + http://www.CelebrityTuxedos.com/
D & E Handmade Cosmetics + http://www.dehandmadecosmetics.com/
Salon Cookie Couture + http://www.facebook.com/saloncookie/
Acid Dolls + http://aciddollshawaii.com/
Aloha Bus + http://www.PolyAd.com/ & http://www.AlohaBus.com/
Ken Yasuhara Dental Offices + http://www.KenYasuharaDDS.com/
D Boy Productions + www.DBoyproduction.com & www.hauntedhousehawaii.com
Pop-a-Lock + http://www.popalock.com/franchise/honolulu_hi_locksmith.php
Mercedes Benz Honolulu + http://www.MercedesBenzOfHonolulu.com/ 
Dancers Unlimited + http://www.DancersUnlimitedHI.com/
DJ Da Lion of Judah + http://www.DaLionOfJudah.com/
DeeJay Scott Stiles + http://www.DeeJayScottStiles.com/
Land Rover Honolulu + http://www.LandRoverHonolulu.com/
Trump International Hotel & Tower + http://www.trumpwaikikihotel.com/
Jaguar Honolulu + http://www.JaguarHonolulu.com/
Honolulu Med Spa + http://www.HonMedSpa.com/
Porsche Honolulu + http://hawaii.porschedealer.com/
Global Exchange + http://www.GlobalExchange.us/
Mele Naia Spa + http://www.MeleNaiaSpa.com/
Hawaii Humor + http://www.HawaiiHumor.com/
Anne Namba Designs + http://www.annenamba.com/
OMG Swimwear + http://www.OMGSwimwear.com/
Jane Ann Designs + http://www.JaneAnnDesigns.com/
JAMS Designs + http://www.JAMdesignConcepts.com/
Zhan Vi Designs + http://www.ZhanVi.com/
JAMS WORLD Designs + http://www.JAMSWORLD.com/
Brazilian Showroom +  http://www.BrazilianShowroomHawaii.com/
Disclaimer and Limitation of Liability:
Purchase and or use of this ticket signifies agreement to the following:
ALL SALES ARE FINAL + NO REFUNDS OR EXCHANGES + RAIN OR SHINE + AS IS + WHERE IS
1)  This ticket cannot be replaced if it is lost, stolen or destroyed, and is valid only this event for which it is issued. 
2)  This ticket is not transferrable or redeemable for cash. 
3)  Reproduction of this ticket is not permitted.
4)  Unless indicated otherwise, price includes all applicable sale and use taxes and/or cash discounts (if available).
5)  This ticket is a revocable license and admission may be refused upon refunding the face amount of the ticket.
6)  Unauthorized or unlawful resale or attempted resale is grounds for seizure and cancellation without compensation.
7)  Management reserves the right, without the refund of any portion of the ticket purchase price, to refuse admission or to eject any person who fails to comply with the rules of the venue and applicable laws.
8)  No refunds/exchanges. Individuals who are unreasonably disruptive, boisterous or inebriated ay be asked to leave without consideration for table/ticket acquired. 
9)  Ticket user assumes all risks of personal injury incidental to the event, whether occurring prior to, during, or subsequent to the event.  Ticket purchaser bears all risks of inclement weather.
10)  This ticket may not be used for advertising, promotion (including contests and sweepstakes) or other trade purposes without the express written consent of the venue.
11)  Ticket user consents to use of this/her image or likeness incidental to any video display, transmission or recording of the event by venue, artist or promoter.
12)  Schedule of entertainment is as planned and not guaranteed. No guarantee of any entertainment is made only planned and hoped. Your fee is only for entry to the venue to socialize and enjoy the event as it happens in any form.
13)  The use of cameras, video or audio recording equipment is prohibited unless otherwise indicated by the venue, artist or promoter of the event. PLEASE EMAIL Media@LUXVIPEvents.com FOR MEDIA CREDENTIALS, PASS AND AGREEMENT FOR USE AND ASSURANCE THAT ALL THE HIGH-RESOLUTION IMAGES WILL SENT TO HOST WITHIN ONE WEEK FOR MARKETING USE WITH FULL RELEASE. WATERMARK RECOMMENDED.
14)  WARNING-EXCESSIVE EXPOSURE TO LOUD MUSIC MAY BE DAMAGING TO YOUR HEARING.
LUX FAQ:
Q: Will there be seating available in the venue for guests who purchased individual VIP Tickets?
A: Yes, there will be ample seating in the Casino area as well as bench seating around pillars on the inifinitey pool area and some bar seating in the cabana areas. If additional seating is required please don't hesitate to ask the staff to be accommodated on an as available basis. If seating is a concern please consider one of the various VIP Table or Ultra VIP Couch tickets as available.
Q: Dress Code
A: Many People are asking about the Dress Code: You can see the video of a former event at http://www.youtube.com/watch?v=thHblZdV4fM may help with some ideas. The general event dress code is dress to impress, Gentlemen:  Black-Tie/Suit & Tie/Jacket with Collared Shirt, Slacks and Shoes AND Ladies: Gown/Dress/Dress to Impress.
Additional note to the Gents: Minimum is Collared Shirt, Slacks & Dress Shoes for Men and Gown, Dress or Dress to Impress for the ladies. Denim is frowned upon. T-shirts of any style or value are not allowed unless covered by an appropriate jacket. (NO: Shorts, slippers, athletic shoes, sneakers, t-shirts (unless accompanied by worn blazer/dress-jacket), tank tops, baseball caps, etc.) Since so many people are going to extraordinary lengths to dress up, we will be very strict with the dress code at the entrance. Please avoid any uncomfortable situations and DRESS TO IMPRESS! We have discounts set up for you for Tuxedo purchase/rentals as well as fine Gowns and Party Dresses at Party Dress by Claudette 615 Piikoi St Ste 102 on the corner of Kapiolani and Piikoi (808) 592-1811 and tell them you're going to LUX! Shop early for best selections and ample time for alterations.
Q: "I'm a Photographer and would like to shoot at your event?"
A: Photo: Photographers can check with Echo my Co-Host/gf at http://www.facebook.com/luxvipevents  for credentials. MAHALO for the OFFER to SHOOT.
Q: "What is a VIP Table with Grey Goose Bottle Service? Seems that it's a charge of $400 for a $30 bottle of vodka and the use of a table?"
A: Yes. (Math: One bottle usually makes about 20 reasonably poured cocktails priced at around $12.00 per drink so there is $240 of value, the table fee is no less than $200 of value there, pupus are another $20 of value throughout the evening and the service includes eight VIP No-Line Host & Security Escorted Entrances valued at this event at $800, ergo there is $1260 in value at only $400++ for the first bottle and $150 discount on additional bottles at only $250, and in my book that's a great deal.)
|
|
| 
(FYI: As something we do on our own, a portion of the proceeds and/or in-kind donations will be made to various community non-profit organization(s) project(s). If you would like your favorite non-profit to be considered please send us an email to Beneficiaries@LUXVIPEvents.com with contact information for the 501c3 to be considered. Mahalo! We help, you help!  http://www.WeHelpYouHelp.org)
When & Where
600 Puuloa Rd
Honolulu, HI 96819


Saturday, March 31, 2012 at 8:30 PM (HST)
Add to my calendar
Organizer
LuxVIPEvents.com Events
This will be an event that combine, fun, fashion, food and fireworks (fireworks depending on weather, etc.).
LUX Exotic Rides + Exotic Vehicle Show and High-Style Fashion Runway Show