LuvJonez - Pangea's AfroSocial

Thursday, February 21, 2019 from 7:00 PM to 11:00 PM (EST)
Event Details
Nuru... verses... and, this year, masquerade... Pangea's LuvJonez returns...
LuvJonez is when Afrosensuals come together to celebrate the bliss of the sweet addiction. It will that perfect night to be inspired by black love. As earthSistas and earthBrothas take to the podium to feed our creativity, the hostess earthSista PrincessYEME guides us through the night that celebrates 'blues in your left thigh, trying to become the funk in your right.'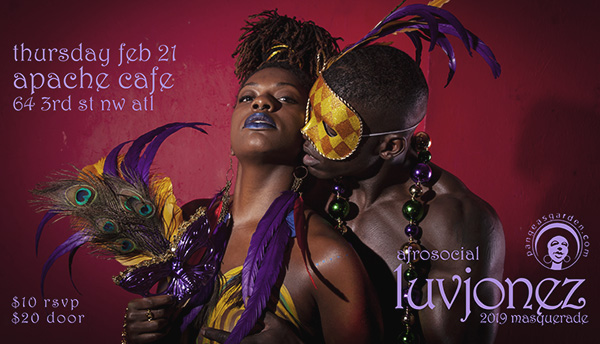 Make no mistake, this IS that perfect #DateNight, #GirlsNightOut and #BoysNightOut event!
AKONGO AND HET-HERU ARE OUR FEATURED MUSES!
Fresh faces to the Garden, earthBrotha Akongo and earthSista HetHeru are the love muses on the podium. Both are eager to provide inspiration for an evening of artistic interactive experiences designed to provoke, inspire and arouse you.

HOW TO - NURU!
If you are a regular you've seen our earthSista Goddess PrincessYEME perform the act of Nuru Massage on the stage. This year it's going to be a little different. This year she be giving instruction in this ultimate of intimacy to couples on the stage and in the audience. Be ready to get lots of practical instruction.
WE WANT COUPLES TO #BETHEART!
Let your love inspire. We are looking for couples willing to have their love be the catalyst that sparks creativity. Artists will paint and draw you while photographers will produce captures of your - all images - timeless testimonies of your deepest affections. You can't be scared up there; let your intimacy be the art.

POETS IT'S TIME TO STEP TO THE MIC!
LuvJonez has always been about the love expresses via spoken word and this month, PrinCessYEME is looking for talents willing to step to stage and share their unique perspectives on the sweet addiction! - Verse, Music, Dance - whatever you would like to bring to the stage, we invite you to come out and participate as well.

LET US KNOW!
If you are interested in being a featured couple on the podium or would like to be a performer on stage, send an email to udou@pangeasgarden.com and let us know. You can also reply via direct messages on IG (@pangeasgarden) or FB (PangeasGarden.com). Send an image to review that can be shared on social media. Selected COUPLES will receive FREE entry to the evening's events and will be adorned by Pangea's style goddesses Yaisa (@sun_goddess_jewelry on IG) and Ashaunti (@awanights on IG). Selected PERFORMERS will receive FREE entry to the evening's events.
THE PANGEA FAMILY IS IN THE HOUSE!
earthSista PrinCessYEME hosts our AfroSocial as DJ BLUUE moves you with his mix. Pangea's Cultivators – earthSista AJA, Photographers KenyaD and ToddB along with Style Goddesses Ashaunti and Yaisa – will also be in the house, behind the scenes, making sure everything runs smoothly. And as you partake in the evenings entertainment and creativity, we ask you to be bold and step up to the podium or stage and entertain and/or inspire the community around. Just let us know. This is an evening of creative, interactive and sensual experiences. Never be afraid to #BeTheArt.
ARTISTS AND PHOTOGRAPHERS – #MAKETHEART!
This is an OPEN FIGURE DRAWING & PHOTOGRAPHY SESSION. Pangea's Garden provides figure models for artist and photographers to casually drop in and create. Feel free to bring your own supplies! A model is on the podium and no two artists have exactly the same view, thus, their drawing or photography will reflect the perspective of the artist's unique location relative to the model. DO YOUR BEST WORK! A #MAKETHEART & TOPSHOT competition is coming and there will be prizes!!!!
EVERYBODY DISCOVER YOUR INNER ARTISTS!
On this 'Different Kind of Date Night,' we encourage everyone to pick up pencil, brush, paper or canvas and explore your inner artist. Draw the model on the podium; paint the person across the table from you. Just Play. And in case you don't have the tools with you, there will be paper and colored pencils on select tables in the venue. Never be afraid to #MakeTheArt. 

*Photographers are HIGHLY encouraged to share them with the earthSistas! Photographers are also encouraged to explore the entire venue for opportunities to create fantastic images.

Doors - Dinner - Drinks 7P
Model hits the main block 7:30P
$10 for advanced tickets | $20 at the door
For advanced tickets go to: http://ow.ly/TP9g30nc8Ji
Let the afrosensual arouse, provoke and inspire you.
Join our online community at http://pangeasgarden.com/
PANGEA'S AFROSOCIAL
 You are in for an evening of sensually artistic interactive experiences designed to provoke, inspire and arouse you. Pangea's earthSistas and earthBrothas are the MUSES on the podium. LIVE, open mic performances are on the stage. Brother ANON and earthSista YEME host the night's festivities as he shares enlightened verse while DJ Bluue/s melodic mixes set the tone of Pangea's AfroSocial at Apache's Art Monday.
Join our online community at https://pangeasgarden.com/
Follow us on IG: @pangeasgarden  

____________________________________
APACHE CAFE
**Apache Cafe accepts art submissions on an ongoing basis. To submit work or show ideas, forward 3 - 5 jpeg images to booking@apachecafe.info , and also  along with medium and demensions of work. To sign up to receive the Art Monday newsletter, please select the "JOIN OUR LIST" tab above. For optimal newsletter please choose the HTML format request.
-------------------------------------------------------------
Tables reservations are not required.  Tables reservations are a premium option for this that want to help guarantee table seating.  Table reservations are held for a specified amount of time after the doors open. Failure to be seated by this time will result in your reservation being released. In no circumstances are table reservations refundable (except event cancellation).

Any Ticket holder unable to present valid identification indicating that they are at least 18 years of age will not be admitted to this event, and will not be eligible for a refund.
Save This Event
When & Where

Apache Cafe
64 3rd Street Northwest
Atlanta, GA 30308


Thursday, February 21, 2019 from 7:00 PM to 11:00 PM (EST)
Add to my calendar