Description
---
JOIN us for the maiden event to celebrate comminity together - Lutterworth Community Lecture 2017 - REGISTER to attend on https://good-hope-lcl102017.eventbrite.com OR
Simply TURN UP on the day!
SPECIAL NOTICE: We have a surprise gift, for the FIRST 10 people to REGISTER!
---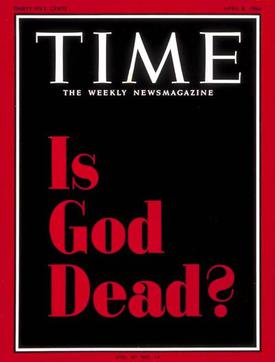 It was Friedrich Wilhelm Nietzsche, a German philosopher and scholar, who in his literary works of 1882 - 83 made the phrase "Gott is tot!" [German translated "God is dead!"] widely known.
Nietzsche was referring to the Christian God - and expressing in his unrestrainedly defiant parable, not so much that God was doing nothing of relevance, but suggesting even further that the belief in God, the very essence and foundation of the Judeo - Christian faith, was baseless and untrue. In his philosophical mind and scholarly worldview, he had reached a conclusion that God did not, and had never existed!
"Is God Dead?" was an April 8, 1966, cover story for the Time news magazine, looking at the problems facing modern theologians, in making God relevant to an increasingly secular society. Modern science had removed the need for religion to explain the natural world, and God took up less and less space in people's everyday lives. The theories of various scholars were tested, including the application of contemporary philosophy to theology, and a more personal, individual approach to religion.
Today, over a century after Nietzsche's original literary works, the world is still grappling with the concept of God, and raising the same concerns: Is God real or dead? Has He even ever existed?
In our Annual Lecture, we aim to present accounts from the Bible which we hope will speak to your conscience, to help you decide on that poignant question: Is God dead?
We would like to invite you to this year's Lutterworth Community Lecture, where our keynote speaker will share a Christian Worldview based on a section of Biblical Scripture.
It is also an opportunity to explore the reality of God further: ask seeking questions, find out about opportunities to explore the Christian faith, re-engage with the Church in Lutterworth. There will be opportunity for social conversations and refreshment prior and after the event, to mix and mingle - make new friends - enjoy an evening of amazing Gospel music and an invitation to respond to the Christian message through prayer.
We hope to start a discussion that is meaningful and mutually enriching to you and the Christian Community, especially in Lutterworth & Leicestershire.
We look forward to welcoming you! And don't enjoy the evening alone ... invite a friend ..!
ENTRY is FREE: But we recommend a £5 donation or of any amount, with all proceeds going to Bible Society!
BE THE FIRST to REGISTER!
The first 10 people to complete registration, will each receive a surprise gift: an exciting, engaging and experiential literary publication.
"The fool has said in his heart, " There is no God." They are corrupt, They have done abominable works, There is none who does good." Psalms 14:1; 53:1