Description
---


~This edition of LUST is all about abundance. Our cornucopia is spilling out with the luscious harvest of autumn and our cups floweth over, creating rivers of warmed wine that drip into our wide-open, berry-stained mouths. Come feast your eyes, mouth, skin, and heart at our luscious altars~
---

---

~Wrap yourselves in velvet, leather, and lace, adorn your heads with antlers, and greet the goddesses of mirth and magick underneath the waning moon. Give thanks for love and lust alike~
---
LUST
lust
ləst/Submit
noun: lust
1.
very strong sexual desire.
"she knew that his lust for her had returned"
a passionate desire for something.

2.
A sensual appetite regarded as sinful.
"lusts of the flesh"

synonyms: desire, be consumed with desire for, find sexually attractive, crave, covet, ache for, burn for, feel a strong desire for something.

LUST:

1.
An immersive, erotically charged dinner party where food is served on naked bodies and eaten with raw abandon. Use your hands, feed a stranger...use your mouth...straight off some hot flesh.

2.
An erotic, sensual party filled to brim with sexually-charged performances. In a world full of fucking without intimacy, indulge in a night of Intense. Intimacy. without Fucking.

~Leave your inhibitions at the door~

Does danger excite you? Have you ever wanted to live one night completely on the edge of your boundaries?

LUST presents a night curated by Abby Hertz at Lot 45 featuring NYC's most daring performers, and a night of sensual debauchery.

Indulge every sense and make no apologies

Lose yourself...

Lock away your decency and throw away the key…

::~Dinner~::
7pm-9:30pm



Enjoy a sumptuous feast served off of naked bodies, fed to you by our lascivious lady servants and man slaves.
There are no plates and no utensils. All food is eaten with your hands.
We are carnal animals. Remember your origins and eat with abandon.
Each table and body has a different course. Spend time lounging at each table to get your full meal.
Our Thanksgiving feast is a mix of takes on the traditional and the completely original.
Vegan and vegetarian options will be available as well as choices for our omnivores.
Food by Chef Samia Behaya
*The champagne will be flowing freely with bottles provided on each table*
---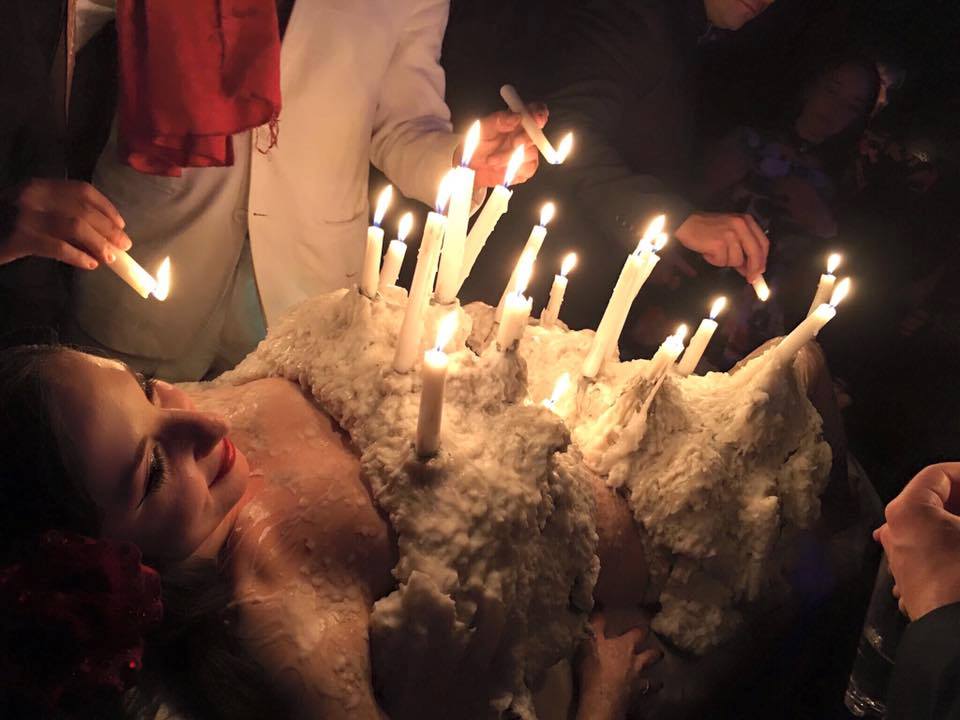 ::~Main Event~::
9:30pm-3am

Immerse yourself in erotic art installations and a night packed full of delicious, sensual performances.
Our garden of earthly delights will titilate your senses all night with interactive art installations, erotic performance art, secret fetish stations, dungeon and play area, cuddle puddle lounge, live musical acts, and a late-night steamy DJ session.
...Watch out, you just may be kidnapped by one of our High Priestesses and initiated into her underworld...

Night of ecstatic pleasures includes:

~Sex Magick Ritual and Opening Ceremony
~Interactive Human Candelabra and Hot Wax play area
~Nude Interactive Paint performance and play area
~Private Dungeon by Head Mistress Lydia Vengeance
~Fire intitiation Ritual with audience participation (supervised by FDNY)
~Shibari installation and interactive experience
~Cuddle Puddle by Domino Vi and sensual lounge area
~Mother's Milk interactive art installation
~A plethora of performance art including: contortion, aerial, fire, burlesque, and more...
~Live Music by Gato Loco featuring the flaming saxophone
~DJ sets by Erik Foss (of LIT Lounge) and Kevin Bourgeois, late night set by whiteowljaguar
~A special performance by the Queen from Queen of the Night, Katherine Crockett
---
CAST:
Katherine Crockett
Jo Weldon
Abby Hertz
Flambeaux
Natasha King
Lilin Lace
Dame Cuchifrita
Lydia Vengeance
Sarah Sparkles
Madame Rosebud
Nola Kodish
Miranda Rovetto
Jemila David
Nell Coleman
Ali Emadi
Joules Magus
Thomas Ciccone
Andriana Santiago
Cinder Petrichor
Sage Sovereign
Alannah Farrell
Iffy Roma
Juanita Viera
Sylvana Tapia
Leah Oz
Gato Loco
Erik Foss
Kevin Bourgeois
Decor by Domino Vi
---
For Main Stage Performance Schedule, see Facebook event page
*VIP guests will receive priority entrance to the private dungeon experience
---
~~~Consent is sexy~~~
~~Please let our servants and mistresses know your limits~~
LUST creator Abby Hertz works hard to create a lush, sexy, and SAFE environment for guests to explore their sensuality through their senses. ALL touch between guests must have prior affirmative consent. Ask before you touch. Ask before entering anyone's scene. Be respectful of other's play areas, space, and most importantly, bodies. If you feel uncomfortable at any time, please tell a monitor, stage manager, producer, or staff. Producer and venue reserve the right to have anyone escorted off premises that violate consent or to deny entry to anyone acting inappropriately.
---
*Note about VIP experiences: The experiences are intimate and can only be given to a small number of guests because of the nature of the experiences. You will be marked for VIP interaction and access to these intimate experiences upon entering the door and asked to sign a liability waiver as well, specifically pertaining to the interactive fire initiation.
---
All photos © Adrian Buckmaster
*Refund Policy: No refunds within 72 hours of event.