Description
Come join us for a unique experience.
Summer gives us the energy to fully celebrate life in its bounty. It is the season of growth and maturation, of gardens bursting with produce, fruits and flowers. Fabula Tea is once again partnering with San Francisco's avid cook, Chris Chung, to capture the splendor and abundance of Summer with a once-a-year, luscious 10-course dinner with one-of-a-kind dishes and tea-pairing!
Melon & Herb Gazpacho * Chickpea Panisse reinterpreted
Rock Shrimp, Flowers with Tea Oil * pickled Okra Caviar with summer Shelling Beans
Squid stuffed with braised Oxtail * Eggplant in Lime juice and Chili oil
Assam Mussels with Roasted Tomatoes
Quails in Black Sesame Buah Keluak dressing * Beet Curry Rendang
Pulut Tai Tai with Kaya (Sticky Rice with Homemade Coconut Jam)
The menu is designed to harness the brightest flavors and colors of summer. Chris will incorporate touches of Peranakan/Nyonya influences with Californian ingredients. Peranakan cooking is the fusion of Malay and Chinese techniques widely adopted in Malaysia and Singapore with tangy, aromatic, spicy and herbal accents. Fabula Tea will design a unique Gongfu Tea Ceremony and use connoisseur-grade loose leaf teas and herbs to pair with Chris's creations. The teas and tisanes will refresh your senses, accentuate the flavors and enhance your overall sense of wellbeing.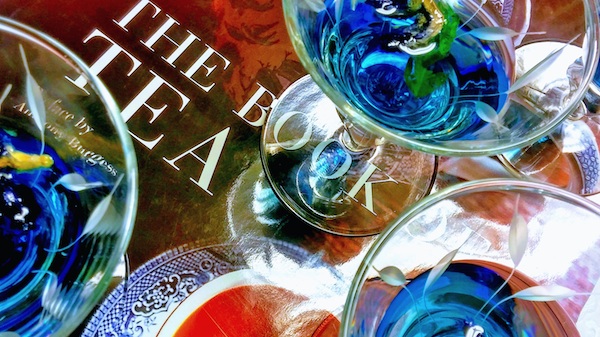 And what would be a better place to showcase Chris's culinary prowess with tea-pairing than at an elegant and chic space? In comes Victor Tung, with whom we are partnering to provide you that ambience that fits perfectly with Chris's creations and Fabula Tea's exquisite pairings. Victor, who is a renowned couture designer and artist, will be opening up and decorating his private studio for us to dine in class. His studio is akin to an urban oasis with stunning art and eclectic furniture.
Come join us and your senses will be treated to a nourishing blend of edible and visual art!
Testimonial:
"This experience was unbelievable. I have a hard time describing to my friends what I ate because everything was so different and exotic." Liz Clemente House
Note: For this dinner, we cannot accommodate any allergies.

Chris Chung's biography:
Chris has been cooking for over 30 years, and, how come we have not heard of him? He only cooks for friends and family. Home cooking is his strength. As an adventurous cook, he is not afraid of mistakes and awkwardness, he delivers broad strokes and yet meticulous, he is Jackson Pollack-ques and Zen like at times. Hard to pin him down, his South-East-Asian background is a major influence. He is also a culinary story teller and has his own Youtube video series called "Cooking with Chris Chung".
About Fabula Tea:
Fabula Tea specializes in creating one-of-a-kind tea ceremonies for a variety of occasions and organizations. We are experts at bringing people together through mindful tea drinking, storytelling and art appreciation. Our teas are sourced from the best terroirs of the world and crafted using time-honored techniques with absolutely no flavorings nor additives.
Victor Tung's biography:
Couture designer Victor Tung discovered his talent for fashion in his garage, making garments one piece at a time. An artist at heart, he says he always loved beautiful things or things with character – in particular, dresses. When he couldn't find what he desired, he began designing dresses himself and created his own line. "If I cannot find the right fabric, I hand-dye or hand-paint it," he says. Today, Tung displays more than 100 pieces in his San Francisco store. He believes that a garment should fit the body and will tailor or design an item specifically for his clients. Victor Tung's "wearable art" philosophy is three-fold: He seeks out the best materials; he customizes each piece; and his work is eco-friendly and features only natural dyes. Tung says, "My goal is to create fashion that speaks to your soul and helps express yourself to the world."