Kick off our 48th Anniversary Weekend Blackout Night and Open Bar
About this event
Join us for our regular Thursday night gear night, with a little something extra to celebrate our 48th Anniversary weekend.
Open bar from 9-10p for all of our patrons as a thank you.
Lights will be dimmed. Everyone is encouraged to wear their leather, rubbber, neoprene, or other fetish gear.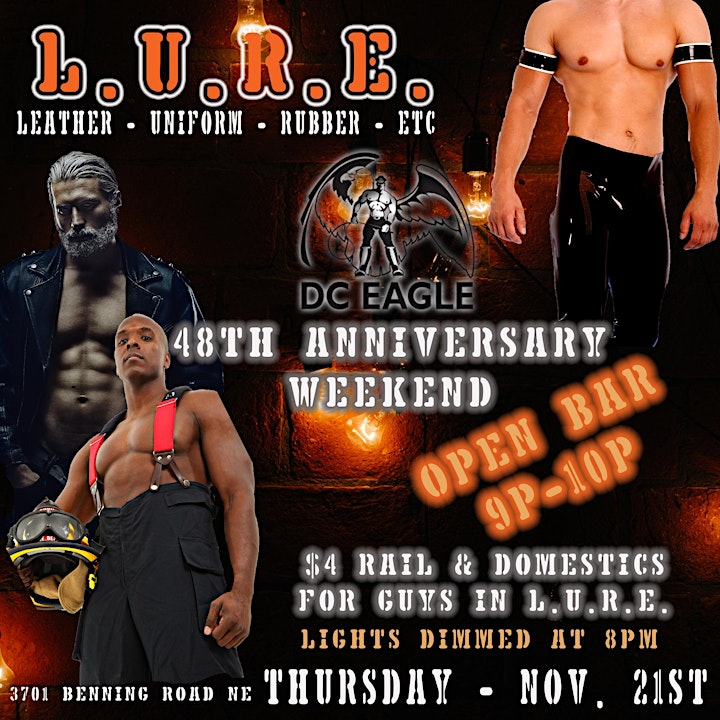 Organizer of L.U.R.E. - 48th Anniversary Weekend Blackout Night & Open Bar
Click here to subscribe to our text messages.
Washington, DC's largest gay bar and dance floor, staying true to our leather and levi bar history since 1971 while leaping forward with the LGBTQIA community in 2018. Home of the Mr. DC Eagle contest, the longest running qualifying contest to International Mr. Leather. Home of the Birds of Prey Drag Show, with cast members Brooklyn Heights, Iyana Deschanel, Sasha Adams Sanchez, Katrina Colby and Crystal Edge. Home to Hummer, Xavier Entertainment, Lobo, BRÜT, and many other regular events.