Lupus Public Rally and Advocacy Day

Thursday, March 29, 2012 at 10:00 AM (CDT)
Event Details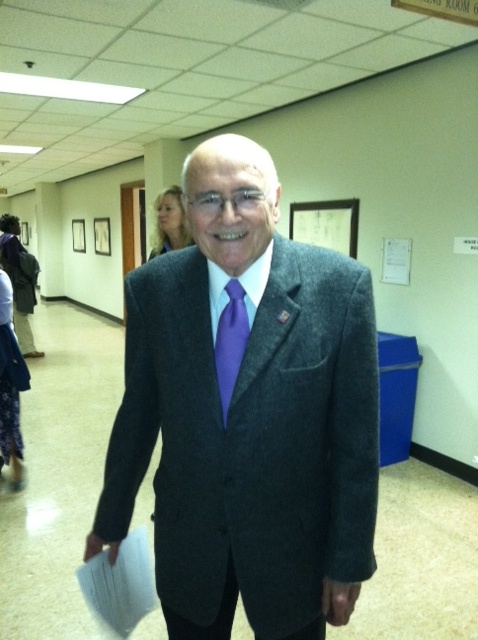 Roger Sturdevant - An LFA founder at 2011 advocacy events
State Senator Shalonn Ki-Ki Curls and House Representative Tishaura Jones Host
Lupus Public Rally & Awareness Day in the Missouri Capitol Rotunda
WHAT:                 State Senator Shalonn Ki-Ki Curls and Representative Tishaura Jones and the Heartland Chapter of the Lupus Foundation of America with lupus patients and families from across Missouri, will address members of the Missouri Legislature house and senate to raise awareness of lupus. This chronic, life threatening autoimmune disease affects more than 30,000 Missourians and 1.5 million Americans, and according to a recent paper from the American College of Rheumatology, lupus costs the nation an estimated $31.4 billion. Constituents will call on their legislators throughout the day. Lupus information and free coffee and snacks will be available for all legislators and staff in hearing room 6 from 10:00am to 1:00pm.
WHEN:                Thursday, March 29, 2012, 1:00pm
WHERE:               Inside the Capitol Rotunda at 201 W Capitol Ave, Jefferson City, MO 65101-1556
WHO:                    One-on-one interview opportunities with State Senators and House Representatives in your district. Martin Casas, Advocacy Chair of the Heartland Chapter.
CONTACT:         LaKricia Cox, (314) 644-2222, lcox@lfaheartland.org
WHAT IS LUPUS?
Lupus is an autoimmune disease that can cause inflammation and tissue damage to virtually any organ in the body, especially the skin, joints, blood and kidneys. Lupus affects primarily young women in their crucial childbearing years but also men, children and women of all ages and can result in immeasurable physical, financial and emotional toll on many families in our state. One in five lupus patients are permanently disabled, unable to work.
WHAT IS THE LUPUS FOUNDATION OF AMERICA, HEARTLAND CHAPTER?
The Lupus Foundation of America, Heartland Chapter is the only statewide resource for people living with lupus and their families and caregivers.  The Heartland chapter provides thousands of Missouri residents with expanding educational programs, advocacy and awareness efforts. Today, there is hope after the recent FDA approval of the first drug ever specifically designed for lupus. However, more research is needed for safer and more effective treatments and a cure. The chapter raises funds from donations and events including the Walk For Lupus Now, and the annual Lupus WolfRide. For more information please visit www.lfaheartland.org.
Organizer
Lupus Foundation of America - Heartland Chapter
The Lupus Foundation of America, envisions a world without lupus.  The organization will advance the science and medicine of lupus to find a cure and improve the quality of life for all people affected by lupus. 
The Lupus Foundation of America is dedicated to improving the quality of life for all people affected by lupus through programs of research, education, support and advocacy.  
The LFA-Heartland Chapter currently serves over 50,000 individuals in Missouri, eastern Kansas and southern Illinois who are affected by lupus.
Please visit our website at LFAHeartland.org, or contact us at 1-800-958-7876, info@LFAheartland.org.