Luncheon with Patricia Cogswell, Assistant Director, Intelligence, ICE, DHS
Description
Join us to hear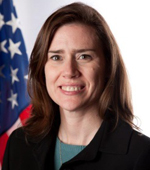 Patricia Cogswell
Assistant Director, Intelligence
US Immigration and Customs Enforcement
Patricia Cogswell is the Assistant Director, Homeland Security Investigations, Office of Intelligence, where she serves as the HSA Assistant Director of Intelligence and as the U.S. Immigration and Customs Enforcement (ICE) key intelligence officer.
Exerpt from an ICE interview:
When U.S. Immigration and Customs Enforcement's (ICE) Homeland Security Investigations (HSI) Office of Intelligence Assistant Director Patricia Cogswell was asked in ICE Director Sarah Saldana's introduction meeting to describe something unique about her, she knew exactly what to share.
"I said I'm a sci-fi junkie,'" Cogswell revealed with a laugh. "On any given weekend, you can catch me at a Marvel Comics 3-D IMAX action flick, reading a 'Star Trek' novel, or watching a 'Doctor Who' episode on TV."
It's how Cogswell disconnects from her day-to-day duties at ICE where she serves as ICE's Key Intelligence Officer. Cogswell joined ICE 11 months ago after serving in various capacities in the Department of Homeland Security, and at the National Security Council (White House) as the Special Assistant to the President for Homeland Security and Senior Director for Transborder Security Policy.
She notes that the opportunities she's been afforded, since starting as a GS-3 summer intern in 1988, reflect how far we've come as society and how much things have changed in comparison to what many women experienced a generation before Cogswell.
"I had female relatives with degrees from good universities, spoke multiple languages or had other skills that were in high demand – yet they were often asked first about their typing speed, or asked whether, given that they were married and had children, they really wanted to work," Cogswell said. "There are so many things I didn't have to go through because of people like them."
Throughout her career, starting when she majored in mathematics at the University of Pennsylvania to earning her Juris Doctor from the College of William and Mary, to her service at the Department of Justice, DHS Headquarters, the National Security Council and ultimately with ICE, Cogswell has often found herself in situations where she was the only woman in the room – or one of a very few. In all those instances, she has made the best of it, seeing it as an opportunity to break new ground.
She's also appreciative of how much help and support she's had on the way. "I understand how intimidating it can be, especially early in your career, to be in an environment where there are very few role models or people you can easily see yourself in," noted Cogswell. "I've been very fortunate that in those situations, I've had supportive male family members, colleagues, and mentors who supported me."
As a woman in leadership, Cogswell feels there's an important responsibility to better train the next generation of leaders. Over the years, Cogswell has given a lot of career advice to other women as they come up the ranks. The No. 1 point she stresses is to know yourself, to know what you enjoy doing, and not to be afraid to try something different or outside your comfort zone.
"Sometimes it's almost just as important to find out what you don't like as much as what you do," Cogswell said.
Cogswell has followed that advice as she has worked in several different fields over the course of her career. She describes her current work in law enforcement intelligence as her second career following years in policy. It's one that she finds satisfaction in and hopes to be involved in for the foreseeable future.
"I think what we do in government can make an important difference in people's lives," Cogswell said. "I like being in role where I can focus on getting things done."