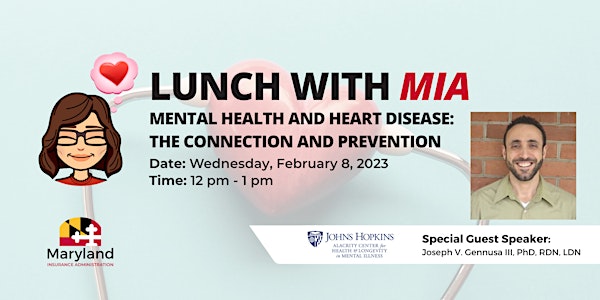 Lunch with MIA: Mental Health and Heart Disease
Mental Health and Heart Disease: The connection and prevention. Special Guest speaker: Joseph V. Gennusa III, PhD, RDN, LDN
About this event
The Maryland Insurance Administration is hosting a virtual event to discuss Mental Health and Heart Health. Topics include managing mental health, making lifestyle changes and understanding how to use your health insurance to fit your healthcare needs.
Special Guest speaker: Joseph V. Gennusa III, PhD, RDN, LDN Johns Hopkins University ALACRITY Center for Health and Longevity in Mental Illness
Date: Wednesday, February 8, 2023
Time: 12 pm - 1 pm
Zoom Link: https://www.zoomgov.com/j/1617469684
Call In: 646-828-7666
Meeting ID: 161 746 9684
This event is free and all are welcome to attend. Registration is not required, but highly recommended.
For questions, please contact Kejuana Walton at: kejuana.walton@maryland.gov