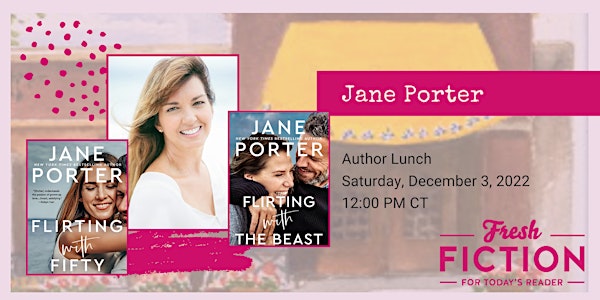 Lunch with Jane Porter
Join Jane Porter for a Holiday French luncheon in North Dallas!
When and where
Location
Lavendou Bistro Provençal 19009 Preston Road #200 Dallas, TX 75252
About this event
We're back and meeting in person! Our special guest is JANE PORTER, who will join us for a three course lunch. Join us for the experience that is time with Jane!
About the Luncheon:
Three courses with options for most diets and allergies.
About Jane Porter:
New York Times and USA Today bestselling author, Jane Porter holds an MA in Writing from the University of San Francisco and has written 75 novels since getting her first sale to Harlequin Presents in 2000. A six time RITA finalist, and RITA winner in July 2014 for Take Me, Cowboy, Jane is known for her passionate, powerful stories and relatable heroines. An advocate for writers, Jane founded Tule Publishing in 2013 to give romance and women's fiction authors support and opportunities. Jane and Tule Publishing are both based in sunny San Clemente, CA.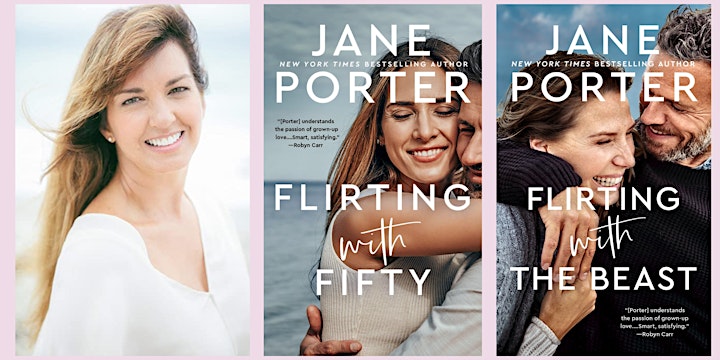 FLIRTING WITH THE BEAST
A woman expecting to spend the holidays alone finds warmth in the iciest man she knows in this steamy and charming later-in-life romance by New York Times bestselling author Jane Porter.
It's been five years since Andi McDermott lost her husband, and she's finally starting to feel like herself again, ready to live fully—she's even started dating again. But when her holiday plans with her stepson and his fiancée fall through, she refuses to spend another Christmas alone while everyone is celebrating with their families. Impulsively, she decides to go up to her cabin in Lake Arrowhead, a place she used to love to visit but hadn't gone to in years, not since the feud started between her husband and their nearest neighbor.
Andi starts to rethink her decision when being alone at the cabin proves to be more challenging than she expected—a heavy snowstorm hits the area, and Andi finds herself trapped there with no one to help except for her neighbor, Wolf Enders. A military vet who lives full-time on Lake Arrowhead, Wolf is as grumpy and intimidating as Andi remembers. But he's also unexpectedly kind and uncomfortably sexy—his presence reminds Andi that she may be older, but her body still works perfectly fine, thank you very much. But can this good girl tame this sexy beast of a man, and will this snowy fling turn into a love of a lifetime?
FLIRTING WITH FIFTY
Paige Newsom is finally at a place in her life where she's comfortable. She loves her job as a college professor in Southern California, lives close enough to her mother to visit her regularly, and has three daughters who are flourishing in their own careers. Paige has no plans to upend her life again after her divorce eight years ago, but she's about to embark on a new adventure: co-teaching a course that includes a three-week international field study.
Paige can think of a dozen reasons why she shouldn't go, one being a dazzling Australian biologist who will be teaching alongside her. Professor Jack King is charismatic, a world traveler, and more like Indiana Jones than Indiana Jones, all of which unsettles Paige, who prides herself on being immune to any man's charms. She isn't looking for love, and it turns out, neither is he. But as the two co-professors lead the rigorous program together, first on campus, then in beautiful Tanzania, their biggest challenge will be working closely together while resisting the undeniable chemistry they feel when they're with each other.
Women's Fiction | Romance [Berkley, On Sale: May 24, 2022, Mass Market Paperback / e-Book, ISBN: 9780593438381 / eISBN: 9780593438381]