Actions and Detail Panel
Lunch With Bryan Burrough: Days of Rage
Wed, April 6, 2016, 11:30 AM – 1:30 PM CDT
Description
Lunch with Bryan Burrough: Days of Rage
Wednesday, April 6, 2016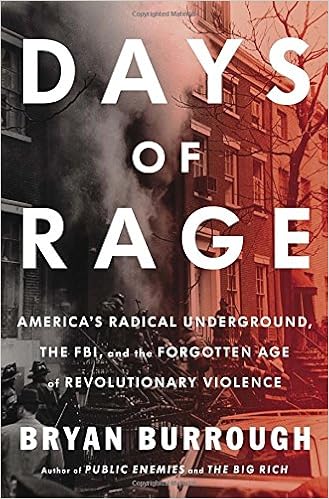 The Weathermen. The Symbionese Liberation Army. The FALN. The Black Liberation Army. The names seem quaint now, but there was a stretch of time in America, during the 1970s, when bombings by domestic underground groups were a daily occurrence. The FBI's response to the leftist revolutionary counterculture has not been treated kindly by history, and in hindsight many of its efforts seem almost comically ineffectual, if not criminal in themselves.
In Days of Rage, Burrough re-creates an atmosphere that seems almost unbelievable just forty years later, conjuring a time of native-born radicals, most of them "nice middle-class kids," smuggling bombs into skyscrapers and detonating them inside the Pentagon and the U.S. Capitol, at a Boston courthouse and a Wall Street restaurant packed with lunchtime diners. The FBI, encouraged to do everything possible to undermine the radical underground, broke many laws in its attempts to bring the revolutionaries to justice—often with disastrous consequences. Benefiting from the extraordinary number of people from the underground and the FBI who speak about their experiences for the first time, Days of Rage is filled with revelations and fresh details about the major revolutionaries and the FBI. The result is a mesmerizing book that takes us into the hearts and minds of homegrown terrorists and federal agents alike.
Bestselling author, Bryan Burrough is a special correspondent at Vanity Fair and the author of five previous books, including The Big Rich and Public Enemies.
Time: 11:30 AM Reception / Noon Luncheon Program & Book Signing
Cost: $36 per Person (inclusive of tax & gratuity)
Two Business Day Cancellation Policy
Books will be available for purchase at the event
Outside books will not be allowed in for signing
Seats will be assigned based on date of reservation
Business Casual Dress Code:

Men: Slacks or Denim with Collared Shirt.
No athletic clothing or footwear
Women: Slacks, Denim or skirt with coordinating separates
No athletic clothing or footwear
Questions?
Contact Club Events at Events@stclub.org