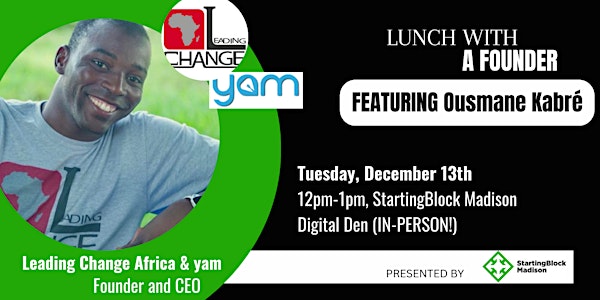 Lunch with a Founder - featuring Ousmane Kabré
Join us for our December Lunch with a Founder featuring Ousmane Kabré, founder of Leading Change Africa and Yam!
When and where
Location
StartingBlock | The Spark Building 821 East Washington Avenue 2nd Floor, StartingBlock Lounge Madison, WI 53703
About this event
These part educational, part networking events are the perfect way to meet other founders in the region, learn from other people's entrepreneurial journeys, and get plugged in to the entrepreneurial ecosystem of Wisconsin.
This month Ousmane Kabré will share his founder story.
Ousmane Kabré graduated from the University of Wisconsin - Madison with his bachelor's degree in Accounting and a Master's degree in Accounting. After graduation, Ousmane joined EY (formerly called Ernst & Young) at the Milwaukee Office and served 3 years in the Assurance Services.
At EY, Ousmane was primarily specialized in manufacturing, retail and software companies. Ousmane also received his certified public accountancy (CPA) license while working at EY. Prior to joining EY, Ousmane interned at American Family Insurance for 2 years as a Budget & Financial Analyst while maintaining a leadership position in the student government as the Wisconsin School of Business representative.
Ousmane is founder of Leading Change Africa, an organization that is transforming young Africans into leaders and leaders into agents of change. Ousmane also has skills in computer science and is the Founder & CEO of Yam Education Inc, a course content platform that allows instructors to launch, market and sell online courses on their preferred topics.
This in person event is FREE and open to members and non-members of StartingBlock Madison. New entrepreneurs and students are encouraged! Lunch will be provided.