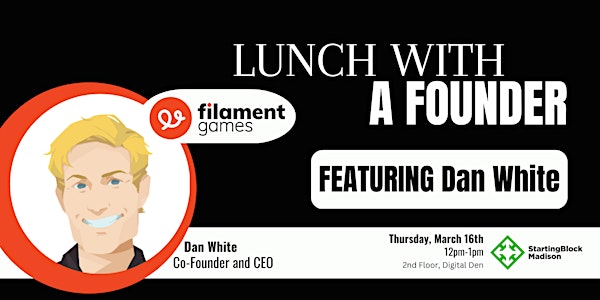 Lunch with a Founder - featuring Dan White
Join us for our March Lunch with a Founder featuring Dan White, Co-Founder and CEO of Filament Games!
When and where
Location
StartingBlock | The Spark Building 821 East Washington Avenue 2nd Floor, Digital Den Madison, WI 53703
About this event
These part educational, part networking events are the perfect way to meet other founders in the region, learn from other people's entrepreneurial journeys, and get plugged in to the entrepreneurial ecosystem of Wisconsin.
This month Dan White will share his founder story.
Learn about
Filament Games origin story and lessons learned over the last 17 years growing to 75 employees
Pros and cons of service models vs product models
Dan White believes that good gameplay and good learning are complementary rather than oppositional forces. An alumnus of Cornell University and the University of Wisconsin – Madison, Dan earned an M.S. in Education Technology under seminal learning game scholars Drs. Kurt Squire and James Paul Gee. Prior to founding Filament, Dan worked as a teacher, an instructional designer, and a game developer. Dan's passions include learning games, sustainability, mindfulness, and modernizing institutional education.
Filament Games is a video game production studio that exclusively creates educational, serious, and AR/VR games. The company's products combine best practices in commercial game development with key concepts from the learning sciences, resulting in memorable digital learning experiences with real-world impact. Since 2005, Filament Games has partnered with organizations such as Scholastic, McGraw-Hill Education, Oculus, and the Department of Education to deliver world-class game-based learning tools and simulations. Filament Games also has developed and curates an award-winning collection of learning games wrapped in a custom learning management system that has been implemented in districts across the country.
This in person event is FREE and open to members and non-members of StartingBlock Madison. Lunch will be provided.