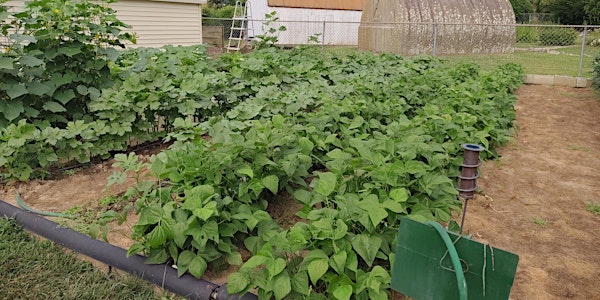 Lunch Time Garden Tips
A monthly horticulture series by NCCE Agent Johnny Coley, discussing various topics. Every third Wednesday from May through October.
About this event
This series of classes will be held every third Wednesday of each month, May through October 2021, and is in collaboration with the Person and Granville County Libraries. Each class will be via Zoom from 12:00–1:00 p.m. A list of the dates and topics are below.
Dates and Topics:
May 19  - Vegetable Gardening part 2 - My garden is planted, now what?
This vegetable garden class will discuss what you need to do after you have the garden planted, and will take you through different stages of growing your vegetable garden. Topics discussed will include; thinning and replanting if necessary, water requirements, staking and trellising, weed control, fertilizing requirements, organic vs inorganic, insect and disease control, succession planting, harvesting, season extension, and cover crops.
June 16 - Diagnosing Plant, Insect, and Disease problems
Can you tell the difference between insect damage and disease damage? Do you know when it is appropriate to take steps to control your garden/landscape issues? During this class you will learn to become D&ISIs (Disease and Insect Scene Investigators).
July 21- Lawns - Soil testing, Pre emergents, and overall preparation for lawns
How do you have the perfect lawn? Well, I do not know if you will learn the answer to that question, but you will learn steps to get started in the right direction. In this class you will learn how to take soil samples in your yard and what to do with the results from those tests. How often should you test? When do I need to put out pre-emergent herbicides? You will learn the answers to these questions as well as other procedures to follow in pursuit of that, if not perfect, nice lawn.
August 18 - Composting - What, How, Where, and Why
Do you want to create a wonderful compost to amend your soil with? Do you know how to get this process started? Do you know how much space you need? What do you put in your compost and what is vermicomposting? You will learn the answers to these questions and more as we discuss the wonderful world of composting.
September 15 - Landscaping - Proper Plant Selection and Proper Planting
This class will discuss how to choose the appropriate plant for the space you have. It will also provide you with information about how to plant your trees or shrubs in order to give them the best opportunity to live a long and productive life. Hint - choosing the right location for the right plant is the first step.
October - 20 - Pruning Basics - The When, What, and How of Pruning
It can be intimidating to prune your trees and shrubs. You will learn to relieve some of your pruning anxieties during this class as you learn the proper timing and techniques of pruning.
**Plan to join us for each session in this series or join us for the ones that interest you the most. Either way, you can register here and you will be sent a Zoom link before each session.**
Please contact Johnny Coley at johnny_coley@ncsu.edu if you have any questions about this series.