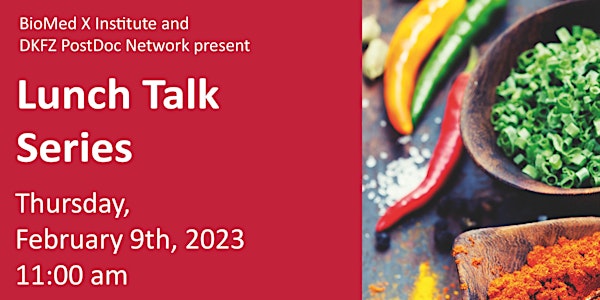 Lunch Talk with Shahrouz Amini on February 9th
Join us for the upcoming Lunch Talk with Shahrouz Amini on "Mechanical Functions and Multifunctionality in Biological Ceramics" (info below)
When and where
Location
DKFZ Communication Center, K1+K2 Im Neuenheimer Feld 280 69120 Heidelberg Germany
About this event
"Mechanical Functions and Multifunctionality in Biological Ceramics"
by Shahrouz Amini
Max Planck Institute of Colloids and Interfaces, Potsdam, Germany
Host: Khulan Sergelen
In the "Lunch Talk Series," group leaders from BioMed X Institute and the PostDoc Network of the German Cancer Research Center invite renowned life scientists to share their research and foster scientific exchanges.
When: Thursday, February 9 2023, 11:00 am
Where: DKFZ Communication Center, Im Neuenheimer Feld 280, Heidelberg
Registration: ​Please note that spaces are limited and registration is mandatory. If you register and cannot make it, please cancel your registration to allow someone else to attend.
The Lunch Talk Series is presented by BioMed X and the DKFZ PostDoc Network, with the generous support of DKFZ.
About Shahrouz Amini  (Max Planck Institute of Colloids and Interfaces)
Shahrouz Amini is a group leader at the Max Planck Institute of Colloids and Interfaces (MPICI), Department of Biomaterials, Potsdam, Germany. At the interface of Materials Science (Ph.D.), Biomaterials (M.Sc.), and Mechanical Engineering (B.Sc.), his studies are mainly focused on the micromechanical response of natural and bioinspired materials. In his group entitled "Micromechanics of Biological Materials," by combining microscopic, spectroscopic, and contact mechanics techniques, he investigates the ways physical characteristics (e.g., heterogeneities in architecture arrangement, interfaces, and morphologies) modulate the development of elastic-inelastic deformations and functionalize the mechanical performance of biological materials.
Abstract
Integration of variant functional properties has been an abiding challenge for engineering materials, wherein adding a new function often comes with adding new materials with different chemical compositions introducing heterogeneities and mismatches to the structure. Biological materials have been a prominent source of inspiration for materials scientists and engineers to conquer the challenges of developing high-performance materials. One recent inspiration has been drawn by looking at how biological materials remarkably attain "multi-functionality", wherein mechanical, optical, and surface properties can co-exist and provide "selfresponsiveness" to environmental factors yet relying on limited building blocks and minimum variations in elemental composition. In this talk, by introducing a series of functional microarchitectures in biological models, from shark teeth to seashells, I present how functions can be encoded by the microarchitectural organization and how functional responses to external stimuli can be site-specifically regulated. Incorporation of these material design strategies into additive manufacturing techniques can cater to the growing need for the development of self-responsive and self-sustaining multifunctional materials.