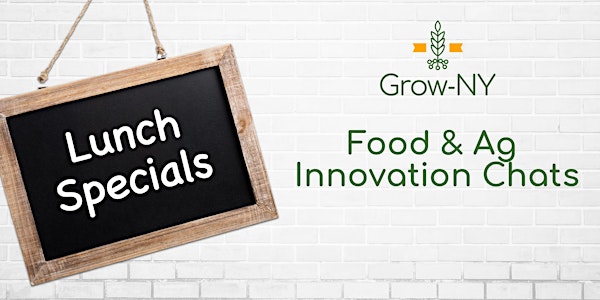 Lunch Specials: Food & Ag Innovation Chats
Lunch Specials: Food & Ag Innovation Chats
About this event
Episode No. 6: How to Partner with Farms on Pilot Testing
Tiffany Agard, MPA candidate at Cornell, speaks with Harry Greene, founder of Propagate Ventures.
Agroforestry is the strategic addition of tree crops to farmland with, among other benefits, the result of improved soil health and carbon sequestration. Propagate Ventures is a startup that designs, implements, and optimizes agroforestry systems on a range of sizes and models. Learn how a startup in regenerative ag can partner with farms of varied sizes and orientations on pilots and beyond in a way that supports the startup's core business viability.
About Grow-NY's "Lunch Specials" Webinar Series:
Each Thursday at noon, break for our Lunch Special! We will be serving up a series of short, informal chats with mover and shakers in the food and ag industry. A Cornell University student will pepper our guest innovators with questions as we get to know what motivates and challenges them and how they are adapting to uncertainties in our economic climate.
Hungry for ideas on funding or scaling? Looking for a recipe for success in tech, production, or sales? Lunch Specials attendees are part of the conversation and we encourage you to share your questions and comments as we go.
View the topics for all of our upcoming webinars.
About Grow-NY:
Applications for the Grow-NY food and ag competition are currently open until July 15, 2020. Learn more about the competition and apply online.
Watch online:
This interactive webinar will be held on Zoom. Please use this link to join the webinar: https://cornell.zoom.us/j/94164526952
The event will be recorded and posted for later viewing.
Use the Q&A function to ask questions:
If you have a question, please use the "Q&A" function on the webinar screen. Type in your question and CREA team members will monitor the questions submitted and ask the panelists to answer.
Accessibility:
Live Captioning will be provided. "Subtitles" as they are called in Zoom will be available and may be accessed by selecting the "CC" button at the bottom of the Zoom session, and turning them ON.
If you are in need of other accommodations in order to participate fully, contact the Monika Crosby at mlc258@cornell.edu.