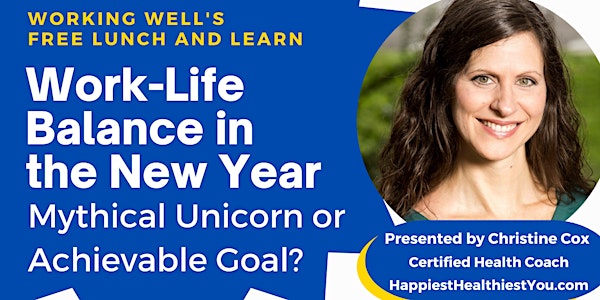 Lunch 'n Learn: Work-Life Balance in the New Year
Let's tackle work-life balance in a new way and prove it's not just a mythical unicorn - it's an achievable goal!
When and where
Location
Care Point Health & Wellness Center 2200 S. Monroe St. Tallahassee, FL 32301
About this event
"Work-life balance" is quite the buzz phrase! What does it really mean, though – and is it even possible to achieve? How can you give proper attention to both your professional responsibilities and personal life without overwhelming yourself and feeling like you want to give up trying? The good news is…it IS possible to live a happy and fulfilling life both on and off the job!
Christine Cox, Certified Health Coach and Owner of Happiest Healthiest You, will break it all down and explore what this balance means, what it can look like for you and your coworkers, and how you can get there – one realistic step at a time. Spoiler alert: This is NOT your typical work-life balance lecture. You'll get to work through your own priorities, challenges, and plan of action to implement right away – and you'll leave with plenty to share with your team too!
Register now to secure your free seat plus lunch!
A complimentary light lunch will be provided to the first 25 pre-registered attendees, thanks to the generosity of Capital Health Plan! You're also welcome to bring your own lunch if you prefer.
Thank you to Care Point Health & Wellness Center for hosting this event!