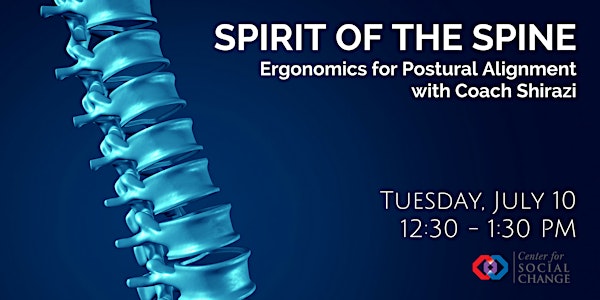 Lunch & Learn: Spirit of the Spine, Ergonomics for Postural Alignment
When and where
Location
Center for Social Change 2103 Coral Way, 2nd floor Miami, FL 33145
Refund Policy
Refunds up to 1 day before event
Description
Lunch & Learn: Spirit of the Spine, Ergonomics for Postural Alignment
The spine is an integral component of our central nervous system and overall quality of life. A misaligned spine can interfere with this system and impact many other areas of our health. In this Lunch and Learn, we will explore mindfulness in the workplace and discover how to breathe, sit and move in order to cultivate a healthy and strong physical body.
Participants will learn:
Overview of chakras, anatomy, and holistic health

Tips for correct breathing & sitting

Tips for natural movement and exercise

Solutions to optimize energy & performance
About the Speaker:
Hamad Shirazi is a Holistic Health Practitioner specializing in strength and performance. Hamad holds a B.S. Ed. in Exercise & Sport Science from the University of Georgia and a M.S. Ed. in Exercise Physiology from the University of Miami. Additionally, he is certified by the ACSM as a Personal Trainer and trained at the C.H.E.K Institute as a Holistic Exercise, Nutrition, and Lifestyle Coach.
Hamad's experience spans over seven years of client success stories and many leadership roles within wellness and fitness businesses across Miami, Florida. He has hosted wellness retreats, events, workshops and presentations to educate, inspire, and empower the community. He provides a holistic, comprehensive system for health that is simple, practical and balanced. Hamad prioritizes mental, physical and spiritual wellness with the goal of helping individuals become the healthiest and strongest version of themselves.
Fees:
Free for C4SC members | $10 for non-members | $15 for non-members with coworking day pass

Additional details:
The Center for Social Change is located on the corner of Coral Way and SW 21st Avenue in the offices above Xixon restaurant, on the second floor.
The parking details below are specific to this event.
If you're traveling by car: The Center has free parking on Floor 2B of the parking garage attached to 2103 Coral Way. If these spots are full, metered spaces are available on Floor 2A. Cash, Park Jockey, and Pay-by-Phone are all accepted.
Floor 2A is the accessible floor and has disabled permit parking. Electric vehicle recharging stations are also available.
There is also metered parking adjacent to the building payable with Pay-by-Phone and there is some free street parking in the surrounding neighborhood, especially south of Coral Way. Be sure to observe "Residents Only" and "No Parking" areas.
If you're traveling via mass transit: Miami-Dade Bus #24 and the free City of Miami Coral Way Trolley both stop just around the corner from the building. Both bus lines connect to the Vizcaya Metrorail Station at Coral Way and SW 12th Ave.
If you're traveling by bike: Bicycle racks can be found along the sidewalk in front of the building and in the garage.
Image and Audio Concent and Release:
If you do not wish to be photographed or recorded, please inform Center staff upon arrival at the venue and we'll accommodate your request.
The Center for Social Change will be taking digital photography and/or videography throughout the event. The photographs and/or video may be used across our platforms, including publications, websites, email newsletters, social media, presentations, media releases, and marketing materials. The Center for Social Change does not intend to use these photographs/videos in any manner other than for the purposes stated above. By registering for this event, you grant permission for the Center for Social Change to use your photograph/video in this manner.