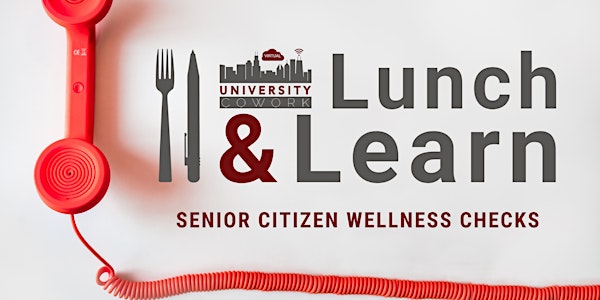 Lunch & Learn: Senior Citizen Wellness Checks
University CoWork Senior Citizen Wellness Checks: Join us to fight social isolation and hunger in our community!
About this event
Have you wondered how you can help others... particularly during pandemic, recession, and now social unrest? Short on money and not ready to assist in person?
For the past few months, University CoWork members have been phone banking to conduct senior citizen wellness checks. We have forged partnerships to route essentials to the most vulnerable. The system is tested and scalable, and we want to reach our goal of connecting with EVERY senior citizen in our area. Please help us in this effort as part of a special University CoWork Virtual July Lunch & Learn!
Join us to:
Connect with isolated seniors
Route masks + fresh food + hot meals to the most vulnerable
This virtual Lunch & Learn is free and open to the public, but registration is required. Further instructions will be sent to participants.
Wednesday July 1, 2020 @ Noon. Orientation will begin promptly at 12:00 PM, and wellness checks will start immediately afterwards.
Blog link: https://www.UniversityCoWork.com/2020seniors
If successful, the platform and relationships we've put together could potentially be deployed to other neighborhoods and regions (let us know if you'd like to make this happen). We are undertaking this effort in conjunction with State Senator Robert Peters, Alderwoman Jeanette Taylor, Exquisite Catering, Experimental Station, Star Farms, and (in process) the Greater Chicago Food Depository.
Please call (773) 800-9751 or email paulina@UniversityCoWork.com if you have trouble connecting.
#pandemic #recession #survival #strategy #isolation #SeniorCitizens #SouthSideChicago #Woodlawn #HydePark #WashingtonPark #Englewood #SouthShore #chatham #PhoneBank #LunchAndLearn #UniversityCoWork