Description
Managing Risk: The Real Cost of Workers' Comp
Do you have a plan in place if one of your employees gets hurt on the job? Learn all about workers' compensation insurance at this FREE event - what it means, why you need it, and how much it will cost - in this WomenVenture lunch and learn.
Presenters will include a representatives from Travelers Insurance and Christensen Group Insurance. You'll learn the basics of workers' comp insurance and how to best manage risk in your business. Key topics include:
Preventing injury and promoting safety in the workplace
Tips to determine the appropriate amount of insurance coverage for your small business
Managing an accident after it happens
How much does workers' comp insurance cost?
What happens after I file a workers' comp claim?
A culture of safety in your business can improve your bottom line, no matter what industry you are in. An ounce of prevention is worth a pound of cure!
Registration Closes December 3rd.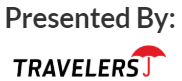 ---
All tickets include lunch catered by WomenVenture client, Keefer Court Bakery & Cafe. There will be a variety of vegetarian and meat options. Water, coffee and selection of tea are also provided.