Description
Ideas on Stage welcomes you to a one-hour event to learn how to create and deliver memorable presentations.
About this event
In today's business world, professionals are called on to make presentations on a regular basis and in many different contexts ranging from the boardroom, to a sales call, or on stage at a conference or event. In all these contexts there is no room for a hastily put together or mediocre presentation.
Do you find it difficult to develop a compelling message and a story that resonates?
Do your presentations suffer from Death by PowerPoint?
Do you find it difficult to establish a connection with your audience?
In this one-hour event, Andrea Pacini will tear up the conventional wisdom and provide you a simple new method for producing great presentations that hit the mark every time.



"Brilliant presentation by Andrea. I recommend you go to his events if you do any kind of presentations." Minal Patel, Business Marketing Mentor
"Andrea's event was eye opening. It made me understand how presentations can actually be used to transform my audience." Ghislaine Ho-Nhut, Co-Founder of Re: Adapt
What You'll Learn:
Discover the 7 mistakes business professionals make when creating presentations

Understand what's getting in the way of you becoming the best presenter you can be

Discover the 3 skills you must have in order to create and deliver powerful presentations

Learn practical strategies and techniques to help you prepare, design and deliver memorable presentations

Learn why doing it yourself is the number one mistake you are making right now

Discover the 5 key success criteria for any presentation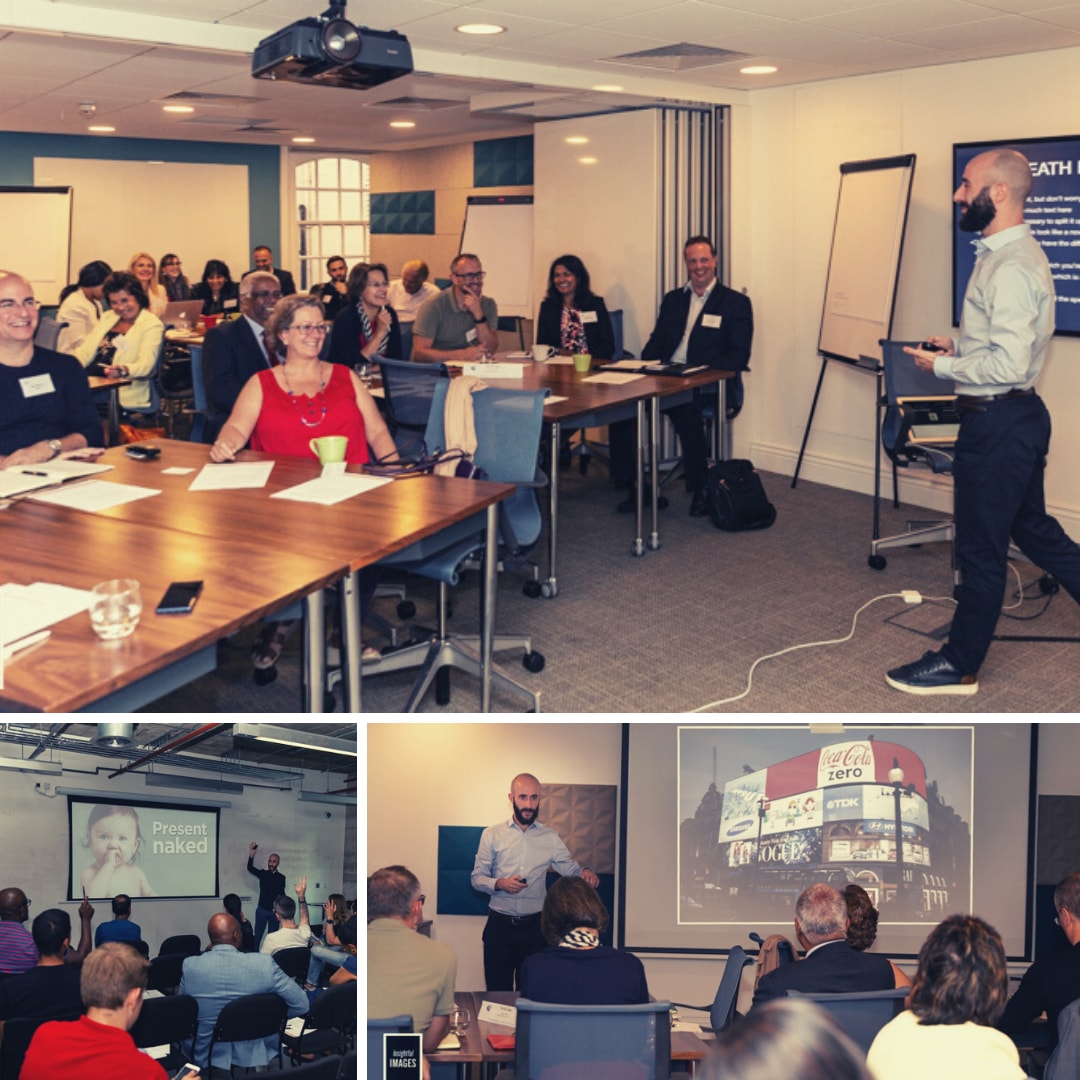 About Andrea Pacini
Andrea is a public speaking and presentation coach and founder of Ideas on Stage UK. In the last 10 years Ideas on Stage has worked with clients like Microsoft, Lacoste, The World Bank and over 300 TEDx speakers. They specialise in helping established business owners and professionals create and deliver powerful presentations. Andrea's vision is to help as many professionals as possible share their message, make an impact and be memorable.
Who is this event for?
If you are an established business owner or professional and you have been invited to deliver a special presentation, a talk at a conference or a technical speech
If you want to make a great impression on stage
If you want your audience to take action
If you want to share your message, make an impact and be memorable
If you answered yes to any of the above points, then this event is definitely for you.

The event is NOT for professionals who are not established and who never give presentations.
Agenda:
12:45pm - 1pm Arrival
1pm - 2pm Presentation
2pm - 2:15pm Event ends / Networking
Location: WeWork 70 Wilson St, 70 Wilson St, Finsbury, London EC2A 2DB
Working lunch will be provided.
*** This event has very LIMITED capacity so please ensure you book a ticket to avoid disappointment ***
If you can't make this date but would like to attend on another date, time or location, click here to check out all of our upcoming events.