Description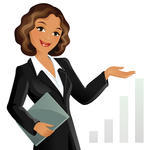 **Click Picture of Superstar Angie Agent for Short Video

REALTOR'S LUNCH AND LEARN - Supercharge your listings to multiply your business.

Supercharge Your Business

• Learn how to multiply your current listings!
• Attract & Engage Motivated Buyers!
• Leads * Listings * Social Media * Easy Craigslist Postings * and our Popular Mobile Home Tours
• Walk into Listing Presentations armed with many marketing tools to offer your clients including dedicated property website, virtual tours, Youtube, and Free Streaming TV.
• We can also get you access to prepared marketing material, including your listing presentation, flyers, etc.
• Learn about our 5 Year Post-close, Automatic, Co-branded CRM (Customer Relationship Management), including a closing gift, birthday cards, and emails for holidays and special occasions. Again for 5 years after closing!!!!


Come join us for lunch. Get your TICKETS asap as there is limited participation and when you hear what we have to share, I know you're going to want to join us.


LeaderOne Financial Corp, NMLS 12007, 701 N. Green Valley Prkwy #100, Henderson, NV 89074
(702) 576-9857 Direct

To unsubscribe email "unsubscribe" to Organizer or through request through Evenbrite.