LUNCH & LEARN CALL: 10 Steps to Financial Recovery (FREE)

Thursday, December 19, 2013 from 12:00 PM to 1:00 PM (EST)
Event Details
Join Tarra Jackson, aka Madam Money, during this FREE Lunch & Learn Conference Call to learn the "10 Steps to Financial Recovery."  She is giving participants a sneak peak of the practical tips she provides in her upcoming book, "Confessions of a Financial Fornicator."
You will learn:
The 10 Financial Recovery Steps

Do's and Don'ts of Financial Recovery

Options for further assistance
Who should attend:
Anyone dealing with Financial STDs (Substantially Tremendous Debt)

Anyone dealing with debt collectors

Anyone who has filed or is considering bankruptcy

Anyone who has had a foreclosure or repossession

Anyone who wants to AVOID bankruptcy, foreclosure or repossession

Anyone dealing with a Spending Addiction

Anyone who wants to IMPROVE their current financial situation
STOP Suffering in Silence and learn what needs to be done FIRST to begin your Financial Recovery and Freedom.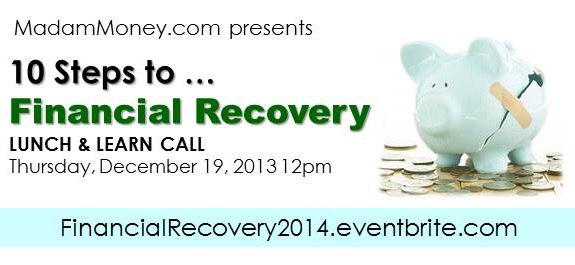 Organizer
Tarra Jackson aka Madam Money
Tarra Jackson, known as Ms. Madam Money, is an energetic & charismatic speaker that shares real life experiences to help educate her audience about personal finance, including budgeting, saving, investing, credit, insurance, and business start up.  Tarra has over 20 years of financial industry experience and is a national and international keynote speaker, facilitator and educator.  Tarra's passion is to help people through information and education. .
What is Madam Money Class?  
Madam Money Class provides practical strategies to help people succeed in the areas of:
Personal Finance
Wealth Creation & Protection
Business Owner Success Strategies
Monetizing Social Media
Brand Exposure
Stay tuned for upcoming Madam Money Class (MMC) via Facebook LIVE.
Contact Tarra Jackson at www.MadamMoney.com by emailing Info@MadamMoney.com.