Description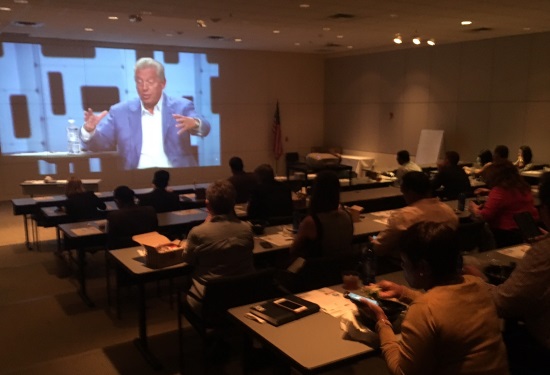 Leadership Lessons & Personal Growth
You'll get game-changing Leadership Lessons by John Maxwell and me over a catered lunch while networking with other professionals.

What previous attendees say:
"The event was phenomenal!" - Akeila
"The content was excellent and speakers were fabulous! - Bob
"Loved it! The event exceeded my expectations!" - Debbie
"All of the content was really fabulous and I look forward to getting more!" - Gina

Hear them live on YouTube - https://youtu.be/QfTemwE0YVA

---
Seize your opportunity for the boldest advance ever in your personal development. Let John C. Maxwell and Teresa Devine inspire you as never before to fulfill your highest dreams—and to make an enduring difference in the lives of those around you.

For EVERYONE regardless of leadership rank or position!
Embracing these laws will fill your vision with a clear picture of your true passions and purpose—the real foundation for lasting personal and leadership growth. You will become more convinced than ever of the priceless value of intentional living—and more motivated than ever to keep growing and never stop. You will quickly grasp how these invaluable laws can lead to success in every aspect of your life. You will see a clear path forward for growing in character, advancing in career goals, enriching relationships, and enhancing life-management skills.

---
About The Trainers

John C. Maxwell is a #1 New York Times bestselling author, coach, and speaker who has sold more than 25 million books in fifty languages. As the founder of The John Maxwell Company, The John Maxwell Team, EQUIP, and the John Maxwell Foundation, he has trained more than 5 million leaders.

Teresa S. Devine is a former Fortune 500 Chief Information Officer and 15-year Technology Leader. She is the CEO of Teresa Devine Co. "Serve, Lead, Succeed" and has trained and lead teams through complex scenarios transforming IT into high-performing business enablers. Teresa is a certified John Maxwell Team Trainer and certified Gallup Strengths Coach.

For event inquires, please contact:
TERESA DEVINE
SERVE.LEAD.SUCCEED
M. 770.561.4222
teresadevine.com

---
Co-Hosted by
QTS DATA CENTER TOURS - if you are interested in taking a tour of a world class Data Center facility before or after lunch, please contact:
BOB GARGOSH
O: 678.835.5118 M: 404.643.7337
300 Satellite Blvd NW, Suwanee, GA 30024
NYSE: QTS
qtsdatacenters.com
---

IMPORTANT NOTES
Your driver's license is required to enter the Data Center for security purposes.
Your registration is required to attend.
Sorry, refunds are not provided.
John C. Maxwell will be live on video and not physically present.
Teresa Devine will be your live facilitator and certified John Maxwell Team trainer.

We look forward to seeing you there!

Save
Save