Lunch and Learn: To STEP or Not to Step: Appropriate Use of the 12 Steps in...
Description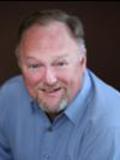 Presenter: Donald Durham, Ph.D., Licensed Psychologist
Program Director for Rosewood Centers Tempe Outpatient Center
Dr. Don is a licensed psychologist who has been in the helping professions for over 30 years. His first job as a mental health provider was as a therapist on an eating disorders unit. He went on to build a hospital-based eating disorders program for the renowned Minirth-Meier Clinic in the 1980's, and then moved to Arizona to develop the program and serve as Clinical Director of Remuda Ranch Center for Eating Disorders. He has been in private practice for over 20 years as well as serving as Clinical Director for other outpatient mental health agencies. Dr. Don served as Clinical Director at Gatehouse Therapeutic Health Services, a residential treatment center for young adult substance addicts, for some 10 years. At Gatehouse he designed and implemented an innovative Family Workshop series in addition to serving as the Training Director for the entire facility. Dr. Don continued to expand the breadth of his experience by working in the medical field, providing psychological consultations for Banner Desert Medical Center and psychological screens for prospective bariatric surgery patients. He then worked for Immigration and Customs Enforcement in the Immigration Health Service Corps, providing psychological services to the undocumented individual seeking the opportunity to live in the U.S. In this position he specialized in Trauma-Informed Care and Substance Abuse Relapse Prevention, learning to communicate clearly and succinctly across culture, language, and education barriers.
Dr. Don has now returned to his first passion in the mental health field, serving as Program Director for the Tempe Outpatient Center of Rosewood Treatment Centers for Eating Disorders, directing Intensive Outpatient Programs (IOPs) for both adults and adolescents as well as providing direct client care in individual, group, and family therapy. He and his wife Karen have been married almost 40 years; have three adult children and eight grandchildren.
Title: To STEP or Not to Step: Appropriate Use of the 12 Steps in the Treatment of Eating Disorders
This lecture will address the question of whether, and when, an eating disorder is an addiction. A conceptualization of an integrated approach will be provided, taking into account the current best-practice methodologies from the field of psychology as well as the tried-and-true approaches of addictions recovery. Finally, a progression of treatment will be suggested as a guide to treatment planning.
OBJECTIVES:
The participant will become familiar with selected key principles in mental health treatment of eating disorders as well as selected key principles in the treatment of addictions.

Participants will learn to distinguish symptoms of early-stage eating disorders from those of later-stage eating disorders, and how these patterns of symptoms can indicate appropriate directions in treatment.

Participants will learn to identify effective interventions for the treatment of individuals in either Stage 1 or Stage 2 eating disorders.
FAQs
Where can I contact the organizer with any questions?
Judy Marty at judy.marty@rosewoodranch.com
This event is specifically tailored to professionals such as licensed practicing RD's, LMFT's, LPC's, PhD's, LISAC's, Clinical Directors, medical staff and clinics and outreach personnel who are seeking connection and referral resources. RSVP - Seating is limited.
Date and Time
Location
Rosewood Centers for Eating Disorders - Tempe Clinic
950 West Elliot Road
#201
Tempe, AZ 85284