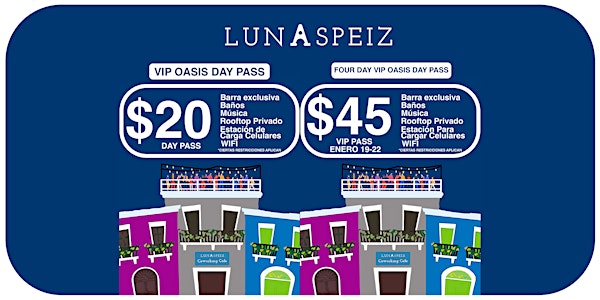 LUNASPEIZ VIP OASIS DE LA CALLE SAN SEBASTIAN 2023 @ CALLE LUNA.
SanSe Oasis @ Lunaspeiz Calle de la Luna #157
When and where
Location
LunaSpeiz Co-Working Calle luna 157 San Juan, PR 00901 Puerto Rico
Refund Policy
Contact the organizer to request a refund.
Eventbrite's fee is nonrefundable.
About this event
Espacio exclusivo dentro del carnaval para que puedas traer a tus familiares, amistades, equipo de trabajo y clientes. Lunaspeiz esta ubicado en la Calle Luna #157 a solo dos calles de la SanSe. Entrada y salida del espacio libre, puedes entrar y salir cuantas veces quieras luego de estar registrado, convierte a Lunaspeiz en tu Oasis/Hub en la SanSe.
• Espacios limitados por día, ambiente VIP.
• Café Bar + Full Bar con mixología, "Top shelf liquor", vino, espumoso y cervezas artesanales, localizada en el primer nivel.
• Menú de picadera.
• Wine and Beer Garden en nuestro Moon Terrace Rooftop.
• Patio interior mirando las estrellas y música de fondo.
• Charging Stations.
• 5 baños.
• 7,000 pies cuadrados de espacio, 1,800 pies cuadrados de Rooftop.
San Se Day Pass:
San Se Day Pass: $20.00.
San Se Four Day pass: $45.00; Este pase incluye un trago de la casa con Vodka Bravada, Bombay Sapphire, Whiskey Dewar's 8 o Don Q.*
Horarios:
Con el pase tendrás "Full Access" al espacio en los horarios indicados. El schedule de Lunaspeiz @ San Sebastián es el siguiente:
• Jueves 19 de enero: 5:00 pm a 11:30 pm
• Viernes 20 de enero: 5:00 pm a 11:30 pm
• Sábado 21 de enero: 12:00 pm a 11:30 pm
• Domingo 22 de enero: 12:00 pm a 11:00 pm
Proceso de registro:
1. Llegue a Lunaspeiz ubicado en la Calle de la Luna #157.
2. Entre por la puerta principal la cual estará identificada.
3. Pase al área de registro y muestre un ID valido (Licencia, Tarjeta Electoral o Pasaporte) con foto para poder registrarlo.
4. Se le otorgará una bandita y ponche que le permitirá el acceso al espacio.
Cuando pase el proceso de registro podrá utilizar el espacio y tiene libre entrada y salida durante el horario operacional indicado.
Servicios con el Day Pass:
• Acceso al espacio en áreas designadas.
• Utilización de WIFI.
• Acceso a baños.
• Acceso a enchufes eléctricos disponibles para cargar sus celulares.
*El "San Se Day Pass" y el "San Se four day Pass" en ninguna de sus modalidades incluye bebidas o alimentos, los mismos estarán a la venta en el espacio.
*La bebida ofrecida en el "San Se four day pass" tiene que ser consumida el mismo día, el cliente escoge el día. El trago ofrecido se confeccionará con Don Q y/o Vodka Bravada, el mismo se hará con uno de los dos licores a preferencia del cliente, se confeccionará con medidas estándar de 1.5oz-2oz en vaso de 10 oz-12 oz, las mezclas de los espíritus serán sodas, agua tónica o agua con soda. Las bebidas son no transferibles por día o persona, estas bebidas no se pueden intercambiar por dinero y la venta a terceros es ilegal.
*Algunas restricciones aplican: Nos reservamos el derecho de admisión; el boleto no incluye ningún tipo de bebida ni alimentos; no puede traer bebidas ni alimentos de otros establecimientos; el horario de entrada y salida se cumplirá a cabalidad; el boleto es no transferible por día o persona; el menú de tragos, bebidas y alimentos es limitado al menú ofrecido durante el evento; Lunaspeiz está en la potestad de hacer cambios de ofrecimiento durante el evento si así lo amerita; durante el evento se tomaran videos y fotos para utilizar en las redes y website al adquirir concede a esta regulación; no habrá devoluciones de dinero por entradas o de cualquier otra índole; no se admiten menores de edad al área de barra; todas las reglas de Lunaspeiz ubicadas en la página www.lunaspeiz.com en el área de términos y condiciones aplican.