About this Event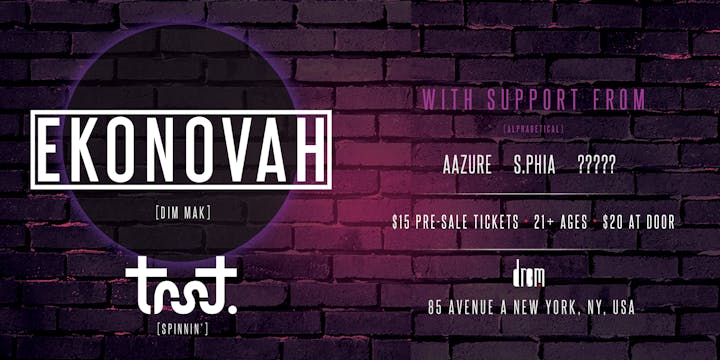 Lunar Lounge is an electronic music events company based in New York City. Our mission is to consistently deliver out-of-this-world musical and visual experiences where guests become immersed in themselves and the moment, and let go of daily external stresses.
June 28th will be the New York City Debut of Dim Mak artist "Ekonovah"
Originating from phoenix Arizona, Ekonovah is on a simple mission: to influence the electronic music scene with a new sound. after finding his voice, the 21-year-old is creating a new identity predicated on musical integrity, danceable grooves, and a departure from the sounds of mainstream electronic music
After catching the attention of world famous DJs like Porter Robinson and Ekali by blending clever sound design in an unexplored context, Ekonovah is crafting his own niche within the electronic dance community
Trst.
Trst. is a San Francisco based producer best known for his work on Spinnin' Records such as Throw Yo Body and Bitch Boyz as well as his blend of G-house and Fidget House. Trst. is back in NYC for his third show to date to celebrate his newest release in late June! His new label will be announced closer to the date of the show so make sure you stay locked in!
The event will also be supported by acts such as S.Phia, a secret guest set, and a special birthday celebration for Aazure.