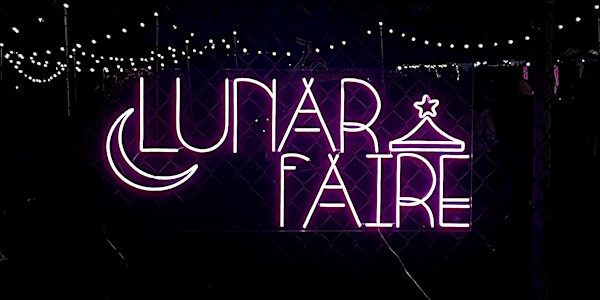 Lunar Faire September 25th - New Moon in Libra!
WHAT'S UP CENTRAL JERSEY! Come celebrate the New Moon in Libra at our first Faire at Burlington County Fairgrounds!
When and where
Location
Burlington County Fairgrounds 1990 Jacksonville Jobstown Road Columbus, NJ 08022
About this event
Lunar Faire is coming to Central Jersey!
Come see us at Burlington County Fairgrounds on the 25th, and enjoy...
That Lunar Faire vibe
New Moon Magic
Drag Show
Curiosities
The One and Only Ghost Boy
Entertainments for all ages
Potions Lab (non-alcoholic)
The best, weirdest, and witchiest vendors around
Group spellmaking with the Lunar Queene
Bracelet social experiment
Fire/LED dancing
Fortunes told
Tap dancing crowd medium reading
Magickal book exchange and book club
Mermaid Encounter
Nighttime
Whimsy
Plimsy (which is a word I made up in my dreams last night)
Sideshow acts
Fairy hair, henna, and face paint
Music: scheduled and wandering
Flute wizard
Regular wizard
Things that glow
Drums, possibly in a circle
New vendors and performers
Cool people like you
Cool people unlike you
More!?
MERRY MEET MAGICKAL MATCHMAKING NOW AVAILABLE AS AN ADD-ON HERE ON EVENTBRITE!
Purchase a submission to our Astrological Matchmaking service and be paired with 3 potential matches based on your astrology chart and your preferences! Meet them at the next Faire!
Parking
Parking is on-site. If you have an opportunity to carpool or get dropped off, that's always super cool of you and allows for more attendee parking :)
What to Bring
A flashlight! Some parts of the faire are dark!
Everyone you know!
Cash! Internet is spotty and sometimes digital payments don't work so we recommend bringing cash to avoid issues. But we also have a really cool ATM guy now too!
Comfy shoes - there's a lot to see!
Your weird and/or witchy and/or light up garb! Or you can buy some at our merch booth!
Chair/blanket to rest your bones
A drum to drum on at the drum circle
A book for the magickal book exchange
Shopping bag, reusable cup, other waste reduction items
Rain Date
We usually go rain or shine! Unless we don't! Light rain we'll power through. Turn on our social post notifications and check your spam (our emails get lost in there a lot) for weather updates if it looks squirrelly out.
Refunds
All ticket sales are final. No refunds will be issued or transfers honored for other events unless we cancel or reschedule.
Day-of Tickets
Will be available at the gate for $15.
No Furry Friends Please
Pets other than service animals are prohibited. You may have seen people bring pets. Those people might not have seen the FAQs on the website or this part of the ticket, or the posts about it, or may be ignoring all of these. But please, out of respect to the venue, and non-pet people, and our insurance policy, please leave your furry friends at home. You will be turned away if you have a non-service animal pet with you.
Photos
You might have your picture taken and we might post it on our socials. If that's a problem, tell someone.
Covid Stuff
Mask mandates are rapidly changing and we are a compassionate crowd! Please bring one, and wear one when appropriate or asked. We will comply with all mandates as they roll out closer to the event date and ask for your cooperation and empathy.
Additionally, exposure to COVID-19 is an inherent risk in any public location where people are present; we cannot guarantee you will not be exposed during your visit. The CDC advises that older adults and people of any age who have serious underlying medical conditions might be at higher risk for severe illness from Coronavirus. Attendees should evaluate their own risk in determining whether to attend. Don't come if you're sick, showing symptoms, or generally cantankerous. People who show no symptoms can spread Coronavirus if they are infected, any interaction with the general public poses an elevated risk of being exposed to Coronavirus. By coming to Lunar Faire, you acknowledge and agree that you assume these inherent risks associated with attendance.
Top photo: Mads Armstrong
Bottom photos: Mattie Rosen
www.lunarfaire.com