Chatham Marconi Maritime Center welcomes NASA's Dr. Eric Poole to its virtual Speaker Series on May 6 at 7:00 PM
About this Event
NASA is developing the spacecraft to land the first woman and next man on the Moon. Unlike the Apollo landings, today's astronauts will land on the south pole of the moon, out of sight of Earth. In order for these astronauts to communicate back home, NASA and our International Partners are drawing up a communication and navigation network, LunaNet, to orbit around the Moon.
Dr. Eric Poole is the Division Systems Engineer for Exploration and Space Communications at NASA Goddard Space Flight Center. Eric has a Bachelor's in Aerospace Engineering from the University of Florida, and a Ph.D. from the University of Washington. After a brief time in West Palm Beach providing analysis of various rocket engines for Pratt & Whitney, Eric began his NASA career in Huntsville, AL ensuring performance of the Space Shuttle solid rocket motors. He then returned to Florida where he prepared such missions as Juno, Curiosity and Orion for launch from the Kennedy Space Center. He is currently a technical lead for NASA's communications and navigation systems, including the design of lunar networks in support of Artemis missions.  
The Speaker Series is free for Chatham Marconi Members, and Members' courtesy Guest Passes will be honored. General admission for non-members is $10, which permits one linked computer to access the Zoom webinar.  Why not join now at www.ChathamMarconi.org to enjoy this and future programs at no charge?!
About Chatham Marconi Maritime Center Founded in 2002, the Chatham Marconi Maritime Center is a 501(c)(3) organization which celebrates the rich history of 20th Century maritime radio and explores the innovative advances in science and technology that continue to transform our lives. The Center comprises the historic Marconi-RCA Wireless Museum, an Education Center offering in-house STEM education in communications science and technology, and the TechSmart education outreach initiative designed to bring its proven wireless technology curricula directly to children in Cape Cod classrooms.
About the Chatham Marconi Speaker Series Programs are presented on Thursday evenings during the Summer, and on the first Thursday of each month from October through May. Subjects are drawn from the resources of the Marconi-RCA Wireless Museum, the STEM After Hours program, or member-suggested topics related to its mission. For the foreseeable future the series will be presented virtually, or if conditions permit in a hybrid format with a limited live audience.
More at: www.ChathamMarconi.org.
Above Image Credits: Artist's concept of the ARTEMIS/THEMIS spacecraft in orbit around the Moon. - NASA/Goddard/Conceptual Image Lab. Profile photo - NASA/Dr. Eric Poole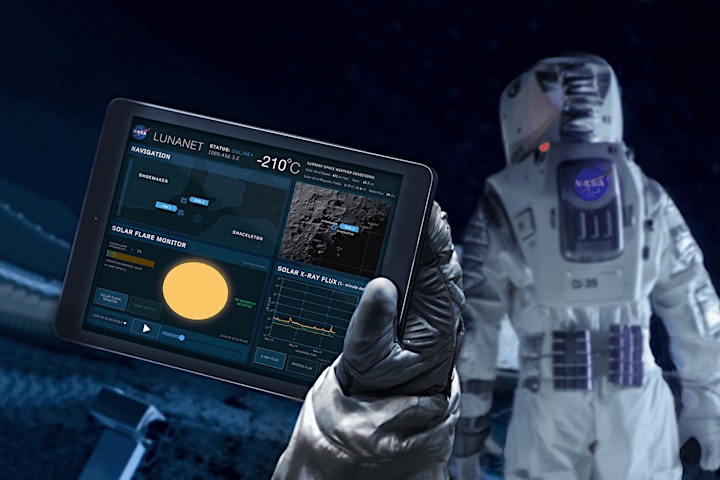 An artist's concept of what LunaNet network access might look like to astronauts on the lunar surface. Credit: NASA/Reese Patillo, photo manipulation using iStock.com/KrisCole and iStock.com/gorodenkoff images.