Lumpia and Martinis

Saturday, August 10, 2013 from 6:00 PM to 10:30 PM (PDT)
Event Details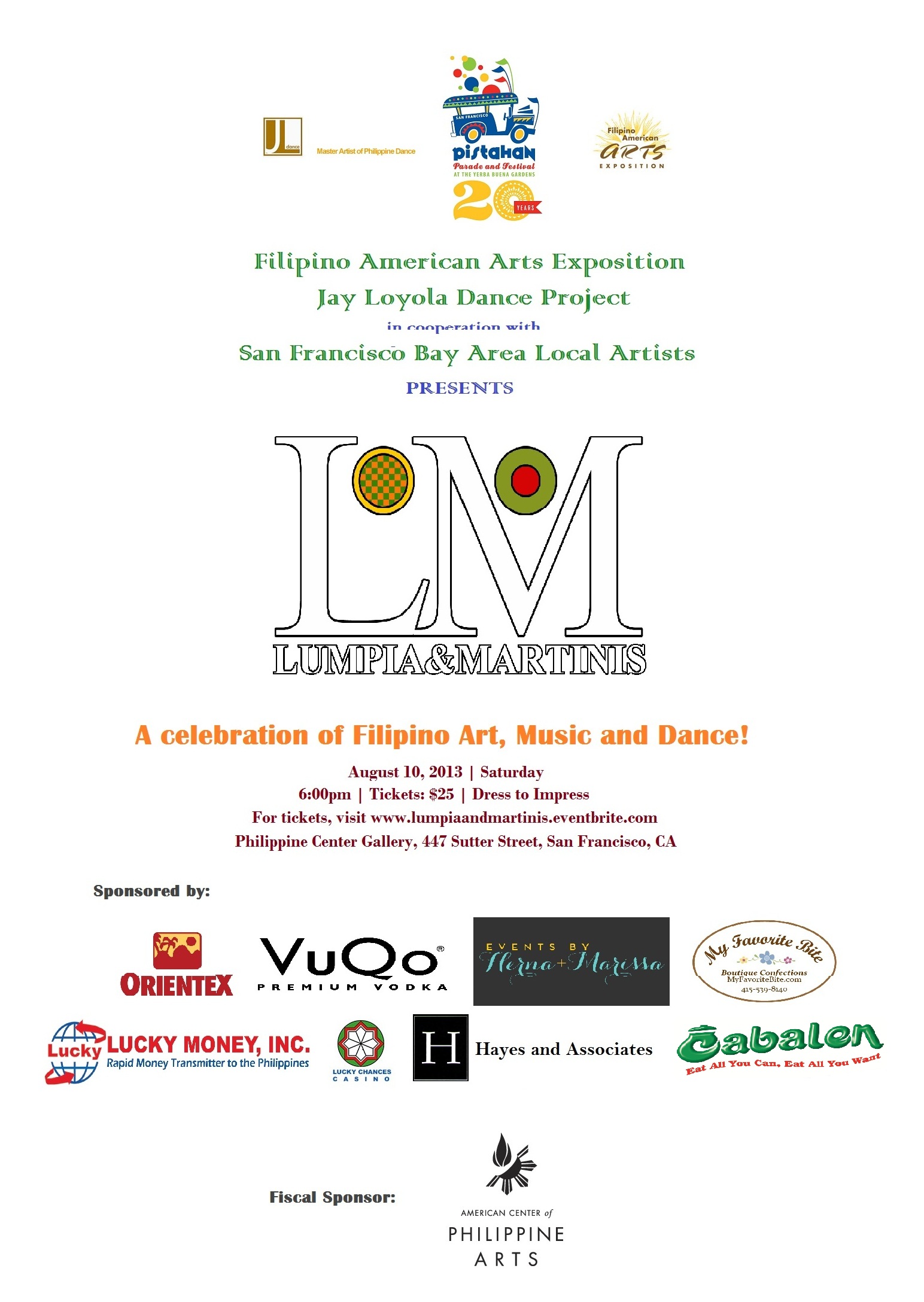 When you're out in San Francisco, a few options get you as up-close-and-personal with local artists quite like sharing the dance floor. An added plus is abandoning yourself to the rhythms and the energy of the crowd as the kind of total, free-spirited fun you won't regret in the morning. 

Come join us for a night of art, music and dancing to raise funds for Bay Area Philippine Arts. 

Bid art from Baybayin artist Christian Cabuay and 10 other local artists - photography, painting, jewelry and many more. Then dance the night away to digital sounds of Ron Quesada (Kulintronica) and DJ Chris from LA. 
 =============================================
Christian Cabuay's work explores Filipino culture in the diaspora. Using the nearly extinct indigenous writing system from the Philippines, Baybayin, as a foundation, he incorporates and deconstructs calligraphy and graffiti methods. His pieces can be described as didactic art that is meant both to entertain and to instruct. Themes explored are identity, poverty, love and duality.

Lumpia & Martinis combines Filipino flavor with Bay Area taste! Ron Quesada used to perform in the bars of Martinez, CA -- birthplace of the Martini-- before an instrument called the kulintang turned his life around. Ron combines the traditional melodic percussive gong instrument from the Southern Philippines with pulsing electronic dance music to bring kulintang to places its never been. Kulintronica mixes culture with nightlife like Lumpia and Martinis! 

Parangal Dance Company, under the direction of choreographer, Eric Solano, is a Filipino Folk Dance Group based in the San Francisco Bay Area that Aspires to Inspire to give tribute to Philippine heritage by preserving and promoting ethnic attire, music, and dance through research, workshops, and performances. They aim to serve as a bridge, inspiring and connecting Filipino Americans to their roots to give them a sense of pride and identity, while educating diverse communities to foster awareness and appreciation of Philippine culture. http://www.parangaldance.org/
Pamela Ybanez is a conceptual artist who creates videos, photographs, and paintings. Overall, her works have dealt with personal and social investigations as a way to discuss existing societal conditions, such as issues around inequality or identity. Currently, she has been researching the history between the Philippines and U.S. She firmly believes that art can be a tool for asking questions and creating curiosity that can lead to new ideas.

La Bamboo Vixen "the supernatural sweet and sour bundle of SOUL" … is a burlesque soloist, as well as a showgirl and dancer with the Hot Pink Feathers. She was recently a cast member of Burlesque Moulin's production of "Midnight in Paris" presented at the world famous Biscuits and Blues in Spring 2013. She has performed at major events such as Tease-O-Rama and the San Francisco Carnaval Parade; and private events for Benefit Cosmetics, VMWorld for Symantec, the iPhone launch for UStream.com, and MORE! Performing in elegant concert halls such as the Great American Music Hall and San Francisco City Hall to intimate spaces like the eclectic Cafe Van Kleef in Oakland and cozy Winters Tavern in Pacifica … No matter what size the venue is, performing makes her feel alive! She aims to dance with all of her Heart & Soul * and Hopes to Inspire others * One Stage at a Time! * www.LaBambooVixen.com *

Paolo Salazar- Artist and Educator, is a transplant from Baguio City, Philippines. In 2005, he earned a BFA from San Francisco State University with a Dual Emphasis in Art History & Painting. His artwork has been shown in both small-scale galleries and in high-profile spaces, including the Fine Art Museum of San Francisco – Legion of Honor, Bedford Gallery in Walnut Creek, the San Francisco Museum Historical Society at The Old Mint, and at the Pistahan Festival. He has also completed public murals & private commissions around the country. After several years of curating local arts shows, Paolo Salazar and partner Jarett Carlston opened the Lower Branch Gallery in December 2012 at 233 Eddy Street in San Francisco's Tenderloin neighborhood. For the past year, Salazar has been leading hands-on art experience with Kularts: participatory chalk art in public spaces, and mural arts workshops at the Bayanihan Community Center. Ultimately, Paolo is inspired by bringing people together in friendship and creative collaboration. 

Juven Ayudtud was born in the Philippines, raised in New York City, moved to Stockton, California for Bible College- an extreme right wing Christian fundamentalist school. He then moved to San Diego and came out of the closet and now currently living in San Francisco and attended the Academy of Art University; changed profession from nursing to artist. He draws his inspiration from an uncle who has over a million members in his church in the Philippines that was converted by his mother. He has a dream that after his existence no child coming into this world will be afraid of their sexuality at the hands of our cultures. Please help him actualize this dream"…

Melanie Sangalang, is a self-taught artist, a thinker who loves to laugh and have great conversations with friends and family. Born in the 80's, in the heart of Metro Manila, Philippines. Her fascination with the arts began at the earliest age she can remember. Her design work fuses together diverse, visual imagery, driven by passion, inspired by people and events; reaching out to its audience evoking emotions that move the heart. 

Marconi Calindas- Black lines and pure hues are the trademarks of Marconi's distinctive rendering style. While his subject matter varies from pop icons to triumphs of the human spirit, it's the boldness of his visual vocabulary that holds the viewers attention and continues to attract a widening audience. Marconi Calindas is now a resident artist in San Francisco. Translating his art onto clothing using designs inspired by Guam and Northern Mariana Islands. Stateside, he has been invited to display his work in public art projects ranging from San Francisco City Hall, Children's Creative Museum, Hotel Triton Mezzanine Gallery, Magnet SF and Menlo College to exhibits at A-Forest Gallery NYC, Intermedia Arts Gallery Minneapolis, Artists Alley SF, Bayfair Mall (San Leandro, CA), Newpark Mall Cultural Center (Newark, CA) and Aspect Gallery in San Francisco among many others. A grand prize winner for the New Era Introducing Global Creative Project North America 2012 competition, Marconi's winning piece that tackled a sensitive subject about teen bullying and suicide was showcased in five key art cities in the US: New York City, Miami, Los Angeles and Miami and in Toronto, Canada from October to November 2012. He has received a Certificate of Honor from the San Francisco City Hall Office of the Supervisors for this triumph. His works have also been featured as cover images in publications for the Organization of Refuge, Asylum and Migration International in 2012 and once again will be featured as cover images for its 2013 publications. Recently his major pieces with LGBT themes have been featured at the 2013 GLAAD Media Awards in San Francisco and the National Queer Arts Festival's Zeitgeist Exhibition at the SF SoMARTS Gallery. Marconi is currently promoting a children's book about bullying, which he illustrated and co-wrote with his partner Adam Cafege. The book "Of Petals and Hope: Sonny Sunflower Triumphs Over Bullying" was launched in the island of Hawaii at the Maui Arts and Cultural Center in July 2013 and will be launched in San Francisco soon. For more information, visitwww.marconicalindas.com or www.sonnysunflower.com or email the artist at calindasmarconi@me.com or call at mobile no. (415) 418-9546.

Lenny San Jose aka Ukulenny is an ukulele performer and educator residing in the East Bay. It was in middle school that Lenny picked up the guitar and began his life as a performer, but it wasn't until after attaining a Bachelor's degree in music from UC Berkeley that he decided to try out a little instrument known as the ukulele. Since then, he hasn't been able to put it down. Now, 5 years later, he is receiving worldwide recognition for his YouTube Tutorials and Covers. With an ever-growing audience, Ukulenny has had the opportunity to perform all over the Bay Area, in various venues throughout California, and most recently, Manila, Philippines, and hopes to continue to spread the ukulele love around the world. Ukulenny's performances cover a wide variety of musical styles, including Motown, R&B, Oldies, Classic Rock, Reggae, 80s, 90s, and Top 40 music. His wide range suits him well in his monthly gig at Pa'ina Restaurant and Lounge in Japantown, where he takes requests and entertains the dinner crowd. When not performing as Ukulenny, you can find him playing jazz with the Bob and Lenny Show, practicing on BART, and teaching vocal ensembles at Oakland School for the Arts."
A successfully starving artist raised in the Bay Area, Coco Chanel began drawing for fun at a young age and hasn't stopped since. Her college career began at the University of Hawaii where she studied Graphic Design, drawing and sculpture. While living in Hawaii she sparked an interest in Polynesian tattoos and art which has been the biggest influence in her art. She plays with the intricate patterns and flowing contours that gives her work a very feminine touch. Coco now lives back in San Francisco continues her exploration of different art forms in the vibrant city. 
Corey aka CryWolffs is an Electric Violinist from the San Francisco Bay Area. Having played violin since the age of four, he now mixes his classical training with the modern urban sounds of today. He has performed at venues throughout California bringing his almost entirely improvised set to stages from San Francisco to Los Angeles . As a former competitor in Kollaboration SF, an Asian American talent competition, he has become greatly involved in Asian American events, performing for API groups, Asian festivals, Myx TV, ABS-CBN, and various youth groups.

=============================================

Oh and by the way... some people are celebrating their birthdays too!!! 

August 10, 2013 | Saturday 
6:00pm | Tickets: $25 | Dress to Impress

For tickets, visit www.lumpiaandmartinis.eventbrite.com

Philippine Center Gallery, 447 Sutter Street, San Francisco, CA

Enjoy UNLIMITED LUMPIA and special performances! Your first martini is on us!
When & Where

Philippine Center Gallery
447 Sutter Street
#6
San Francisco, CA 94108


Saturday, August 10, 2013 from 6:00 PM to 10:30 PM (PDT)
Add to my calendar