Description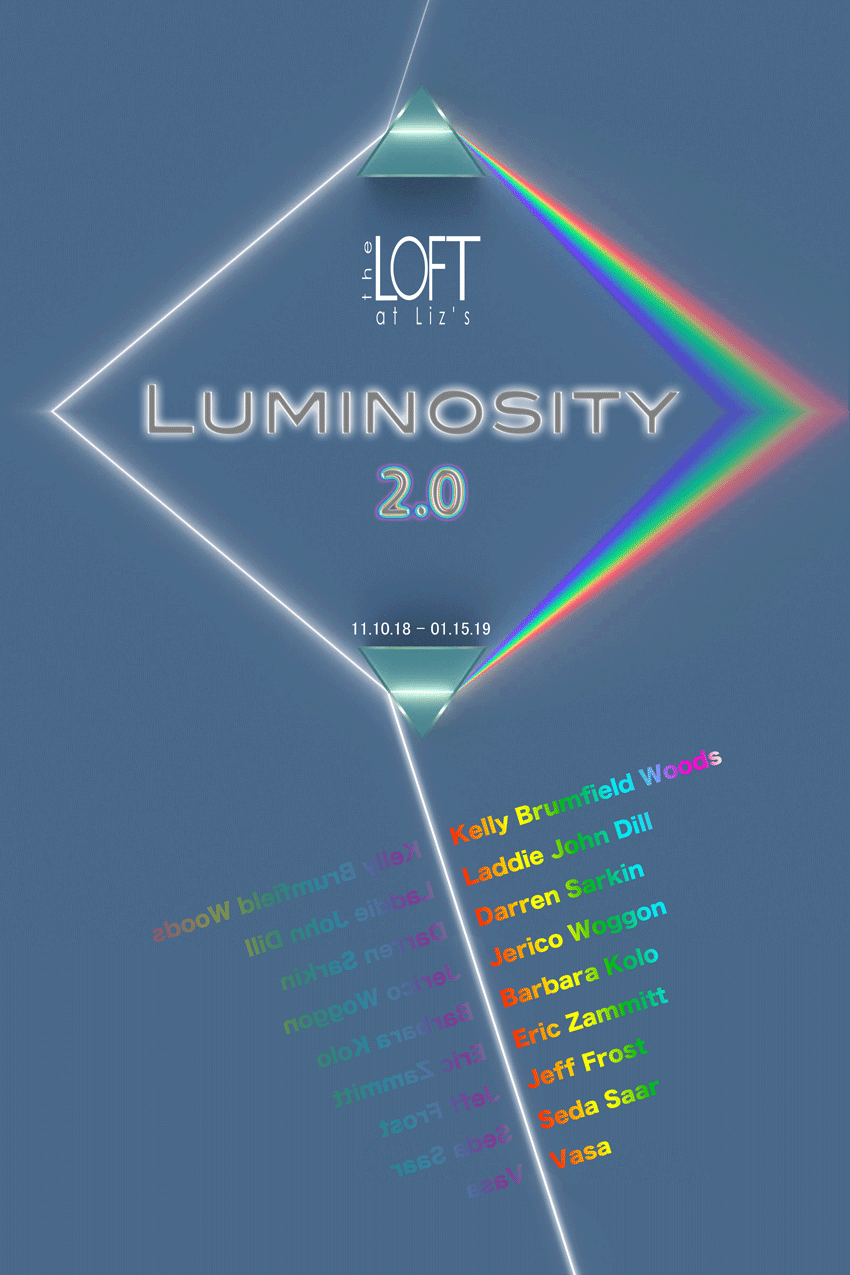 LUMINOSITY 2.0
OPENING RECEPTION: SATURDAY NOVEMBER 10th (7-10pm)
Art should be an experience, an experiment, an environment.
Join us as nine luminary artists transform The Loft at Liz's in an exploration of light, space and color.

Click here to view full exhibition details.
Featuring works by:
Jeff Frost
Darren Sarkin
Kelly Brumfield Woods
Laddie John Dill
Jerico Woggon
Barbara Kolo
Eric Zammitt
Seda Saar
Vasa
Luminosity – measurement of brightness, state of enlightenment.
Historically the artist was, perhaps, the first to deeply analyze the properties, abilities and the emotions connected to light. From Titian to Turrell, vivid color and luminescence have long been a mark of significant works. Luminosity 2.0 is a revisitation of The Loft at Liz's 2013 exhibition "Luminosity" - with featured artists exploring the properties of light and space as well as both the visible and invisible color spectrum.
Join us in celebration as we transition into our 13th year of programming as The Loft at Liz's presents Luminosity 2.0.

Opening Reception Saturday November 10, 2018 – 7pm to 10pm
Exhibit featured through Monday January 14, 2019
Laddie John Dill

Ÿ Born 1942 Long Beach, California
Ÿ Graduated from Chouinard Art Institute in 1968. After graduating, Dill became a printing apprentice and worked closely with established artists including Robert Rauschenberg, Claes Oldenberg, Roy Lichtenstein, and Jasper Johns.
Ÿ Dill's work is in the permanent collections of national and international institutions such as Museum of Modern Art, NY; Los Angeles County Museum of Art, CA; Museum of Contemporary Art, CA; San Francisco Museum of Modern Art, CA; High Museum, GA; The Phillips Collection, DC; Chicago Art Institute, IL; Smithsonian, DC; Louisiana Museum of Modern Art, Denmark; Pio Monte della Misericordia, Italy; Museum of Contemporary Art San Diego, CA; and Museo Jumex, Mexico. He currently lives and works in Venice, CA where he maintains a studio.
Laddie John Dill, a Los Angeles artist, had his first solo exhibition in New York City with Illeanna Sonnabend Gallery in 1971. He was one of the first Los Angeles artists to exhibit "light and space" work in New York. He exhibited the "Light Sentences" and "Light Plains" in institutions across the United States and globally, and has enjoyed a resurgence of interest in these pieces in the last decade as well, including a recent acquisition of a "Light Plains" sculpture by the Museum of Modern Art in New York. It is currently on view in Museum of Modern Art in Manhattan. Dill has been crafting light and earthly materials like concrete, glass, sand, and metal into luminous sculptures, wall –pieces, and installations since the 1970s. Referring to his choice of materials, Dill explains: "I was influenced by [Robert] Rauschenberg, Keith Sonnier, Robert Smithson, Dennis Oppenheim, and Robert Irwin, who were working with earth materials, light, and space as an alternative to easel painting." When Dill does use canvas, he paints with pigments derived from cement and natural oxides.
Seda Saar

Ÿ - undergraduate degree with honors in Interior Architecture from London Metropolitan University in United Kingdom
Ÿ - relocated to the US to practice design on award winning themed attractions, for major Hollywood studios.
Her current work utilizes geometric forms and space, the physiology of color perceptions and its effect on the human psyche, inspired by architecture, technology and innovation. Her interest in the gap between the conscious and the subconscious compels her to question reality, and construct environments, paintings, and sculptures that urge the viewer to participate in the meditative spaces where illusion and reality co-exist; prompting our infinite quest for knowledge and deep desire for spiritual connection to something greater than ourselves.

Jeff Frost

Ÿ - Best in Show - Graduate Portfolio Show, Art Institute of California (2012)
Ÿ - Named one of the best photographers by The American Society of Media Photographers (ASMP) (2014)
Ÿ - Commissioned by U2 to video direct and supply visual content for their Innocence + Experience tour (2015)

Jeff Frost is an artist of many mediums. His best known work combines installation, optical illusion painting, photography, music, and sound design in short films created from hundreds of thousands of photographs. Wildfires, riots, stars at night, and his own optical illusion paintings in abandoned structures are recorded with stop motion and time lapse before being utilized in short films. Frost's featured work in this exhibition, Circuit Board Species, examines the push-pull of societal decay as a negative consequence of manufacturing technology, while simultaneously employing and celebrating the advancements that made it possible. To create this work Frost traveled to cities around the world including Paris, Dublin and Los Angeles and even created artwork out of CERN's facilities at the Large Hadron Collider in Switzerland and France in early 2015. In October of the same year Frost was invited back to give a TED talk about the process.

Barbara Kolo

Ÿ - BFA, School of Visual Arts (NY)
Ÿ - During the 1980's Barbara built a career as an award-winning art director in creative advertising for films and television. She is the recipient of several Key Art Awards, a Don Belding Award, and a New York Festivals Gold Medal among many others.
Ÿ - Kolo's work is held in public and private collections in the United States, Canada, France, Germany, Taiwan, Australia and the UAE.
A quiet stillness to Barbara Kolo's work evokes a time of reflection. Inspired by natural forms and influenced by impressionist, Aboriginal, and Asian, art she developed a graceful meditative visual language, using dots or circles and lines. The paintings grow organically, with any resulting symmetry and order happening in the moment. On first sight, viewers are excited by the dizzying array of dots and then, the quietly meditative quality of Barbara's work.

Jerico Woggon
Ÿ - Born and raised in Summerland, California
-Ÿ Works featured at Burning Man, Coachella, and numerous other art events and festivals
- Woggon is heavily influenced by the art of his grandfather, Bill Woggon (creator of the 1945 Archie comic book supermodel Katy Keene), and by Southern California custom car culture
"Being inside creation, that is the driving force. I create art installations that infuse the environment with vibrant colors, fashion and dance. The work seeks to bring you an energy that is created by the moment and for the moment. I want to create a space where you can have it all: good friends and beauty all around."

Vasa (Vasa Velizar Mihich)

Ÿ - Globally recognized figure in the emergence and development of plastics based sculpture
Ÿ - Longtime senior professor of Design at UCLA
An academically trained painter born in Yugoslavia, Vasa became a member of the faculty at the University of Belgrade when he was 23. During a visit to Paris, he became aware of the growing importance of American art, and a few years later immigrated to the United States. Soon after, he became a U.S. citizen. Upon arrival in Los Angeles,
Vasa began working with three-dimensional painted constructions. This work was first shown in the Feigen-Palmer Gallery in Los Angeles and was included in the seminal exhibit American Sculptures of the Sixties at the Los Angeles County Art Museum. In 1967, Vasa began working with plastic. Interested in placing color in open space, he began to use clear plastic as a structural support for different planes of transparent color. Expecting to explore this work for a few years, Vasa still continues to discover new possibilities with the medium. In the words of former art critic of the Los Angeles Times, Henry Seldis, Vasa has become
"the most sensuous and sensational colorist of the Southern California artists working in plastic".

Kelly Brumfield Woods

Ÿ - Born 1957 Los Angeles, CA
Kelly Brumfield-Woods is a Los Angeles-based painter known for her hard-edge, geometric paintings topped with heavy glitter, a material which is activated by light-shifts caused by the changing natural light or a viewer's movement around a piece. Her work is informed by her interest in architecture, spatial perception and color theory.
Kelly has been included in exhibitions throughout Southern California with a 2017 solo exhibit, Subverted, in Los Angeles curated by Erika Hirugami at TAJ Art and has been profiled in various publications. In addition to gallery exhibits, Kelly was commissioned to create a room installation, the "Glitter Chamber", for Saatchi Art's Los Angeles art fair in March 2018.
Please direct all press and artist inquiries ATTN. Randi Kreeft @ 323.939.4403 ext. 5
The Loft at Liz's 453 S. La Brea Avenue | Los Angeles, CA 90036 randi@theloftatlizs.com
Organizer of Luminosity 2.0 - an exploration of light, space and spectrum