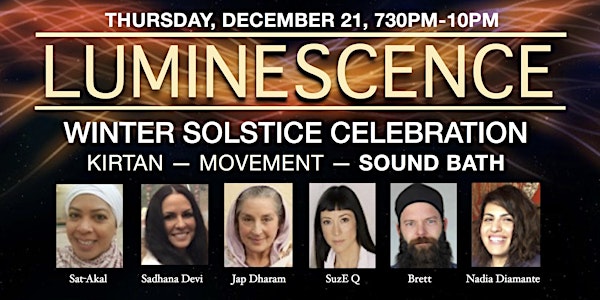 Luminescence Winter Solstice Sound Bath, Thursday, Dec. 21
When and where
Location
The York Manor 4904 York Boulevard Los Angeles, CA 90042
Refund Policy
Refunds up to 7 days before event
Description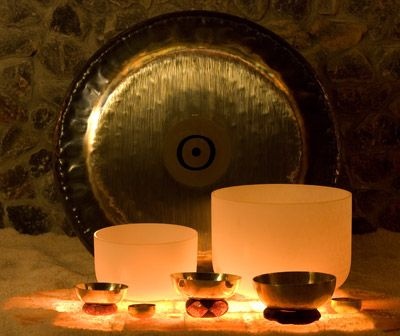 Take A Trip To The Light Side…
Join Sat-Akal & Friends at The York Manor in Historic Highland Park, for a special Winter Solstice Celebration that includes movement, kirtan music, meditation, and an eclectic sound bath of gongs, hapi bells, crystal bowls, native drum, and various other shamanic sounds.
Doors Open at 7PM. Event Starts at 730PM.
Please arrive on time.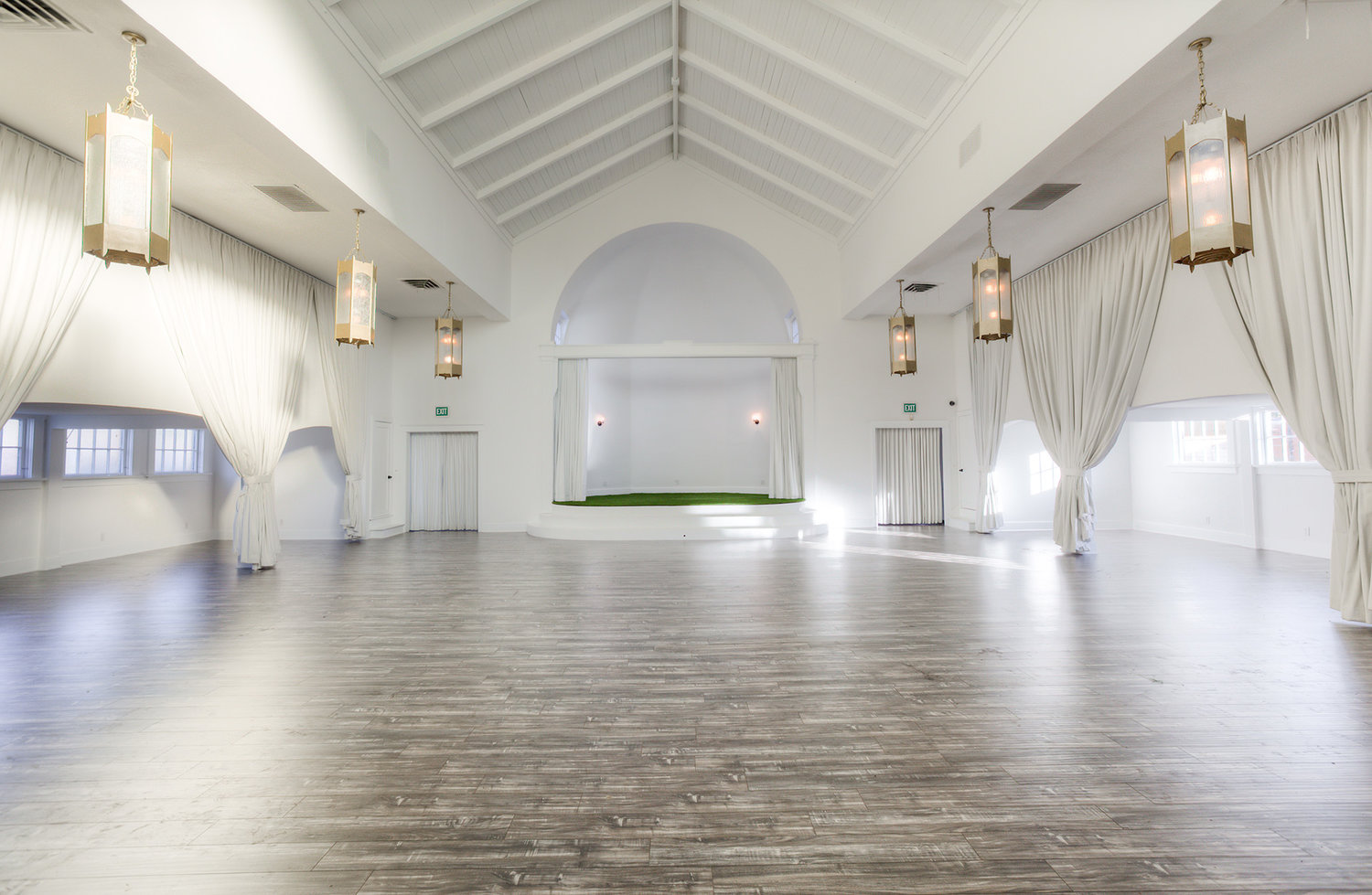 Celebrate With Us!
Welcome the changing season

Get connected with authentic community

Meditate for self-love, healing, and transformation

Calm and soothe your mind

Relax to a healing sound bath

Honor your self-care, Slow down, and Deeply relax…
**** Very Important - What To Bring ****
Dress comfortably. Bring a yoga mat / blanket to lie down or sit on. Please bring a water bottle. And for the sound bath - please bring optional pillows or a blanket to get more cozy.
_________________________________________________________
FAQ
Parking?
Parking is free on the street, neighborhood parking.

Can I bring my kids?
This event is appropriate for children 10 and above. Because of the nature of the event, and based on our experience, kids under 10 may act out and be disruptive to our other guests if they are not "into" the event, so we ask that you only bring children who are at least 10 years old and above.
Do I need to bring a yoga mat?
The floor is hard. Since we will either be sitting or lying down for most of the event, it's highly recommended to bring a yoga mat or thick blanket to lay on. You're welcome to bring more blankets and a pillow as well to be more comfortable. If you have a floor seat/backjack, you're welcome to bring that as well.
_________________________________________________________
About Your Luminescence Co-Creators
Liza F. Camba (Sat-Akal) is a Personal Success Coach, Teacher, Holistic Healing Practitioner, Artist, Spiritual Activist, and Founder/Producer of Luminescence. Sat-Akal supports highly creative individuals to live their "Sat Nam" (Truth) and to thrive while living out their life mission through one-on-one coaching, powerful 1:1 transformation sessions, kundalini yoga, spiritual warrior trainings, sacred community gatherings, and by producing events and workshops that educate, inspire, and elevate! She works strongly with Mahal Energy (mahalislove.com) and the Law of Creativity and Success to support people on their soul journey. You can learn more about her overall work at TheSacredYes.com or contact her directly at lizacambaservices@gmail.com
Sadhana Devi is a Gong Avatar Academy Graduate, as taught by Sotantar Suraj, Kundalini Yoga Teacher, as taught by Yogi Bhajan and yogini for over 16 years. A conscious Entrepreneur and Environmental Activist guiding people to their highest creative potential through Kundalini Yoga and sound technology where ever she may be on the planet and beyond. Sadhana Devi believes every person on the planet holds a well of Peace within and they only need to be reminded, and guided to their own Supreme Consciousness. Sadhana Devi performs overnight Planet Gong Concerts as produced by the Gong Avatar Academy, workshops, special events, private sessions and the classroom. Find Sadhana Devi on Instagram: sewing4change
Jap Dharam Kaur/Vicky Rose is a Certified KRI Level Two teacher who has been teaching steadily for 10 years and practicing for 12. She is also trained in pre-natal and children's yoga and an international mantra performer and recording artist. It is her great pleasure and passion to teach people of all ages, conditions and walks of life. As Jap Dharam has done so, she has continued her study of Kundalini Yoga with annual trips to India, assisting in Teacher Trainings and a deep personal practice. It was through these experiences that she discovered her destiny to chant, teach and record mantra.
Brett Hren was born May 12, 1972 to Randy and Karen Hren in the village of Hesperia, Michigan. He graduated from Hesperia High School and then attained a Bachelor of Arts from Michigan State University. Fascinated with city life, Brett moved to Los Angeles in 2000 where he met his mentor, Gurmukh Kaur Khalsa, and received his Kundalini Yoga teacher's certification. He continued his education in Rishikesh, India, receiving his level 2 certification: Mind and Meditation. Brett currently teaches weekly in LA where he uses the teachings of Yogi Bhajan and the science of Kundalini yoga to empower his students with the ability to lead a more joyful life. Brett brings to his classes a sense of joy and inspiration for which he has practiced daily for 17 years. To contact Brett, email: bretthren@gmail.com
SuzE Q enjoys sharing the physical benefits and spiritual insights she has gained from Kundalini Yoga over her 17 years of practice and decade of teaching. Her classes are challenging and inspiring, clearing stuck energy and cultivating self-empowerment. Her Gong and sound healing exploration plays a large roll in her instruction, helping the individual to relax the nervous system and in-joy the effects. Learn more about SuzEQ's work online at KundaliniWithSuzEQ.com and https://www.facebook.com/KundaliniWithSuzEQ/
Nadia Diamanté is a kundalini and meditation teacher, hypnotherapist, hypnodoula, fertility coach, writer, radical empath, opulence oracle, daydreamer, cosmic provocateur and your average well-rounded and well-read Gemini. For more info go to nightwoodhealing.com, instagram.com/nightwoodla, or call 310-383-3857