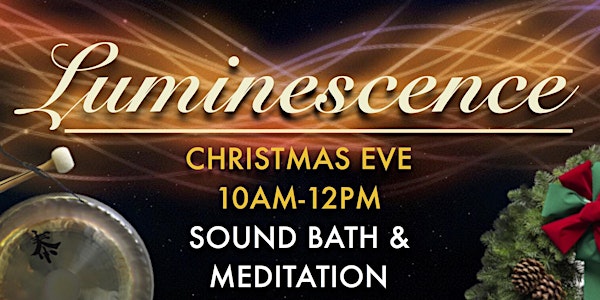 LUMINESCENCE Christmas Eve Sound Bath and Meditation
When and where
Location
Golden Sol Yoga and Wellness Center 4446 Ambrose Avenue Los Angeles, CA 90027
Description
LUMINESCENCE CHRISTMAS EVE MEDITATION & SOUND BATH
with
SAT-AKAL & FRIENDS, Featuring SADHANA DEVI
MONDAY, DEC 24, 2018, 10AM-12Noon
*A DOUBLE GONG SOUNDSCAPE



Take a Trip to the Light Side…
Immerse yourself in a special Christmas Eve Meditation and Sound Bath!
We will chant a magical mantra to experience the power of the Naad (cosmic sound) and immerse ourselves in a healing 75-minute Sound Bath.



Your Luminescence Journey Includes:
Meditation with Mantra

Healing Gong Sounds - A DOUBLE GONG MEDLEY!

Crystal bowls and other healing instruments!

Inspiring, Luminous Landscape

Deep Rest and Relaxation

Aromatherapy
=============================================
BENEFITS OF GONG SOUNDS
* Induces a state of meditation by calming the mind
* Stimulates the circulatory and glandular systems
* Rebalances the physical, emotional and spiritual bodies
* Regenerates the parasympathetic nervous system
* Awakens higher states of consciousness
* Bathes you in a cascade of healing sound — shifting the brain from Beta (waking state) to Theta or Delta (meditation) through the gong's vibrations
* Tranquility, reduced stress, improved sleep
=============================================
WHAT TO BRING:
Your yoga mat and whatever you would like to feel more cozy; Dress comfortably.
=============================================
ABOUT YOUR FACILITATORS
Liza F. Camba (Sat-Akal) is a Soul Purpose Guide, Teacher, Artist, Spiritual Activist, and Creator of Luminescence. Sat-Akal supports highly creative individuals to live their "Sat Nam" (Truth) and to activate their soul's purpose through one-on-one coaching, kundalini yoga, spiritual warrior trainings, and by producing sacred community events and workshops that educate, inspire, and elevate! She is the creator of the Mahal healing experience that can be found at mahalislove.com. You can learn more about her overall work at TheSacredYes.com or contact her directly at lizacambaservices@gmail.com
For more info abou the Luminescene Sacred Sound Movement go to: http://thesacredyes.com/luminescence.html

Sadhana Devi: Special guest and frequent Luminescence sound healer, Sadhana Devi, is a Gong Avatar Academy graduate, Kundalini Yoga Teacher and yogini for 16 years. An avid socially conscious Entrepreneur, Vegan and fellow Earthling advocating and guiding people to their own self realization, Love and Peace Consciousness through yoga and sound technology where ever she may be on the planet and beyond.