Hear from the presidents of Dillard University, Howard University and Morgan State University on HBCU student success initiatives.
About this event
HBCUs are vital to America, more so now than ever. Please join us at 2:00 ET on June 25, 2020 for an online forum featuring three HBCU presidents who are leading their institutions through the unprecedented challenge of a global pandemic, and leading our society in its quest for racial justice and equity. Moderated by Lumina Foundation's Senior Vice President and Chief Strategy Officer Dr. Danette Howard, PhD, the forum will feature:
- Dr. Wayne A. I. Frederick, MD – President, Howard University
- Dr. Walter Kimbrough, PhD – President, Dillard University
- Dr. David Wilson, PhD – President, Morgan State University
Howard University, Dillard University and Morgan State University have partnered with Lumina since 2016 under the HBCU Student Success Initiative, which was designed to significantly improve student retention and completion. Four years later, each institution has improved these outcomes, both for all students and for Pell-eligible students.
The session will feature a moderated discussion as well as opportunity for audience questions. We hope you will join us for this exciting conversation.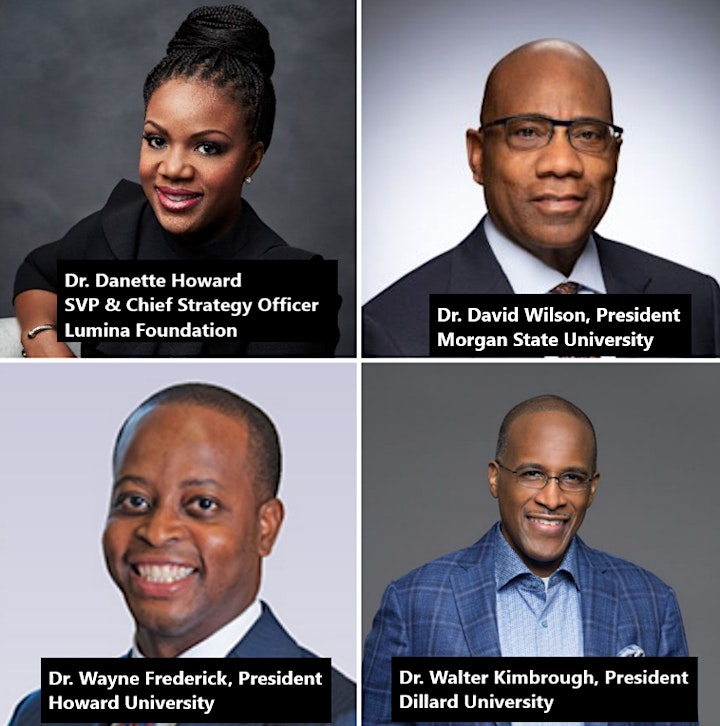 Organizer of Lumina Foundation - HBCU Leadership Perspectives & Priorities