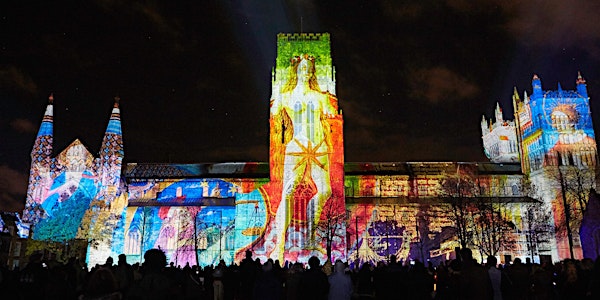 Lumiere Durham 2017 Conference
When and where
Location
Gala Theatre & Cinema 1 Millennium Place Durham DH1 1WA United Kingdom
Description
Who are we and where are we headed?
Hosted by Artichoke in association with Durham County Council and supported by the European Commission.
Building on the success of the 2013 and 2015 conferences, this year's line-up presents a range of visionary and renowned speakers to consider the big conversations of today and the looming questions of tomorrow. From fields spanning experimental physics to architecture and education to theatre, they will share their experiences, expertise and opinions on ideas about our changing world.
Speakers at the conference will include:
- Anuradha Henriques, Founder and Editor Skin Deep
- Charles Fernyhough, Professor in psychology, Durham University and author (chair)
- Claire MacDonald, Theatre practitioner and Unitarian Minister
- Helen Marriage, Director, Artichoke (chair)
- James Delaney, Founder and Director, Blockworks
- Judith Knight MBE, Founder and Co-director, Artsadmin
- Noeline Kavanagh, Artistic Director; CEO, Macnas
- Rami Bebawi, Partner and Co-founder of KANVA
- Sebastian White, CERN/University of Virginia
- Professor Stuart Corbridge, Vice-Chancellor and Warden, Durham University
- Tony Heaton OBE, Founder of NDACA – the National Disability Arts Collection and Archive, Chief Executive of - Shape Arts 2008-17 , currently Chair of Shape, and sculptor
- The Very Reverend Andrew Tremlett, Dean of Durham
- Selina Nwulu, Poet, writer and campaigner
- Stella Hall, Festival Producer (chair)
- John Fox and Sue Gill, Dead Good Guides
- Karima Grant, Founder and Director, ImagiNation Afrika
- Laura Pidcock, MP for North West Durham
If you require any assistance with booking tickets for the Conference or would like help with accommodation in Durham please call Visit County Durham on 03000 262626 or email visitor@thisisdurham.com

Image: The World Machine, Ross Ashton, John Del Nero, Isobel Waller-Bridge, Carlos Frenk, Richard Bower, Lumiere Durham 2015. Produced by Artichoke. Photo by Matthew Andrews