Your hosts, Tami Mase & Vanto Vanto welcome you to a series of our Bi-weekly virtual Lumi Business Summits.
About this event
These Summits seek to harness the power of our advantage through our collaborations with our Banking, IT & Digital Marketing partners, using this advantage to create & deliver solutions that enable us to to make the Lumi Currency work us.
Through these Summits we aim to engage the Lumi Stimulus beneficiaries in discussions that build teams, network and ecosystems for the future of Africa.
So far, we have managed to create platforms that enable members to collaborate, build and transact, all in one safe space. We hope to have you joining us in our upcoming Summits and become part of the Solution.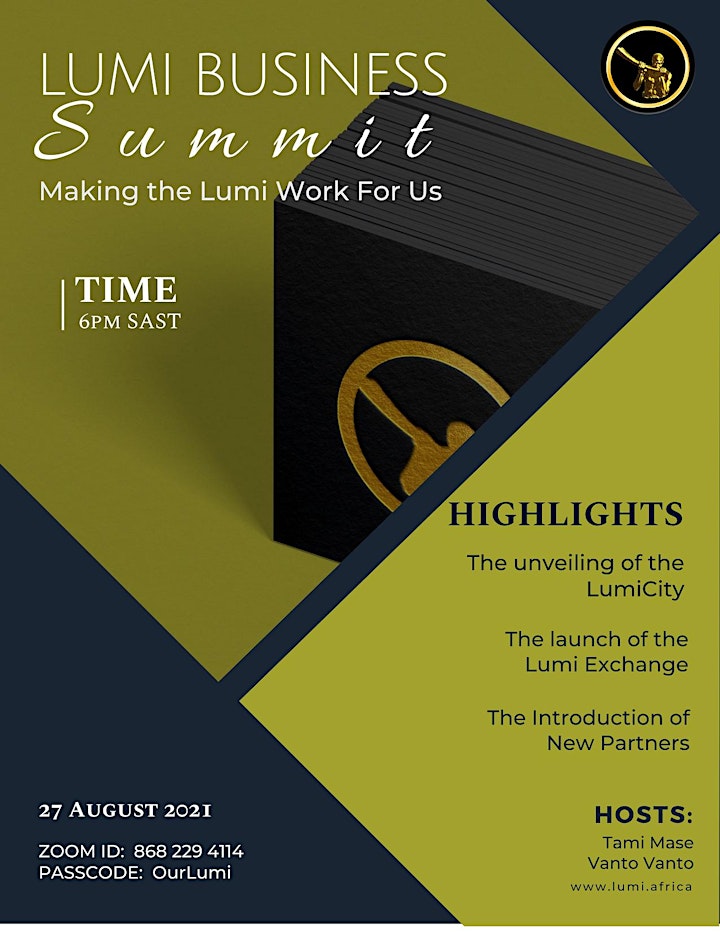 Organizer of Lumi Business Summit
Our events are meant to inform & empower you, they introduce you to our Lumi Kingdom and our Lumi culture. Every single day, from Tuesday to Sunday, has its own power packed agenda and awesome activities particularly structured to cater for specific needs and appetite. Check the following useful tips:
Choose your event days
Diarize your events
Book your seat before it gets full
Sit back and relax.