LuLaPalooza & JBF Charlotte

Thursday, April 27, 2017 at 9:00 AM

-

Saturday, April 29, 2017 at 3:00 PM
Event Details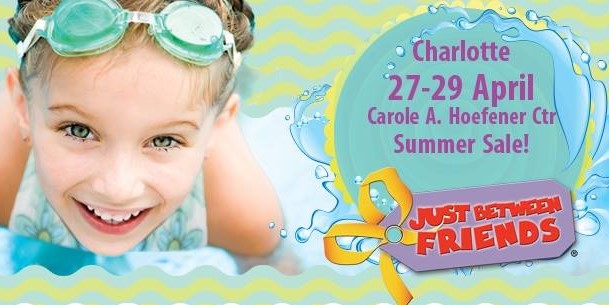 Thank you for your interest in participating with Just Between Friends of Charlotte as a vendor/sponsor for our Lulapalooza event!
LuLapalooza will take place during the following times:                                                         Friday, 28 April, 9 am - 8:30 pm                                                                                         Saturday, 29 April, 9 am - 3 pm  (optional extra time/can stay until 8 pm)     
Vendor spaces/tables give you the opportunity to put your product in front of our specific target group of parents, families and expectant mothers. 
We are limiting our Lularoe vendors to a maximum of 7.  Reservations are first-come, first-served.  Registration includes one BARE 10 ft space.  You will have room for 1 - 8 ft table and 2 rolling racks. 
We are offering Lularoe vendors a discounted rate of $50 for this event.  Typically, we charge $75 for 2 days.  The discounted rate is offered in exchange for the LLR vendor posting about our event in your Facebook group. We will also offer you FIVE FREE VIP presale passes to run a giveaway in your LLR Facebook group. With each pass, the winner will be able to also bring one friend for FREE and shop the night before the 50% off public sale (Friday night), to get the best selection of LLR merchandise AND 50% off merchandise at the JBF sale. Details regarding this giveaway will be sent to the LLR vendor 2 weeks before the event.

Your payment constitutes your agreement to the following terms and conditions with Just Between Friend, Charlotte, LLC 
After you purchase your spot you will receive a confirmation email from Eventbrite immediately.  If there is a problem with your registration, I will personally contact you within 2-3 days.
Two weeks before the event you will be sent a detailed email about vendor set-up, and any other important information.
TERMS & CONDITIONS:
Just Between Friends (JBF) Rights and Responsibilities 
JBF will provide the vendor with the designated space rental; for the Just Between Friends Event. 

JBF provides a vendor space of 10 ft.  Only two vendor representatives are allowed at your booth at any given time. You are responsable for 1 table, 2 chairs, and 2 racks

JBF will only allow distribution of marketing materials that are appropriate for this type of sale. 

JBF will allow you to hand out said marketing materials 

ONLY

 at your table. You will not be permitted to leave your materials anywhere else in the event. 

JBF is providing you with space to promote your business. Soliciting JBF customers on the sales floor is strictly prohibited. Solicitation will result in forfeiture of your vendor space.

JBF reserves the right to provide a diversified group of vendors. In the event of duplicates, the vendor who purchased their spot first will get priority and your payment will be refunded. 

JBF Reserves the right to turn away any vendor that does not comply with these rules. All Sales final. 
Vendor Rights and Responsibilities 
The Vendor agrees that no children (except nursing infants) and no animals (except licensed service animals with documentation) are permitted at vendor tables.

The Vendor agrees that all items you wish to purchase at the sale must be purchased prior to returning to your table. Only sold items, with a receipt, can be held at your table. 

You MAY NOT hold items you intend to purchase at your vendor space/table.

The vendor has the right to sell any family oriented merchandise associated with his/her company ONLY. The Vendor is responsible for all taxes that may be applicable and will abide by the City & State Tax laws.

The Vendor is responsible for all bookkeeping needs. This includes having needed cash for change.

The Vendor will have their space vacated and clean by close of business for the pre-selected days of participation. Your space/table must remain setup during open sale hours. If you break down your table prior to the sale closing or prior to the end of your vendor agreement date, your table will be removed and your Vendor space forfeited.

The vendor understands that Just Between Friends Charlotte,  LLC., the Carole A. Hoefener Center and its participants are not responsible for any missing items.   Vendor will hold Just Between Friends Charlotte Th Carole A. Hoefener Center  and its participants harmless for any material losses from theft or otherwise, as well as any physical injuries incurred during the event. 

A vendor representative must be present throughout the sale time.

Event Vendors are required to provide a Certificate of General Liability Insurance Policy to Jut Between Friends Charlotte, LLC listed as the insured for the conduct of the sanctioned event. However, if this is not provided after purchase of the vendor booth through eventbrite, vendors will automatically waive proof of General Liability insurance, which in doing so waives Just Beteeen Friends Charlotte, LLC of any damages, injuries, adverse effects, and/or death incurred due to Event Vendor of the products or services sold by the vendor, and agree to hold Just Between Friends Charlotte, LLC

 harmless.

The vendor will only display professional sinage. NO Handwritten signs. 
For further sale details, check our website here:
www.charlotte.jbfsale.com
Or our facebook page here:
www.facebook.com/jbfcharlotte
We look forward to seeing you at the sale!
Further questions? Contact Pam at pamcatron@jbfsale.com
Join our facebook event page here to stay up-to-date on contests, giveaways, and important sale information!
When & Where

The Carole A. Hoefener Center
610 East 7th St
Charlotte, NC 28202


Thursday, April 27, 2017 at 9:00 AM

-

Saturday, April 29, 2017 at 3:00 PM
Add to my calendar
Organiser
This is our 5th event in the Queen City.  Parents can find excellent deals for their families at our sale.  All items sell for 50 - 90% off retail.  Our items are throughly inspected and you will only find the best on our sales floor.  For more details about JBF Charlotte go to http://charlotte.jbfsale.com/homeView.jsp or call/text me 218-230-0995.