About this Event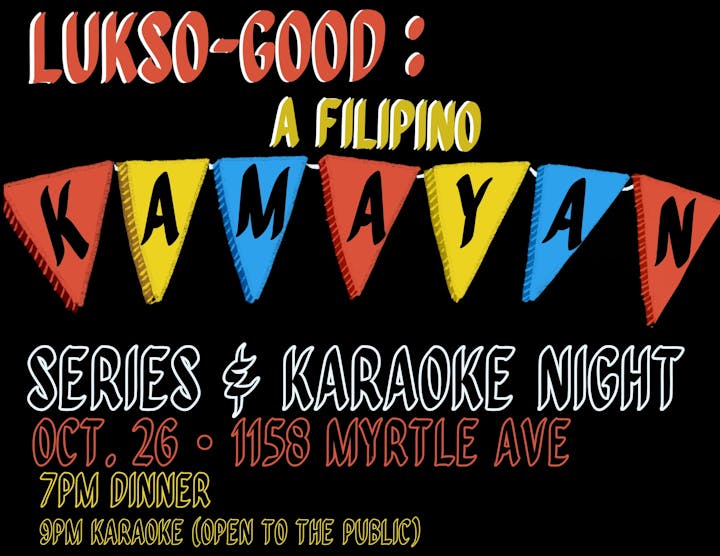 In celebration of #FilipinoAmericanHeritageMonth, "Baby Skips", sister to a neighborhood favorite,"Little Skips", is having a Filipino Kamayan feast! This will be a two part event.
"KAMAYAN" is a traditional communal Filipino feast arranged on banana leaves and eaten with the hands. The feast will be comprised of meat and vegetable dishes, fresh fruit, desserts, and drinks.
It also wouldn't be a true fiesta without karaoke! Following the private Kamayan dinner, the venue will open to the public for karaoke, drinks, and a bar menu of Filipino finger foods.
PART1 : FILIPINO KAMAYAN (Tickets Available):
Doors open 7pm for cocktails
Dinnner starts promptly at 7:30pm.
Menu:
Lumpiang Shanghai
Filipino pork spring roll
Pancit Bihon - (vegan & gf )
Sauteed vermicelli noodles mixed with vegetables
Garlic Shrimp
Daing na Bangus
Fried milkfish marinated in vinegar and garlic
Adobong Manok
Chicken braised in vinegar, soy sauce, garlic and onions
Itlog na maalat with tomatoes and onions
Salted egg with tomatoes and onions
Pork Sinigang
Pork Tamarind Soup
Pork Longanisa
Sweet breakfast pork sausage
Steamed and Grilled vegetables : kalabasa , sitaw , okra and talong
Squash, long beans, okra, and eggplant
Fresh fruits : mango and pineapple
Jasmine Rice with toasted garlic
Dessert : Ube waffle with vanilla ice cream and toasted salted coconut flakes
+ 2 alcoholic/non-alcoholic beverages of your choice
PART 2 : KARAOKE PARTY (Open to Public )
Doors open at 9pm
Beer, Wine, a specialty Filipino cocktail, and Filipino finger foods available.