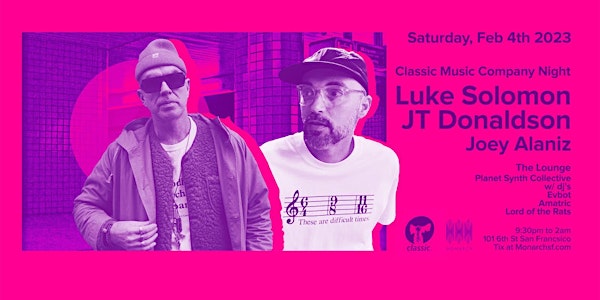 Luke Solomon | JT Donaldson | Joey Alaniz | Planet Synth Collective
The Classic Music Company lands in SF 02.04 with Luke Solomon & JT Donaldson
When and where
Location
Monarch 101 6th St San Francisco, CA 94103
Performers
Headliners
Luke Solomon
JT Donaldson
Joey Alaniz
EvBot
Amatric
Lord of the Rats
About this event
5 hours

Ages 21+

Mobile eTicket
Luke Solomon
Striding into his fourth musical decade, Luke Solomon's influence stretches far and wide across a
scene that's been embedded in his DNA since the early 90s. The rebirth of Classic Records in recent
times has brought one of the UK's most intriguing and respected artists to new audiences, ensuring
his fingerprints remain indelibly imprinted on house music.
In recent years Luke has moved from his band project, Powerdance, to releasing solo singles on his
label Classic. More recently he produced and album for the legendary Horse Meat Disco and has
recently finished production on the soon to be released second album from his musical partner, the
icon that is Honey Dijon.
Luke has also recently revealed that he has just completed work alongside Honey Dijon and his
musical partner, Chris Penny on Beyonce's album Renaissance.
The trio both produced and wrote the singles, Cosy and Alien Superstar which has firmly secured
Luke's postion as both a song writer on producer.
Outside of music production world Luke has continued to DJ globally and continues to be a regular at
Block 9 Glastonbury – Glitterrbox - WHP in Manchester, Homobloc – and the majority of key club
and festival that represent his version of house and disco.
Luke has also spent the last 3 years completing a Space compilation, a tribute to his late partner
Kenny Hawkes. The compilation which will be released in October, compiled by himself and long
term friends Leon Oakey and Jonny Rock, will showcase the sound of the legendary London mid –
weeker at Bar Rumba. All profits will be donated to the Liver Foundation in the UK.
Luke sets his sites on the future both as a DJ and a producer with plans for a follow up to the debut
Powerdance album and a whole wealth of productions alongside Honey Dijon and Chris Penny
——————
JT Donaldson
With an impressive discography spanning over twenty years, JT Donaldson has been creating deep, soulful house music for labels across the world such as Classic, Cajual, Fair Park, Cyclo, Distance and Season Recordings.
He has carved a distinct niche for himself in the world of underground house music and has a strong reputation as one of the worlds' top house producers remixing for artists like Mark Farina, Chez Damier and Justin Martin. JT has collaborated with the likes of Spencer Kincy, Sandy Rivera, Isabelle Antena, LoSoul, DJ Heather, Ge-Ology, and Cpen to name a few.
Raised in Dallas, TX, he got his early influences from the many DJs that would fly down from Chicago to play Dallas underground parties. Like many of his contemporaries, he worked in record stores from the age of 16, and gained daily exposure and knowledge of dance music.
One of his first remix opportunities would come from Chicago, with an unlikely phone call from Chez Damier who asked him to remix his new single 'Close' based on a cassette demo he had submitted to Cajual at the age of 17. JT would eventually move to Chicago and find mentors in Chez, Derrick Carter and Spencer Kincy who all guided and influenced his music. His DJ sets are rooted in Chicago house music, but he often travels fluently thru many styles including disco, afro-beat, techno, acid and jazz.
JT's first release of 2019 comes from Classic Music Company with featured vocalist Liv.e, known for her unique blend of lo-fi, hip-hop and soul. With a vinyl distribution deal in place from Ron Trent's 'MusicAndPower' parent company, expect many new projects this year from artists such as Ben Hixon, Penelope Antena and Damon Bell curated by JT for his label New Math Records.
—————
Lounge Hosted by Planet Synth Collective
Featuring:
EvBot
https://soundcloud.com/dj-evbot
Amatric
https://www.mixcloud.com/amatricdj
Lord of the Rats
https://soundcloud.com/lord-of-the-ratss
---------------
https://www.mixcloud.com/amatricdj
Follow us on Instagram @monarchsf
See our full calendar at monarchsf.com
21+
Void Sound System